NY winner Jepchirchir arrives to a grand homecoming in Eldoret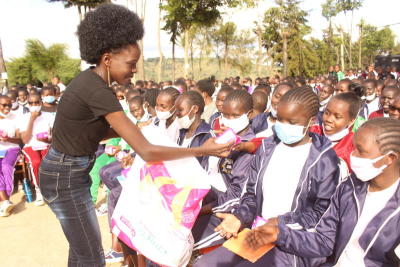 Newly crowned New York City Mrathon winner Peres Jepchirchir arrived at Eldoret International Airport to a reception replete with ululations and pagentry on Thursday.
Jepchirchir, who emerged as the first Olympic champion to win the five boroughs 42km race, landed back to a grand reception.
On hand to welcome her back home at Eldoret International Airport on Thursday evening were her family that included husband Davis Ng'eno, her father Paul Chepkwony, friends, Athletics Kenya President Jack Tuwei and Kenyan Ambassador to Pakistan Julius Bittok.
A band from Moi Girls Kapsowar Secondary school led by the school's principal Hellen Mabese were at the airport to welcome Jepchirchir, who graced a 10km charity and conservation race staged at the school on October 30.
At the New York City Marathon on her World Marathon Majors debut, Jepchirchir won in 2:22.39, missing the 2:22:31 course record set by Margaret Okayo in 2003 by eight seconds.
Viola Cheptoo Lagat, who has been vocal against gender based violence following the murder of Olympian Agnes Tirop, finished second on marathon debut.
Jepchirchir praised Cheptoo and shared how she kept encouraging her during the New York City marathon, which was the last arce of the World marathon Majors this year.
"It has been a good year for me because I won the Tokyo Olympics three months ago. I was not sure about winning New York, but I had hope," Jepchirchir said.
The two-time world half marathon champion said she looked back at 27km in the New York race and realised Cheptoo was behind her.
She says she decided to slow her pace so as to whisper an encouraging message to Cheptoo.
"When she (Viola Cheptoo) caught up with me after I slowed down, I advisd that we push together until the 35km so it would be difficult for other runners to beat us," Jepchirchir said.
She continued: "At some point, she kept telling me that her body was aching and encouraged her to persevere. I like teamwork and I am happy that I encouraged Viola during her debut. I thank her for the hard work and for finishing second in her marathon debut."
Ng'eno described his wife's season as a blessing to the family and the country.
"As a family, we are happy and we thank God for her achievements. We thank those who have come to give her a good reception at the airport," Ng'eno, who was carrying their two-year-old daughter, said.
Chepkwony (Jepchirchir's father) said he was proud of his last born daughter for the stellar performance in previous years,saying she developed interest in education from her secondary school days in Turbo.
Tuwei said there was need for huge welcome for athletes from global competitions as it will inspire budding athletes.
"When she was going to New York, we were worried a little bit and we even asked her whether she was going to make it because she only had three months rest and we were worried whether she had recovered enough (after winning a gold at the Olympic marathon)," he said.