Super Wanyonyi nominated for 2021 Male Rising Star Award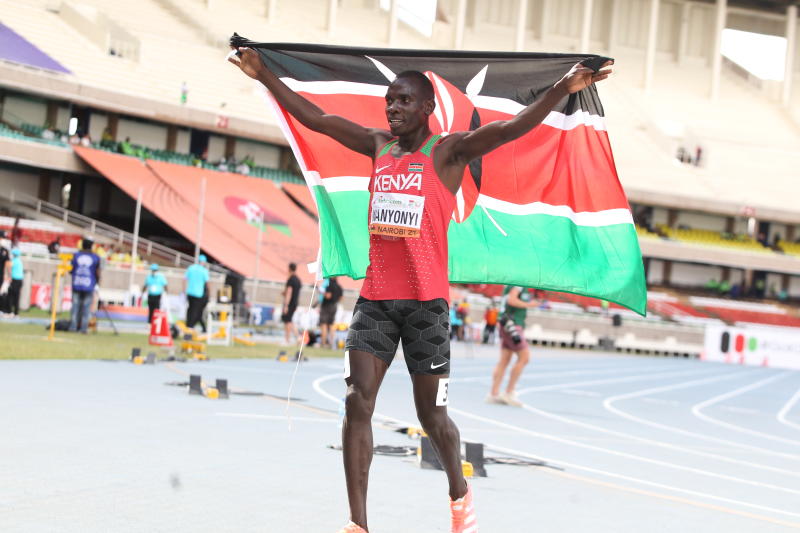 After securing a hard-fought win and running a new Championship Record of 1:43.76 at the World Under-20 championships in August, Emmanuel Wanyonyi's historic rise to stardom has been recognised.
Wanyonyi, a form two student at Kosirai High School in Nandi County, has been nominated for the 2021 Male Rising Star Award ahead of next month's World Athletics Awards.
Apart from the World U20 800m title, Wanyonyi featured in the list of five for his leading time and for setting the National Under-18 800m record at the global competitions held at Kasarani Stadium.
Wanyonyi, 17, was born in Saboti, Trans Nzoia County in 2004 and attended Kapretwa primary school.
He grew up in a poor family and joined Kosirai High School on an athletics scholarship after he was scouted by the institution during a schools competition in Nandi.
"We grew up in poverty and all my siblings dropped out of school after my mother abandoned us. We don't know who our father is because we grew up without one. I am now certain that my mother will return to us after my win at the World Under-20 championship," Wanyonyi revealed to Standard Sport during an interview, after the World Under-20 win.
He unleashed a powerful kick in the final 100m at the Under-20 championships on his way to clinching the 800m gold medal.
Wanyonyi was nominated alongside other global stars such as American duo of World U20 400m hurdles record-holder Sean Burrel and World U20 200m record holder Erriyon Knighton, World U20 3000m champion and 5000m silver medallist Tadese Worku, and World U20 110m hurdles champion Sasha Zhoya, for the same award.
His World Under-20 win earned him a heroic reception in Kosirai and at Kapchemoiywo Junior Athletics camp where he honed his athletics skills under the watchful eye of coach Janeth Jepkosgei during school holidays.
"The nominations reflect the many incredible performances that the sport has witnessed this year, at the World Athletics U20 Championships in Nairobi, Tokyo 2020 Olympic Games and other events around the world," WA said in a statement on Tuesday.
According to WA, the winner of the 2021 Male Rising Star Award will be selected by an international panel of experts and be announced live at the World Athletics Awards 2021 on 1 December.
Yesterday, a day after Wanyonyi was featured in the list of nominees for WA's male rising star awards, Kosirai High school was elated again.
Kosirai principal Paul Kosgei said the nomination is an indication that that youngster is attracting global attention.
"We are happy because he (Wanyonyi) is also putting our name on the global map. He is among the best in the world and a motivation to other athletes in Kosirai," the principal said.