Registration for Nakuru Marathon opens tomorrow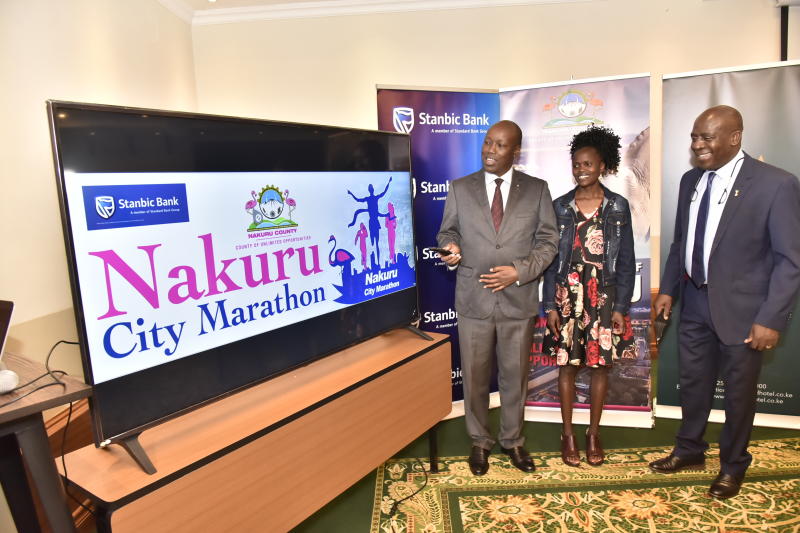 Over 200 elite athletes are expected to take part in the Stanbic Nakuru Marathon, which will be held on November 28.
Registration for the race opens tomorrow and all competitors are expected to pay a registration fee of Sh500.
The listing and approval of Nakuru City Marathon by Athletics Kenya, which will be sponsored by Stanbic Bank, comes at a time when most runners from the county are competing in road races outside Nakuru.
The marathon comes after the disbandment of the Geothermal Half Marathon several years ago, which was sponsored by Geothermal Development Company.
This year's race is expected to attract 200 elite runners, where winners are expected to take home Sh500,000 for the 21km.
Other subsidiary races are 10km and 5km. Winners in 10k will pocket Sh100,000.
All winners will be taken through a financial fitness and literacy programme by Stanbic Bank Kenya.
The road race was launched last week by Nakuru Governor Lee Kinyanjui in the presence of Stanbic Bank Kenya Chief Executive Charles Mudiwa, women world marathon record holder and Stanbic Bank Brand Ambassador Brigid Kosgei and 2017 Boston Marathon champion Geoffrey Kirui.
"We are committed to promote youthful talents, which has seen us start the construction of Keringet Sports Academy and the upgrade of Afraha Stadium," said Governor Kinyanjui, during the launch at a Nakuru hotel.
He lauded the bank and other stakeholders for showing interest in supporting the race, adding that their efforts will be instrumental in transforming the lives of youths while providing a training ground for upcoming athletes.
On his part, Mudiwa said Kenya is a great sporting nation and boasts a rich history of sporting legends with prowess in the track, field and marathon events.
"We'll continue to invest in sports as one of the ways through which we are able to contribute towards a thriving sports economy while supporting our youth in their quest to further grow their sporting talents," said Mudiwa.