Why StanChart race has competitive edge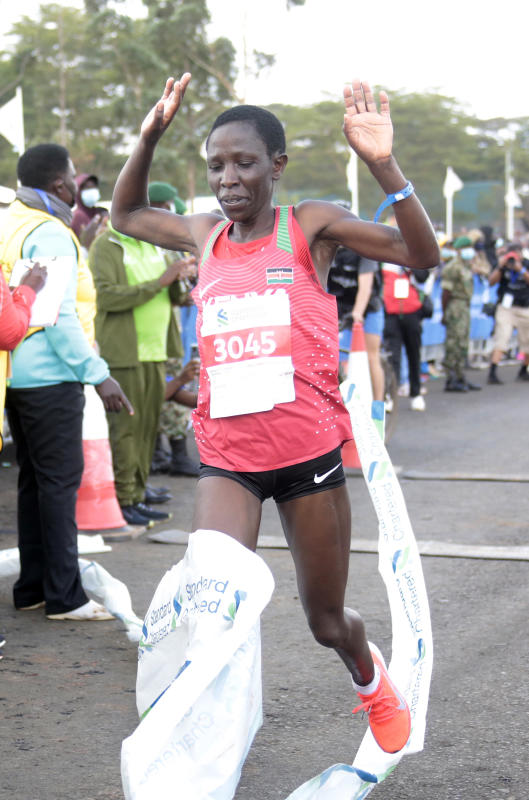 It's an interesting statistic. Since the race's inception 18 years ago, only three athletes have successfully defended their titles –thanks to talent glut and stiff competition.
On Sunday, former Los Angeles Marathon winner Elisha Kiprop joined Irene Jerotich and Brimin Kipkorir as two-time winners of Standard Chartered Marathon in Nairobi.
Unlike World Marathon Majors races like Boston, Berlin, London and New York where a majority of Kenyan athletes have notched up to four wins, the script at the Standard Chartered Marathon looks different.
Reason? There is a constellation of athletics talents that has occasioned stiff competition and hefty prize money. Winners take home Sh2 million.
Jerotich, the 2010 Commonwealth Games marathon champion, set the Standard Chartered Marathon title defence battle in motion when she defended it in 2009.
She spruced up her running talent while competing at the Nairobi marathon.
Although she did not finish within the medal bracket at the World Athletics Championships, Jerotich always trained her sights on Nairobi's flagship race.
She has been a perennial participant at the Standard Chartered Marathon, which is one of the biggest 42km contests in the country.
Jerotich posted an impressive 2:28.47 course record in 2009 and missed it in 2010 where she competed at the Commonwealth Games in New Delhi, India.
After competing at the 2011 World Athletics Championship in Daegu, South Korea, she entered the Singapore Standard Chartered Marathon, which she won.
Jerotich, who started running while a pupil at Cheberen Primary School in Koibatek, Baringo, has two Nairobi Standard Chartered Marathon wins (2006 and 2009) and two Singapore Standard Chartered Marathon victories in 2010 and 2011.
She has finished second twice (2005 and 2008). Motivated by placing second and with hands-on experience on the course, Jerotich returned to Standard Chartered in 2006 where she won in a then personal best time of 2:32.39 ahead of Chinese runner Zhang Xin.
The athlete, who started running while a Standard Six Pupil at Cheberen Primary School in Koibatek, returned to the Standard Chartered again in 2008 and could only manage a third place, behind 2007 winner Emma Muthoni and Cheshire Jepkosgei Sawe.
Jerotich was later elevated to second place after Jepkosgei was disqualified for taking a shortcut.
Kiprop's win made him the second male athlete to win Standard Chartered Marathon twice.