Heristone Wanyonyi delights in ditching 10,000m for race walk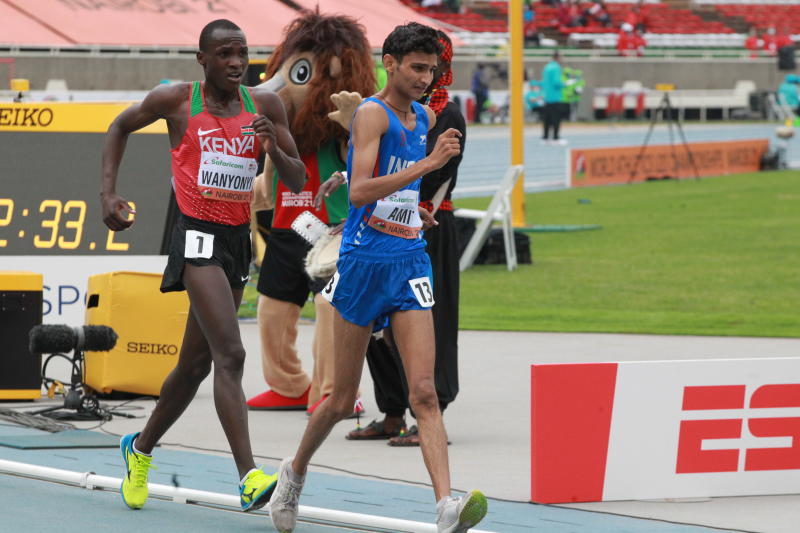 It's strange how fortunes change. Against all odds, Heristone Wanyonyi switched from 10,000m to walking race and it paid off.
It is a story of hard work, determination and, more importantly, unbridled support from his games teacher Wesley Mosop.
Although Mosop is physically challenged, the Mathematics and Social Studies teacher at Psigiro Primary School in West Pokot stirred the latent talent to the top of the world.
Five years ago, Wanyonyi was a 10,000m athlete, before switching to walking race.
And the result was winning gold in 10,000m walking race at the World Under 20 Athletics Championships in Nairobi in August.
The 18-year-old Wanyonyi made history as the first Kenyan to win gold in walking race at the World Under-20 championships.
He did so last month while setting a personal best of 42:10.84 even after he had failed to qualify during the national trials at the same venue.
As host, Wanyonyi landed a slot to represent the country. He never disappointed. Mosop, who is also the Physical Education teacher, suffered from polio when he was four years-old.
Mosop said he advised Wanyonyi to take up walking race since he was slow in 5,000m and 10,000m while competing in school.
"He used to compete in 10,000m and the walking race, but I advised him to take up walking race seriously. It now has earned him a world title," he said.
Wanyonyi also competed in decathlon, but he was not so good at it.
Mosop said Wanyonyi started with a third-place finish at the sub county competition while in primary school after switching to walking race though he overcame disappointments as he was ejected from the track due to lane infringement. He still soldiered on.
"When I watched him walk to gold at the World Under 20 Athletics Championships at Kasarabi Stadium, I celebrated even before he crossed the finish line. In most cases, he was ejected from the lanes because of poor judgment but I advised him not to give up."
"The reason why I advised him to take up walking race is because in these other races, the competition is too stiff," he said.

Upon completing Standard Eight, he was admitted at Chewoyet Boys High School in West Pokot.
"He joined Chewoyet Boys High School but due to lack of school fees, he transferred to Ortum Boys within the same county, where he sat his Form Four exams," he said.
He added that the victory has handed him an ambassadorial position in the school and around his area.
"He is a mentor in the school as well as his village, but hopes his celebrity status will not affect his career," he said.
At Kasarani Stadium, Wanyonyi led India's Amit Khatri, who settled for silver in 42:17.94 as Paul McGrath of Spain clocked personal best of 42:26.11 to take bronze. He won the fourth gold medal for Kenya.
At the moment, Wanyonyi trains under coach Geoffrey Otwani at General Service Unit (GSU) camp in Ruaraka, Nairobi.