Golf: Elgeyo Marakwet Governor Tolgos upbeat as Standard County Golf Series lands in Eldoret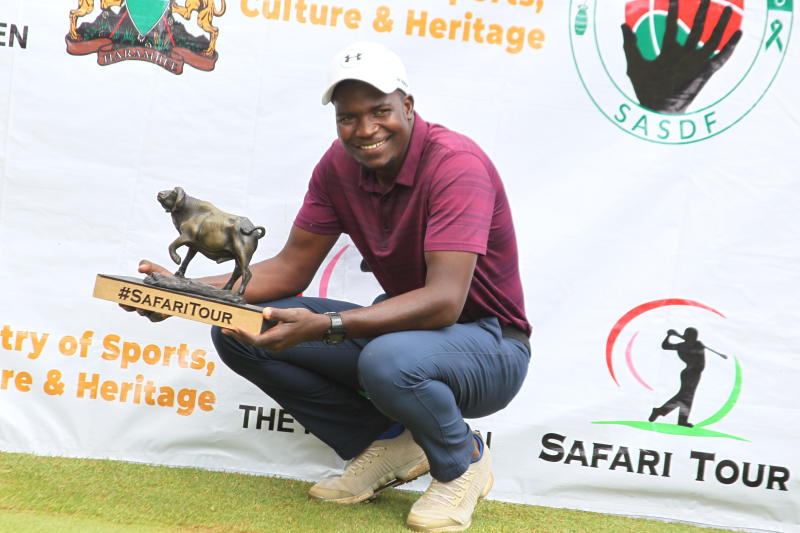 The second leg of the 2021/22 Standard County Golf Classic series is set to tee-off at par 71 Eldoret Club on Saturday.
Over 100 players are expected to battle it out for honours in the event whose theme 'On the Green Course, for the Green Cause' supports sustainable climatic actions by various communities across the country.
First off the tee in the championship, which is also supported by Eka Hotel and Eldoret Club, will be Elgeyo Marakwet Governor Alex Tolgos who has been a permanent fixture in the leg since his first attempt for glory in 2015.
Tolgos has always used the event to keep fit which is part of his daily routine.
"I will be teeing off very early, about 7.20 am because I want to finish earlier so as to attend to other meetings.
"I will then return at the Club in the evening for the prize-giving ceremony," Tolgos told Standard Sports.
The Governor had a test of the greens and the fairways on Thursday and Friday to prepare him for the task ahead.
"I have no pressure to deliver, my performance will all depend on how I wake up on Saturday," he said.
In the opening batch with Tolgos are P.Maritim, L.Kangogo and Satwinder Sagoo.
Moi Teaching and Refferal Hospital Immediate Director and Chief Executive Officer, John Kibosia, is expected to give other players a run for their money in the competition.
Eldoret Club captain Nathan Tororei has warned the players to expect tough challenges in holes 3,4 and 5 which are beside a meandering river.
"Hole 9 is surrounded by a bunker and several trees," explained Tororei.
"Hole 4 is a dog-leg, while hole 10 has a narrow fairway which is sandwiched between a parallel river on the left and a forest on the right making precision a priority rather than distance."
Tororei said the greens and the fairways are all in fantastic conditions because of the rains that have been experienced in Eldoret of late.
"The weather is mostly sunny, which is conducive for play.
"We have also acquired a new mower machine which we have used to cut the greens lower to make the course lovely," Tororei said.
"The Standard County Golf Classic has helped our club members to build strong networks in their careers and personal relations over the years."
The first batch to tee-off at 7:20 am
1.Alex Tolgos
2.P.Maritim
3.L.Kangogo
4.Satwinder Sagoo