Achieng' vows to floor Malawi's Anisha Basheel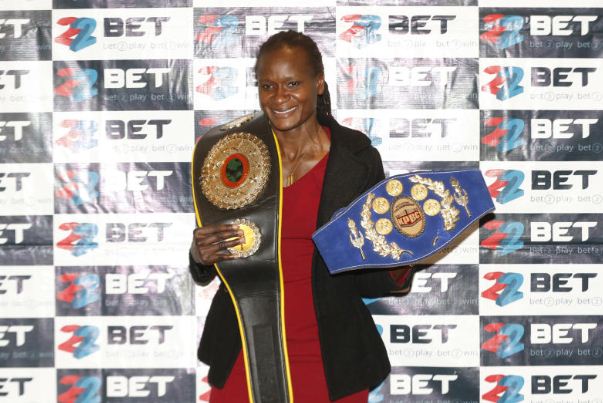 Universal Boxing Organisation lightweight champion Sarah Achieng' is hoping to claim the vacant Commonwealth light welterweight title as she faces Malawi's Anisha Basheel at Charter Hall in Nairobi tomorrow.
Achieng' assured her fans that the title will remain at home as she was ready to floor the Malawian whom she has never met in any professional fight before.
"It will not be an easy fight but be assured the title will remain at home in this big fight that is coming after two years following the coronavirus pandemic stopped boxing activities," Achieng told Standard Sports.
"I will overcome her and she should not think it'll be easy. This is a tough fight but the title must must remain at home)," she added.
Basheel arrived in Nairobi yesterday morning after connecting from through Addis Ababa from Lilongwe.
Before boarding the flight to Nairobi, Basheel was quoted to have said: "Sarah, I'm coming for you now, I don't fear you at all. You know that I am a soldier and I will torture you in front of your Kenyan fans".
Basheel whose record stands at 14 fights with eights wins (all knockouts) and six loses (one knockout) is the reigning Commonwealth female lightweight champion since 2018 and the reigning Africa Boxing Union(ABU) super featherweight champion since 2017.
It is the first time the two boxers will be engaged in a title fight and no one seems to know the tactics of the other but Achieng' admitted having studied the clips of her opponent ahead of the match tomorrow with the assistance of her coach Alfred 'Priest' Analo.
"Although I have never met her in any fight before, I have taken my time to study her clips that has enabled me to know some of her tactics in her previous fights, which could help me in tomorrow's match," Achieng' said.
This fight had been postponed three times owing to a number of reasons, which includes the Covid-19 disruption , which at some point frustrated Achieng'.
"People don't know how frustrating it is to postpone a fight three times after one has invested in time and finances and only for match officials to easily cancel the fight without much ado," Achieng' was bitterly saying.
She was earlier scheduled to take on Ruth Chisale of Malawi but the fight was postponed thrice.
Yesterday, Kenya Professional Boxing Commission Secretary General Franklin Imbenzi said the Malawian boxer was welcomed.
"The fight is on and the two boxers are scheduled for weigh in and medical checks-ups this morning. Everything is on schedule and we are good to go," Imbenzi said.
Basheel was set to undergo a number of training sessions in Nairobi yesterday in the company of her trainer Clied Musonda.