Quad Cities Marathon fiasco: US organisers say Kenyans to blame for taking wrong turn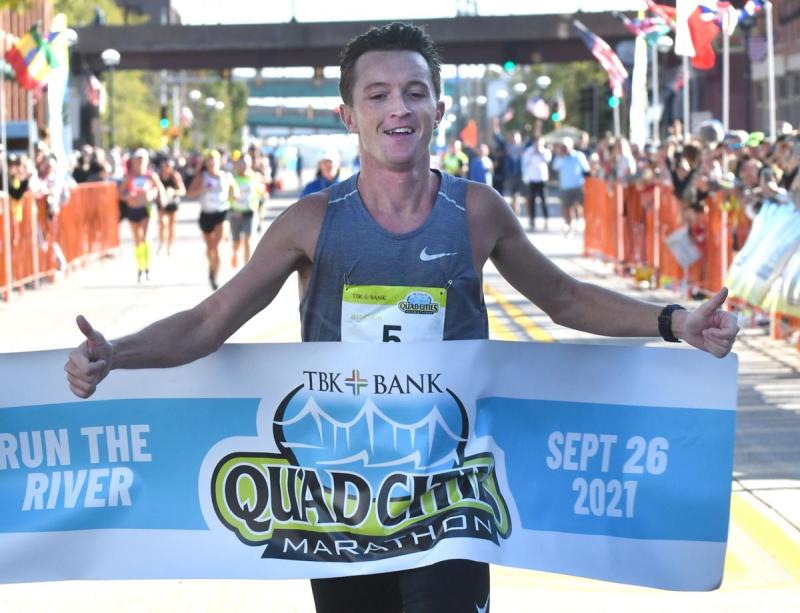 Luke Kibet, the 2007 world marathon champion and US-based Elijah Mwangangi Saolo suffered a huge blow at the Quad Cities Marathon in USA at the weekend.
An Illinois man unexpectedly won the Quad Cities when the two Kenyan runners who had far outpaced him were disqualified after being diverted off the course by a race volunteer cyclist.
Tyler Pence crossed the finish line in 2:15:06 to become the first US runner since 2001 to win the race through the Quad Cities along the Mississippi River in Illinois and Iowa.
Pence, the head track and cross-country coach at the University of Illinois-Springfield, logged his fastest time ever with the win and took the first prize of $3,000.
Pence's win came after Saolo and Kibet diverted from the course a little more than halfway to the finish line when the bicycle rider leading them mistakenly went straight when he should have turned, the Quad-City Times reported.
Race director Joe Moreno confirmed that the bicyclist went the wrong way but said the two runners also should have known not to follow him.
"At that intersection where that incident happened, the course was well-marked," Moreno said. "The signage is well-displayed. The volunteers are there. And the fourth element is those elite runners have a meeting the day before to get familiar with the course."
Saolo — the grandson of Kenya running great Joseph Nzau — was on a near-record pace before the mishap. He has been training in New Mexico and trying to scrape together enough money to stay in the US with his wife and two children.
Moreno said the race was planning to find a way to compensate Saolo and Kibet, who is a warden at Nairobi's Industrial Area Prisons Camp.
Athletics Kenya head coach Julius Kirwa said the race organisers should take the blame for the mishap.
"The two athletes must be compensated. Even if they had been briefed on the course, there is always tension in races. What was the need to have the volunteer cyclist? Kibet and Saolo deserve to the paid," Kirwa said.
The move generated mixed reactions from far and wide, with most athletics enthusiasts calling out the race director.
Somo99 wrote: "Life happens. Perhaps if the 'migrants' could read English, they would have followed the signage. I assume that next year all the signs will be multi-lingual so that we can accommodate non-American persons. I would disagree with that prospect but the libbys will make it happen."
Dr JT added: "... find a way to compensate Saolo and Kibet." Would they do that if they were just Americans?