Kenya's Kamar Etyang seeks to be the fastest of them all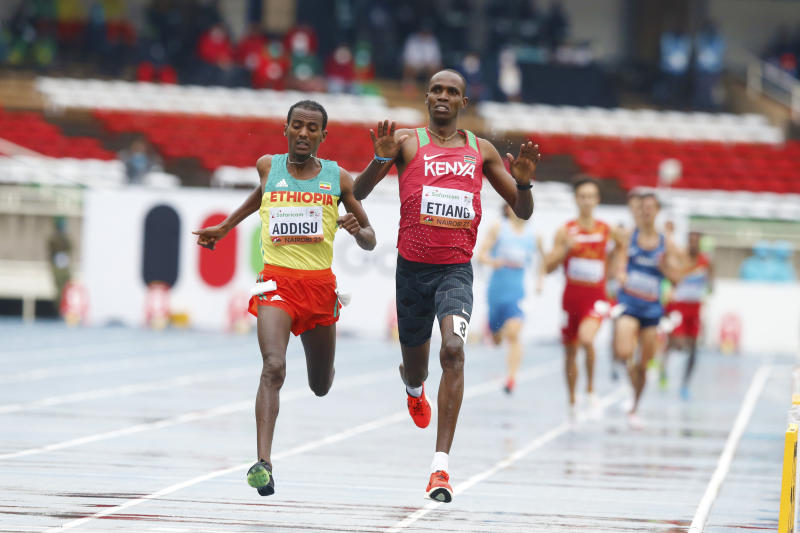 Ask Kamar Etiang his goals for the future and the Kenyan 18-year-old isn't shy about making a bold prediction.
"The next few years, I can run the (1500m) world record of (Hicham) El Guerrouj," he says. "I can make it. Even 3000m is possible to me."
The two marks he speaks of – 3:26.00 and 7:20.67 – have stood unchallenged for 23 years and 25 years respectively, but Etiang looks at them – out there as they are – and thinks, 'why not'?
Such confidence is rare, but it's based on what he's experienced during this, his breakthrough year.
Virtually unknown at the start of the season, Etiang shook up many established seniors at the Kenyan Olympic Trials in June, finishing second to Charles Simotwo in a huge personal best of 3:33.02.
Behind him that day were Timothy Cheruiyot and Abel Kipsang, who would go on to finish second and fourth in the Olympic final.
They both clocked 3:29 in that race, a time Etiang believes is well within his compass. In the years ahead, he intends to prove it.
The first time his coach, Peter Bii, came across him, Etiang was racing the U20 8000m race at the Discovery Cross Country in Eldoret.
"The first two laps he was in the first group, the third and fourth he was dropping (his rivals)," said Bii. "I knew if we do something extra (in training), he would be good."
Their first conversation, however, was not so much about what the work Etiang was doing. Bii tried to gauge how committed the youngster was to the sport.
"It was about discipline, (finding) someone who listens, someone who can be moulded to be something," says Bii.
Etiang grew up in Turkana County and at the age of six, he moved to Trans-Nzoia County.
He played volleyball at school, which was also where he first picked up running, though Etiang never took it seriously until the last few years.
Shortly after that Discovery Cross Country, he moved to Iten and joined the Asics Chojo Camp, a group of 32 athletes who train under the guidance of Bii and who are represented by the Mezzo Management Group. Etiang has been based there for almost two years now, with running his sole obsession.
"You can't put two things in once," he said. "You focus first to achieve that one."
During his base training, he'll typically run 130-150km per week, but as the intensity rises coming into the track season that drops substantially to around 80-100km each week.
"I benefit a lot," he said of the Asics Chojo Camp. "If we go to the field, we assist each other to grow, to finish workouts. We motivate each other."
In 2021, he announced his world-class talent with that second place at the Olympic Trials but was omitted from the Kenyan team for the Tokyo Games.
"Coach told me: 'Leave the things in the past and focus on this and this – we can achieve more,'" he said.