Women's Marathon World record holder Mary Keitany ready to enjoy fruits of hardwork in retirement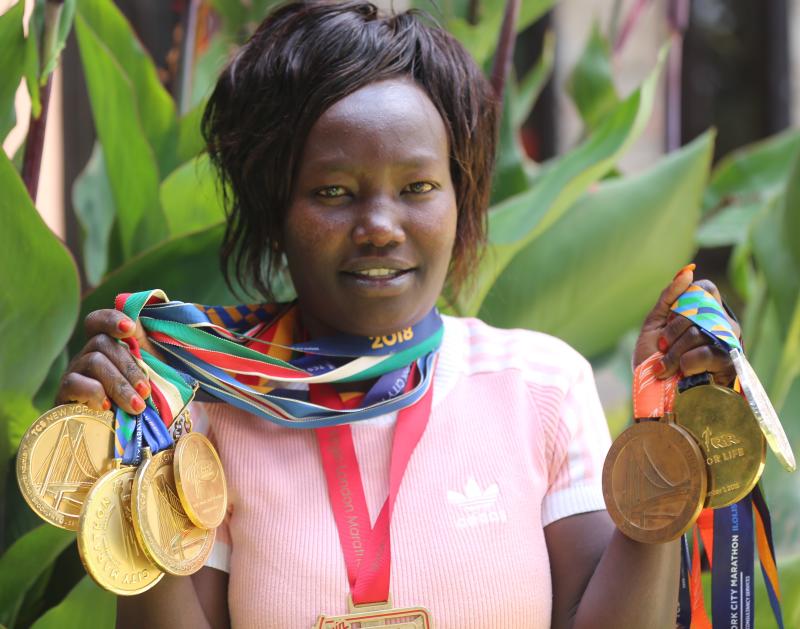 Her home in Iten glitters, but not as sparkling as a career that started nearly two decades ago in Kanjulul, Baringo County where she walked barefoot to school.
Charles Koech ushers The Standard Sport team into the imposing home where women-only marathon world record holder Mary Keitany will be spending most of her time after officially announcing her retirement from active athletics two days ago. Koech is Mary's husband.
Until Wednesday September 22, when she broke the news of her retirement, no one knew which race Keitany – a former world half marathon champion was preparing to take part in.
Keitany's wall cabinet says it all. Fourteen medals, ten of which are gold, four silver and two bronze, sums up a decorated career.
Before Wednesday, she had conquered the world – winning the New York City Marathon four times and taking the London Marathon crown three times. London is where she broke the 2:17:01 women-only world record in 2017. She has competed professionally for 14 years out of the nearly two decades of racing.
The 2020 season had been troubled by disruption due to Covid-19 pandemic and her fans thought she was preparing for the 2021 season, but they were wrong; Keitany was battling a back injury she picked in 2019, which informed her decision to retire.
Yesterday, an unassuming Keitany, 39, spoke about her humble beginning, the highs and lows, the lessons and her future after a successful career.
"Today, I am thankful because athletics brought me from nothing to somewhere. I thank my management, Gianni Demadona and all the staff. I also thank those who introduced me to athletics and supported me," Keitany, a fourth-born child of Juda Chapkeitany said.
Keitany says she discovered her athletics career at primary school when she ran 10 kilometres to and from school every day.
While at primary School, she says, she competed in all events from 400m to 10,000m, but when she joined Torokwonin secondary school, she specialised in 5,000m. After completing high school in 2005, Keitany started training in road racing.
Through charity work, Keitany turned around Torokwonin secondary school, which has since acquired the name Mary Keitany Shoe4Africa secondary school.
"I admired big names such as Catherine Ndereba and Paul Tergat when I was in standard three. I wanted to travel and take part in races outside my country like them. After high school, it was difficult getting a passport because I had no birth certificate. I had to struggle to get the document," she said.
"I discovered that I could run faster when running 10km to school barefoot. I had to run faster to be in school early in the morning and run back home in the evening to do house chores."
She says she was encouraged by her primary school games teacher Bernard Rono, but got exposed to a more rigorous training in high school.
Keitany says she moved to Iten in 2006 where she met Koech (her husband) who was her pacesetter. Later, the duo got married and Koech also became her coach. She was also coached by Nicola Gabriela.
"Charles (Koech)'s programme was almost similar to Gabriela's. Charles introduced some new tactics which worked very well for me," Keitany says.
She says her retirement gives her time to rest, after years of busy days in training, traveling the world and competing. She explains: "My days were so busy. It was a juggle between speed works and long runs. I am now trying to adjust to retirement."
The mother of two, a 13-year-old son and a daughter, 8, says her priority during retirement will be to take care of her family.
She says she is considering spending part of her time nurturing and mentoring young talents.
On why she made her retirement public, unlike colleagues who go into retirement quietly, Keitany said: "Most of my fans were asking where I was. I want to tell them thank you for celebrating me all the way. I wish my fans well."
Keitany attributes her success in athletics to discipline and urges athletes to invest. "You can't run forever. Please don't joke around; have something to take through retirement." .
During the entire period of her professional athletics career, Keitany trained and lived in Iten.
"Iten is a nice place for any athlete to train. The altitude is fine. It is my second home after Baringo."
She says her highest moment in the sport was the 2017 world record win in London. Others, she says, are the 2009 world half marathon and the 2014 New York City marathon. She won the two races after maternity.
Keitany says being locked out of the 2016 Rio Olympics marked her lowest moment.
Koech, her husband and coach, describes his wife's career as successful. He said together with Keitany, they are embarking on another long race of managing their investments.