Athletics legend Henry Rono: Why I'm not a role model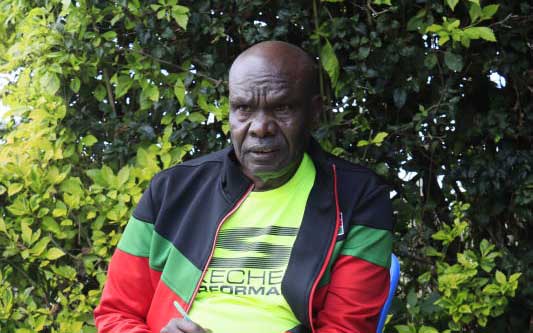 In his prime, he smashed world records, pocketed millions of shillings and ate life with a big spoon.
Welcome to the world of Henry Kibwambok Rono, Kenya's legendary track star.
Rono, 69, became a household name in the 1970s and 1980s. His is a story of a meteoric rise to stardom and a numbing fall. Today, he is picking up the pieces.
Seemingly, bad luck and miscalculations conspired to bring down Kenya's former star.
His spectacular exploits in 3,000m steeplechase, 5,000m and 10,000m took him to USA, where he continued to enjoy the fine things in life before fading away and plunging into misery.
Nothing delineates his career better than the historic shattering of world records in the three events within a span of 81 days in 1978. No athlete has accomplished this.
Rono relocated to the USA in 1986 and spent 33 years in Albuquerque, New Mexico. His return to Kenya in November 2019, was, however, quiet.
A ruinous romance with alcohol topped the list of things that slashed the cash that Rono earned from numerous victories.
The song and dance that normally dominates the return of Kenya's top athletes at the airports, were muted the day a frail Rono jetted into the country via the Jomo Kenyatta International Airport, Nairobi.
From the airport, he quietly headed to his Kiptaragon village near Kapsabet town in Nandi County, again to a low-key reception. He came back from the USA, a poor man.
Not far from Rono's village, live successful legends such as former 800m Olympic champion Wilfred Bungei, Peter Rono (1500m Olympic champion – 1988) and former steeplechase world record holder, Peter Koech.
Bungei is a successful coach and businessman while Peter Rono is a top academician – a professor.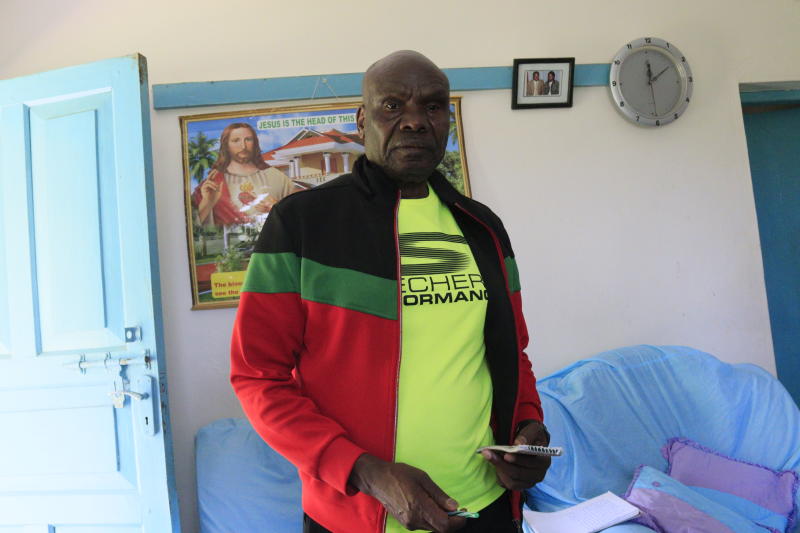 Koech, who also returned to Kenya after spending 27 years in the US, is an accomplished hotelier and farmer in Nandi and Uasin Gishu.
Two years into his return to Kenya, Rono is a totally different man. He has reformed. He has quit alcohol and is now preaching to the youth, asking them not to follow his ways.
And to demonstrate his transformation, the retired world beater became a regular worshiper at his local African Inland Church (AIC), culminating in his baptism 10 days ago.
"I have been to the top of the mountain and then down to the bottom of the world and when I look back, it's blank. But every step is a battle of revolution to reinvent myself into a new man, starting life afresh and living peacefully," he said in an interview.
He had came home with several personal belongings – a few clothes and medals, which today, despite living in poverty, are a reminder of his success on the track.
"My story is a warning to others, particularly the young generation of talented athletes. I will preach to those who still have an opportunity and it's the reason I empathise with how they don't invest and take their lives seriously. I am a living example of how one can lose their way shortly after stardom," he said.
To Rono, the baptism, which makes him shun behaviours that ruined his progress in life, symbolised the beginning of a new chapter.
At his living room, we find him engrossed in a diary booklet. He said he was preparing a message that he planned to deliver to a group he was planning to preach to.
"In athletics, you win and the whole world will know. People heap praise on you and eventually, we have nothing to show for it if we don't focus on life away from athletics" he said, admitting that he failed in life but is rich in knowledge.
The former GSU officer sat his Certificate of Primary Education (CPE) in Kabirirsang Primary School in 1971 and did not proceed to pre-secondary school. Rono excelled in various cross-country events before his electrifying speed was spotted and was picked to compete for the military.
Two years into the military, a Washington State University coach John Chaplin came to Kenya, searching for talented athletes to sponsor. That's how he discovered Rono, who was then in his early 20s. Rono, was already thriving in four field events; steeplechase, 3,000m, 5,000m and 10,000m.
"One of the university requirements was the high school academic documents, which I didn't have, but my coach enabled me to be enrolled into Psychology studies and science, which were basics in higher education," he recalled, saying he had to balance between classes and training.
Rono, who became the second Kenyan to break the steeplechase world record after Ben Jipcho added: "I couldn't believe I could break world records within a short period of time, but I was honoured globally. A few months before President Jomo Kenyatta passed away, he awarded me with the Order of Burning Spear in recognition of my stardom," he said.
After years of enjoying his tipple, Rono said he has had enough of it.
"When I was enrolled in New Mexico Community College for academic studies and representing the institution in athletics, my love for alcohol was already weighing me down. My fitness waned, forcing me to take up coaching responsibilities. I was then subjected to a series of rehabilitation sessions for three years," said Rono.
He lost his job and thereafter, sunk into a sea of frustrations that punctuated his stay at Santa Fe city in New Mexico State.
"My friends sponsored me to several rehabilitation and counselling sessions, but I would have moments of relapse. I was arrested many time and paid heavy fines over bar brawls and drunk driving. I lost what I had and became a shell. My life lost meaning," he said.
The most painful bit is when he lost contact with his family and could not attend the burial of his eldest son, who died while he was in the USA. They were infants when he left Kenya and they would communicate through letters until he they went mute.
While in the US, he says, his family moved from their home in Nandi and resettled in a farm he had purchased in Molo. He is now a grandfather of six.
"I have come to terms with the realities of what an extravagant lifestyle cost me. It is now my duty to ensure that no other athlete takes that route. I am lucky to be alive today and thank God for the far he has brought me," Rono said.
Despite missing an opportunity to invest his earnings wisely, and given that he can't accomplish much, Rono has decided to pen down experiences, successes, failures and perils in a book.
"My name would stand out among those who put the country on the global map, but I should also write about my personal experiences. I have so far written two books; Olympic dream and Olympic boycott, reasons why Kenya did not attend the two global challenges in 1976 and 1980," he said.
He said he is writing another book that reveals challenges athletes face in foreign countries.
"There is need to educate athletes on mental health and financial management. Several runners have been left on their own and that's why many have turned to alcohol after squandering millions of shillings they earned in competitions," he said.
Joash Kemboi, a cleric who has been helping Rono in his journey to reformation, said the retired athlete is making good progress and despite his age, he has the will and energy to mentor the youth.
"He resolved to be baptized and has shown commitment. I have supported him in many ways," Kemboi said.
The fall and rise of Kenyan cricket
Kenya men's cricket team posted mixed results during the Pearl of Africa T20 Tri-Nation Cricket tournament that concluded at Entebbe Cricket Oval in E