Kenya fails to win a medal in 1500m T46: I was caught up in two minds, Kipruto admits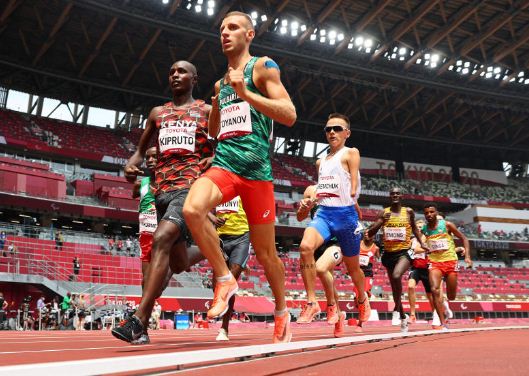 Felix Kipruto admitted he was caught up in two minds as to whether to run from the front or sit back and go for the kill in the 1500m T46 finals eventually settling for sixth place at the 2020 Tokyo Paralympic Games on Saturday.
The result marked yet another bad day in the office for Kenya as medals slipped through the fingers in 1500m T46 – a race meant for track and field athletes missing their arm from near the top of their arm.
Kipruto said his tactical gamble was further complicated when his muscles on the left leg "locked" as he struggled to unleash the killer kick.
Kipruto, however, stopped the clock at 3:59.98 for a personal best time.
"I am used to running with fellow Kenyans in the pack, but this time I found myself alone. I didn't know whether to run from the front or sit back," Kipruto said.
"I woke up really well. Deep down me, I knew this was my day but just after 300m I felt a tightening of muscles on my left leg. I tried to push my body but it was not good enough," Kipruto said.
Uganda's David Emong got bronze after a late surge that pulled Aleksandr Iaremchuk of the Russian Paralympic Committee past Bulgaria's Hristiyan Stoyanov for gold.
Kipruto said it was not the end of his love affair with 1500m adding that he will not rest until he wins something big for Kenya.
"Knowing my father won gold for Kenya in 1500m at the 1991 All Africa Games, I feel I need to do something for his memory," Kipruto said.
His father William Kemei won the 1500m gold at the 1991 All Africa Games staged in Egypt but died in 2007.
"My wish is that all the physically challenged Kenyans should come out and take part in trials which should be sometime in January. For the first time we had a very organized training camp funded by the government. It shows these things can be done," the 29-year-old Paralympian said.
Sport Class: 1500m T46 Final Results
Rank Name Result
1 RPC IAREMCHUK Aleksandr 3:52.08
2 BUL STOYANOV Hristiyan 3:52.63
3 UGA EMONG David 3:53.51 PB
4 ALG NOUIOUA Samir 3:55.56 SB
5 ETH DINSA Gemechu Amenu 3:56.04 PB
6 KEN KIPRUTO Felix 3:59.98 PB
7 DEN OLSEN Christian Lykkeby 4:00.16 PB
8 RWA MUVUNYI Hermas 4:00.46 PB
9 GBR NUTTALL Luke 4:02.65
10 BDI NIKOBIMEZE Remy 4:05.44 SB
11 ANG JAIME Manuel Ernestro 4:09.79 SB
12 CHN LI Chaoyan 4:11.63 SB