How 9.86 seconds have changed Ferdinand Omanyala's life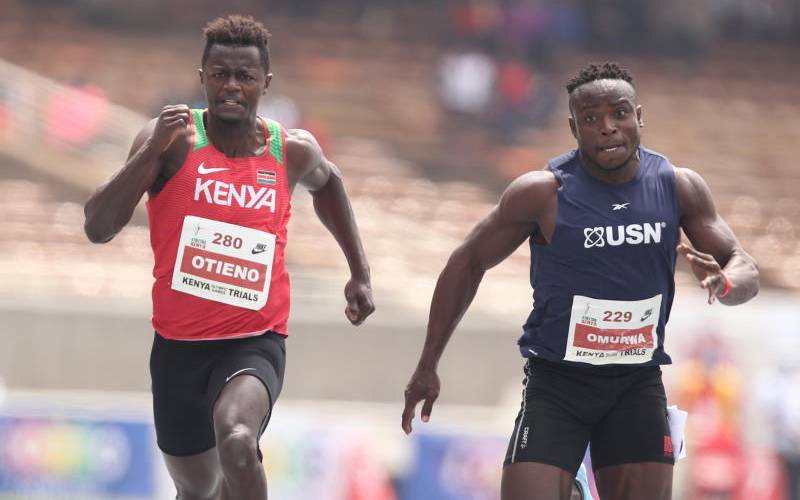 Boy! Sprinter Ferdinand Omanyala's life, or rather athletics career, will never be the same again. This is after the 25-year-old rocketed into a new realm of sprinting by clocking 9.86 seconds at the Josko Lauf Meet in Austria on Saturday.
He now belongs to the athletics gods. Like the toad flies, blood and urine thirsty athletics performance gatekeepers from Athletics Integrity Unit (AIU) and World Anti-Doping Agency (WADA) will be all over him like never before.
The media will be eager for that quote, how his career is coming together at such a supersonic speed after he was almost locked out of Tokyo Olympics because of his past transgressions. Commercial interest in the new star in town will definitely swell.
For the duration Omanyala will be actively running for financial gain or representing Kenya, he will not eat anything, drink or walk to a chemist to buy drugs over the counter.
Simply, the monster 9.86 seconds he recorded has taken away his mortal status like you and me. He will now be firmly under WADA radar if he is not already in the Registered Testing Pool (RTP).
Testing Pool
This is a pool of high-priority Athletes established at the national level by the Anti-Doping Agency of Kenya (ADAK) as required by the World Anti-Doping Agency (WADA) are put for a minimum of one year.
Omanyala's performance ticks all the criteria set by WADA to be included in the RTP such as his current ranking in 100m and recent surges in ranking position. If he isn't, then he surely will be included because he has also broken a national record and he is on the national team.
Take note also that unless he announces retirement, any injuries or sudden withdrawals from an event will be a reason to be included in the Registered Testing Pool.
Omanyala has no medical condition in the public domain, but if he has declared any then definitely he will be in the Registered Testing Pool because of risk factors associated, and hence WADA should be in the know. If he is in the Registered Testing Pool and decides to retire after his exploits in Austria on Saturday, he will come back straight to the pool should he decide to resume active competition.
According to this provision, athletes in RTP are subject to focused In-Competition and Out-of-Competition Testing and therefore required to provide whereabouts information as per Article 5.6.1 of the ADAK Rules.
Whereabouts here means Omanyala will be required to provide ADAK with details of where he can be found for one hour every day for the duration he will be in the Registered Testing Pool.
This is done through the 'Athlete Central', a new App developed by WADA to facilitate athletes' compliance with whereabouts rules under the global anti-doping programme.
This will allow sample collectors to pop in at that declared hour for Out Of Competition (OOC) testing. Tough, you think? There is more.
For his good, Omanyala will no longer casually stop by the roadside to have a bite of mutura or pop in at his favourite joint for a drink.
Omanyala and his buddies better get used to this if the speedster is to live to see through his budding career.
The difference is that you and I can walk into a chemist to buy a painkiller, lozenges to treat flu or quinine-based drugs to treat malaria or its symptoms. Not for Omanyala.
If he has to do so, it should be documented and in some cases, he should apply for Therapeutic Use Exemption via the Athlete Central App. Otherwise, repercussions are dire.
WADA has an endless list of banned substances that the only way to stay safe for Omanyala is to declare everything he ingests, including if there should be any traditional portions administered to him to ward off the evil eye.
The University of Nairobi student has everything going for him now. He is built for the sprints. And good for him, he has dared to dream. He has stood on his limbs to soak up the sunshine at a time it was safe for him to kneel and let his talent go down the drain when he served a ban for an anti-doping rule violation.
At one point Athletics Kenya mulled excluding him from the Tokyo Olympics trials, but the media interceded for him to get a second chance. And the second chance, he has grabbed with both hands. Unfortunately, or fortunately, depending on how he sees it, his arrival at the big stage has come at a time when Kenya is under WADA's watch list for anti-doping rule violations. This is why Kenyan athletes are some of the most tested in the world.
WADA requires that Kenyan athletes must have been tested at least three times before a major competition and that is why youngster Kamar Etyang was locked out of the Tokyo Olympics despite qualifying at the national trials.
In December 2016, WADA's Intelligence and Investigations Department, together with World Athletics' Athlete Integrity Unit (AIU) examined the doping practices of Kenyan athletes.
The findings were disturbing. One of them that keeps consuming the Kenyan athletes is feigning ignorance. Lately, Kenyan athletes have taken to falsifying documents. Even this has not deterred the law from catching up with the cheats.
And this is why counsel must find a stool in Omanyala's house. He has everything going for him. WADA's 12-page report should be his first tool for Ant-Doping Rule Violation education.
According to the report, between 2004 and August 1, 2018, a total of 138 Kenyan athletes (from all sports) had tested positive for Prohibited Substances. This number has increased since then. From their analysis, 18 athletes of 131 tested were caught through Out Of Competition (OOC) testing. The overwhelming majority, 86 per cent (113 of 131), were caught by In Competition testing.
WADA's conclusion was that a Kenyan athlete appears at a far greater risk of detection for doping IC than OOC. So, Omanyala should expect mean-looking altar servers of athletics gods at the finish line once he is done soaking in applause from the fans.
The sample is divided into two; A and B in his presence, sealed and spirited away for testing. If sample A returns an Adverse Analytical Finding (AAF), he will appeal to have sample B tested. The result is often predictable.
In WADA's report, Kenyan athletes alleged their doping was a consequence of over-the-counter medication or medical treatment. Tellingly, the athletes never kept any records.
For Omanyala, it is clear his path to greatness is surely being paved. The affable, stocky former rugby player has since been elegantly gobbling up the tartan hurtling towards Usain Bolt's 9:58 record. What he does with this piece, and himself along the way, is entirely up to him.