Eliud Kipchoge won't hang up spikes any time soon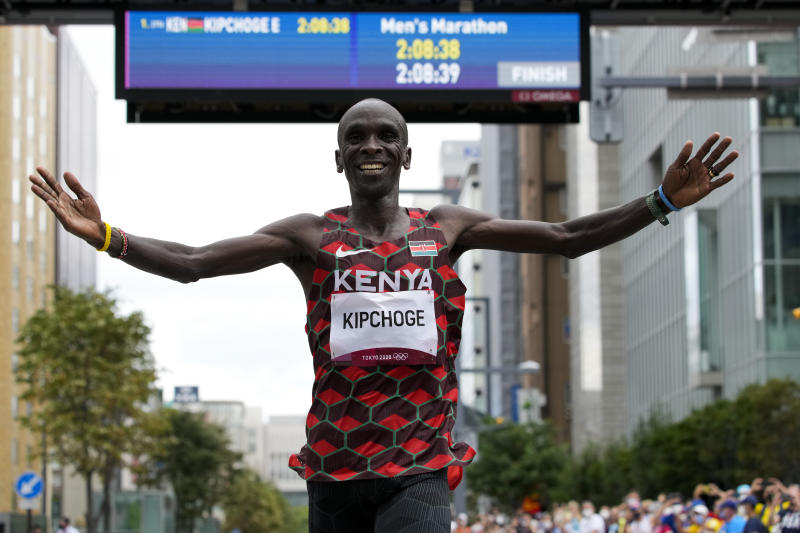 Two-time Olympic marathon winner Eliud Kipchoge landed back yesterday morning from Tokyo, Japan, where he defended his marathon title at the Olympic Games.
Kipchoge, who holds the world marathon record at 2:01.39, said he is not planning to retire any time soon.
"I am just back from Japan. I will take a few days' rest and get back to training. I am not retiring any time soon," said Kipchoge.
"But I want to inspire the youth all over the world. I want to make running to become a Kenyan lifestyle.
"It is through this that we make people respect the sport, treat it with respect and make it professional. The sport is a source of income."
He added: "But people must concentrate on it, remain self-discipline and stick to it. It demands a lot of discipline.
"Discipline means that you make huge sacrifices it terms of time and avoid diverting attention.
"I am an African and, more importantly, I am a Kenyan. In our culture, we are taught not chase two rabbits. We are simply instructed not to multi-task. I will take at least a month and decide my on next race."
Olympic 800m silver medallist Ferguson Rotich was among Kenyan athletes who arrived at Jomo Kenyatta International Airport few minutes after 12am yesterday.
There was no fanfare where medallists are served with a guard of Mursik (sour milk) and then garlanded with Sinendet, the Kalenjin traditional ornamental plant used to honour heroes.
Kipchoge borrows inspiration from world-famed authors and inspirational philosophers which helps him perfect in farming and sports.
But Kipchoge is an avid reader and always chooses the right book for the right task to get into the right frame of mind and that will come in handy as he gets immersed into farming.
In 2017, he read Imitation is Limitation and Impossible is Possible by American author John Mason.
As he prepared to attack the world record at the Berlin Marathon in 2018, he read Shoe Dog by Phil Knight, the co-founder of Nike, the American sports apparel that kits him.
Before he lined at the historic Ineos 1:59 Challenge, he read 11 Life Lessons from Nelson Mandela by Ndaba Mandela, the late former President's grandson.
"These books help me get the right frame of mind as I prepare for tough challenges," he said.
"As an athlete, I believe that you must invest once you start earning and ensure you save your earnings. "As much as there is the allure of money, run for the sport and the money will follow."
He does tea and dairy farming and has also invested in real estate. "I am not a large scale farmer but I love real estate. It's not so demanding," said Kipchoge.
Kipchoge says he draws inspiration from motivational books. "I read at least two books a month. If you want to actualize your dreams, just be with the right people and read good books. For me, books are my very loyal friends."