Kenyan exports who failed to shine in Tokyo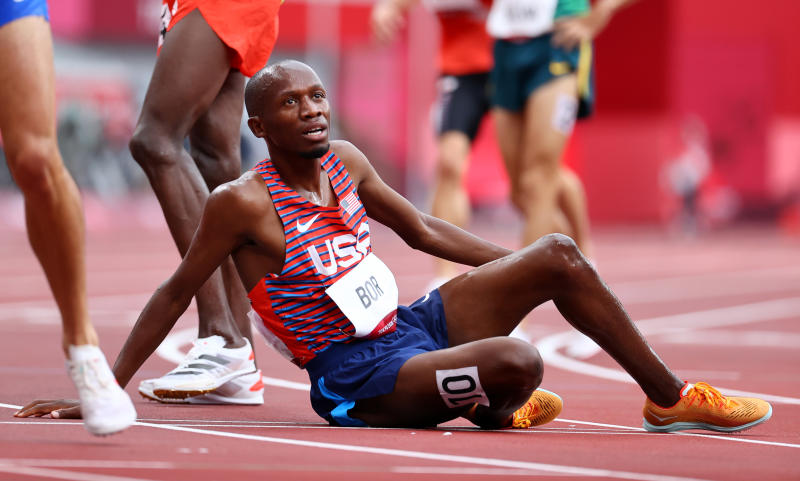 That Kenyan athletes are an ambitious lot who hardly advertise their running prowess across the globe is not in doubt.
It's an interesting statistic, though. From Wilson Kipketer's switch of allegiance to Denmark in 1990, Bernard Lagat's move to USA, to the latest defector in Norah Jeruto to Kazakhstan; the numbers keep increasing.
Oil-rich nations –Qatar and Bahrain –were initially an export destination for Kenya's latent talents.
But things hurtled down south for those who made headway to the Gulf States.
Although there were less Kenyan 'exports' at the just concluded Tokyo Olympic Games, USA's Paul Chelimo was the only athlete who won a medal; bronze in 10,000m.
USA lined up 2012 Olympic 10,000m bronze medallist Sally Kipyego and Aliphine Tuliamuk in marathon as well as Hillary Bor and Bernard Keter in 3,000m steeplechase. In Rio, Lagat anchored four other former Kenyans who changed their allegiance to the USA.
They included Paul Chelimo (5,000m), Hillary Bor (3,000m steeplechase), Leonard Korir and Shadrack Kipchirchir (both 10,000m). Bor, Korir and Kipchirchir serve in the US army.
The Tokyo Olympic outing looked different from the Rio 2016 Games, where more than 30 Kenyan born athletes were on the starting line at the Maracana Stadium. Turkey and Bahrain accounted for the highest numbers.
USA's former world champion Bernard Lagat, Turkey's Mike Kigen and a constellation of Bahrain's world beating stars that included 2016 Olympic 3,000m steeplechase champion Ruth Jebet and two-time Olympic marathon bronze medallist Eunice Kirwa, are some of the high-profile defectors.
These athletes have always complicated Kenya's winning strategy. Kenyans are used to signaling each other with Kalenjin word 'Ngebe' (let's break away) and have been compelled to devise new tactics to counter Kenyan-born athletes donning flags of their adopted nations.
Bahrain had John Koech and Nelson Cherutich (3,000m steeplechase) as well as marathoners Eunice Chumba and Eunice Kirwa.
Abraham Rotich (800m) and Albert Rop (5,000m), who was born in Kapsabet, were other Kenyan-turned-Bahraini in Rio. Rose Chelimo, Isaac Korir and Abraham Cheroben (10000m) were also in the mix.
In Tokyo, Lucy Kimani was the only former Kenyan in the Bosnia squad while Lonah Chemtai competed for Israel in women's marathon.
Turkey, which has turned out as a new market for Kenyan athletics talent, had two athletes in Mike Kigen and Ilham Tanui Ozbilen, formerly William Tanui.
This is unlike in Rio when they had six athletes Kenyan 'exports', including reigning European 10000m champion Yasemin Can, formerly Vivian Jemutai, and Tarik Langat Akdag, whose birth name is Patrick Kipkirui Langat.
Others include Ali Kaya (formerly Stanley Kiprotich) who competes in 5,000m after lining up in 10,000m and Ilham Tanui Ozbilen (William Biwott Tanui) who lined up in 1,500m. Meryem Akda (Miriam Jepchirchir) competed for Turkey in women's marathon.
In 2017, USA presented six athletes –Samuel Chelanga, Stanley Kebenei, Shadrack Kipchirchir and Leonard Korir, Paul Chelimo and Alphine Chepkerker Tialmuk –at the World cross country championships in Kampala, Uganda.
Most of the world beating stars attributed their change of citizenship to lack of compensatory remuneration from the government.
But more than a decade now, the athletes, who attracted hefty pay from the oil-rich nations, have returned to their motherland and now go about their businesses –while some lead squalid lifestyles in Eldoret –because they no longer compete.
Among them are Qatari's world 3,000m steeplechase record holder Saif Saaeed Shaheen, formerly Stephen Cherono, James Kwalia and Musa Amer Obaid (formerly Moses Kipkurui), who live in Eldoret.
Shaheen, James Kwalia and Albert Chepkurui (Abdullah Ahmed Hassan) are the only athletes in the clandestine of defections to Qatar who won medals at global competitions.
Shaheen won two world titles, Kwalia won bronze in 5,000m at the world championships in Berlin in 2009 while Chepkurui bagged bronze medal at the 2005 World cross-country championships.
Chepkurui, an old boy of Lelboinet Secondary School in Keiyo South and Salim Belal (Raymond Katui) switched their allegiance to the Gulf.
Then came the migration of Kipchumba Koima, a cousin of world 3,000m record holder Daniel Komen and George Sirma, who were schoolmates with Musa Amer Obaid (Moses Kipkurui) at Kitany Boys.
Bernard Lagat, who won silver in 1500m at the 2004 Olympic Games in Athens representing Kenya, is among top guns flying the American flag in global athletics.
He also won bronze at the Sydney Olympic Games and silver at the 2001 World Championships in 1500m donning the Kenyan jersey.
In 2007, Lagat struck gold in 1500m and 5000m for USA at the World Championships in Osaka, Japan and then followed it with silver in Berlin (2009) and Daegu (2011) in 5000m. She won bronze in 1500m in Berlin.
Lagat, Kwalia and Shaheen are perhaps among few athletes to have won medals in major competitions representing different nations.