Time for Kipchoge to hit back at Tokyo Olympics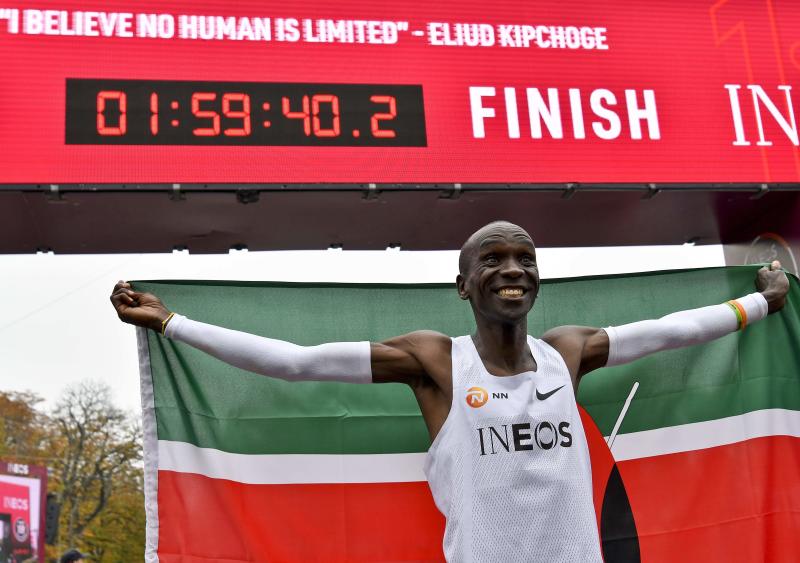 Kenya's national anthem was the last to be played in Rio, Brazil during the 2016 Olympics courtesy of world marathon record holder Eliud Kipchoge.
Kipchoge had raced to an Olympic gold medal and he had to be awarded the medal before the closing ceremony at the iconic Maracana Stadium.
That might not happen at the Tokyo Olympics though as the marathon is happening over 800km from Tokyo, the venue of most Olympics events and closing the ceremony, but Kipchoge will still be keen to make sure that Kenya's national anthem will still be the last to be heard at the 2020 Olympics.
A win for Kipchoge will also mean he is going to exit the scene having won Olympic gold, even though the world record holder is yet to announce his retirement many think the 2020 Olympics could be his last major global event.
At 37, he is not expected to race at the 2024 Olympic Games in Paris and Tokyo is the perfect ground for arguably the world's best marathoner to take to the top podium.
It is also a chance for Kipchoge to hit back after losing in London Marathon for the first time in over 10 marathons.
As if that is not enough, Tokyo 2020 provides him with a chance to avenge the London Marathon defeat as the athlete who beat him, Ethiopia's Shura Kitata, will also be in the line-up when the race starts tomorrow (Sunday) at 7 am (1 am Kenyan time) in Sapporo.
For Kipchoge though it will not be about looking at who his rivals are but it will be about running his own race.
The threat for Kipchoge though might come from his teammates.
Lawrence Cherono and Amos Kipruto have both run faster times this year even though they might count for nothing as this is a championship event where there are no pacesetters and the gold medal winner does not have to move mountains with his time.
There is also the factor of heat which has been a problem to many athletes in Tokyo and could still be an issue to athletes in Sapporo and Japan is in Summer at the moment.
One athlete though who might enjoy the conditions is Ethiopia's world champion Lelisa Desisa who won the world title in Doha, Qatar in 2019 under almost similar conditions and he might start as a favourite when it comes to managing the brutal conditions.
However, it will not be a Kenyan v Ethiopia battle as Uganda will also want to have a say and the host nation which is also a marathon mad country will want to get in the mix for the medals.
Uganda's Stephen Kiprotich is still going strong and ready to win another world title ahead of the Kenyans and Ethiopians while the likes of Sugun Sako, Shogo Nakamura and Yuma Hattori will hope to use the home conditions to their advantage.
Kenya's main rivals in men marathon
Ethiopia- Shura Kitata, Lelisa Desisa and Sisay Lemma
Uganda- Stephen Kiprotich, Felix Chemonges and Fred Musobo
Japan-Sugun Osako, Shogo Namakmura and Yuma Hattori
USA-Galen Rupp
Belgium- Bashir Abdi
Lionel Messi potential destinations
In a bombshell development, Barcelona announced on Thursday that superstar and six-time Ballon d'Or winner Lionel Messi would leave the club after 18