Abel Kipsang sets new Olympic record in 1,500m semis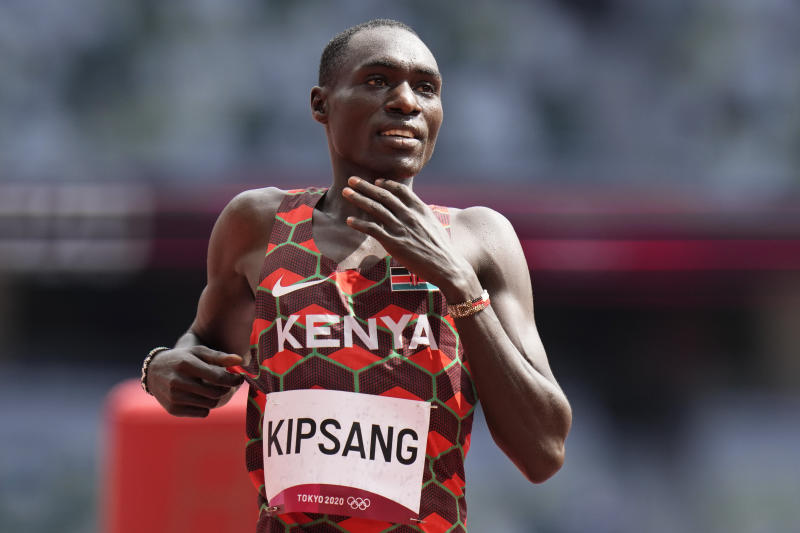 Kenyan youngster Abel Kipsang set a new Olympic record as he raced to the final of the 1,500m.
Kipsang who raced in the second heat of the semi-finals broke off from the rest in the last 100m to set the new Olympic record in 3:31.65.
The old record of 3:32.07 was set by another Kenyan Noah Ngeny when he won the gold medal at the 2000 Olympic Games in Sydney, Australia.
"I anticipate running an even faster race in the final," Kipsang said after the race.
He, however, said he was running his own race and did not know he was going to set a new Olympic record.
World champion Timothy Cheruiyot who ran in the first heat of the semi-finals also qualified for the final set for Saturday.
Cheruiyot who controlled the race from the gun to the bell finished in third place with the top five finishers, to secure a place in the final.
Cheruiyot clocked 3:33.95 in the race won by Great Britain and Northern Ireland's Jack Wightman in 3:33.48, which was a season-best.
USA's Cole Hocker was second in 3:33.87 which was also a personal best time.
It was a disappointing outing for Kenyan Charles Simotwo, who failed to make the finals.
Simotwo was sixth in the first semi-final in 3:34.61, but unfortunately, the two fastest losers came from the faster second semi-final.
Meanwhile, World Athletics boss Seb Coe has reminded Kenyans that the Men 3,000m Steeplechase is still their event despite not winning gold at the Tokyo Olympics.
Coe was quick to point out that the other countries were closing the gap, not only in steeplechase but other events which have been dominated by one or two countries.
"Steeplechase is still your event, but be careful as other countries are quickly learning the tactics and winning races that you did not expect them to win. The show though is good for athletics and I am impressed with the good show by the athletes here in Tokyo," Coe said.
He said the athletes have faced difficult times due to the Covid-19 pandemic, but he was impressed with them for overcoming adversity and giving their best.
"You can see there have been very good show by athletes. It makes me very happy when I see athletes setting new world records, area records and even setting new personal best times," Coe said.
The former Olympic champion also said Kenya was capable of hosting the World Athletics Championships and that he was happy with the progress in Nairobi ahead of hosting the World Under-20 Championships.
"I know Kenya has the capacity to host the Senior World Championships, but unfortunately it is not down to me to pick a host of the World Championships, it is down to the World Athletics Council members," Coe said.