Cheruiyot is just happy to have finally raced at the biggest stage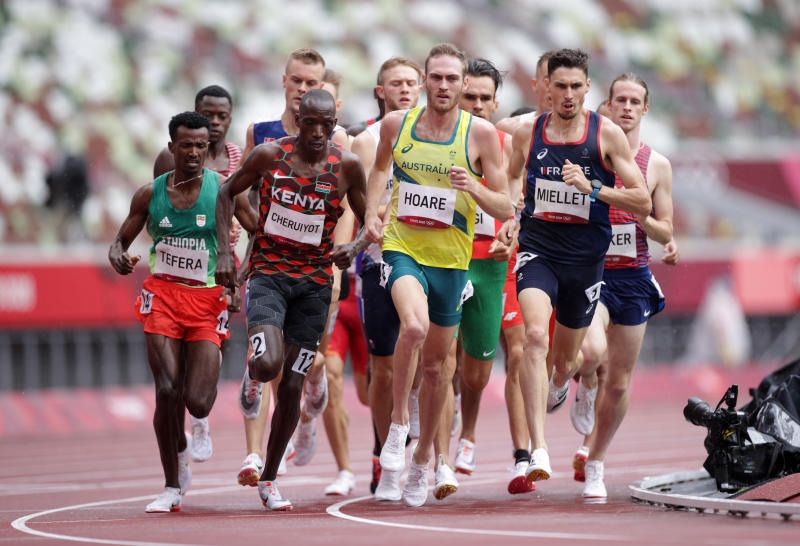 World 1,500m champion Timothy Cheruiyot thought his Olympics dream was over when he finished fourth at the national trials.
Athletics Kenya (AK) had insisted there was no wild card and named the top three finishers in the team to Tokyo.
Many athletics fans in Kenya and across the world were left wondering how a world champion over the distance could be left out of Kenya's team to the Olympics, if they wanted to win gold.
But then again, AK did not want to court controversy by dropping the three athletes who had worked hard to book the Olympics ticket.
In the end though, Cheruiyot found himself on the plane to Japan at the expense of youngster Kamar Etyang, who did not meet the anti-doping requirements after finishing third at the Kenyan trials.
And yesterday, Cheruiyot was happy to have put all that behind as he qualified for tomorrow's semi-finals.
The world champion led two other Kenyans Abel Kipsang and Charles Simotwo in booking the slot in the next round of the competition.
Cheruiyot ran in the morning under some slight showers, but later said the rain was a blessing as it helped cool off the high temperatures at the stadium.
He finished second in heat one in 3:36.01. Belgium's Ismael Debjani won the race in 3:36.00.
"Today was just about making the semi-finals. There has been too much heat in Japan, but at least it was raining during my race and the heat was not too much," Cheruiyot said.
Kipsang, who is running in his first Olympic games, also had an easy passage to the semi-finals as he kept off the jostling in the early parts of the race to win in heat two.
He won in 3:40.68 ahead of the Olympic champion Mathew Centrowitz of the USA in a brutal race that saw a number of runners fall over each other as they jostled for positions in the final lap.
"This is my first Olympics and I am very happy to have qualified for the semi-finals. I will look up to Timothy for guidance as we move forward to the next stage of the competition," a shy Kipsang said.
In heat three, Simotwo had to painfully wait to know if he had qualified after finishing 10th in 3:27.26.
In the end he qualified though as one of the six fastest losers after the three heats.
The 1,500m gold is one medal that Kenyans will be hoping they will win at these Olympics, considering the last time a Kenyan won was in 2008 in Beijing through Asbel Kiprop who was awarded the medal later after then winner Bahrain's Rashid Ramzi was stripped off the medal for doping.
The trio, however, will be praying for a safe passage to the finals before they can talk about the medals.
Notebook: There are no bumps in Tokyo
I had written earlier here about how roads in Japan will make our own Thika Super Highway look like child play. Something once again has caught my eye