Africa Zone 2 and 4 Triathlon Championship: Njeri, Paul win Africa tournament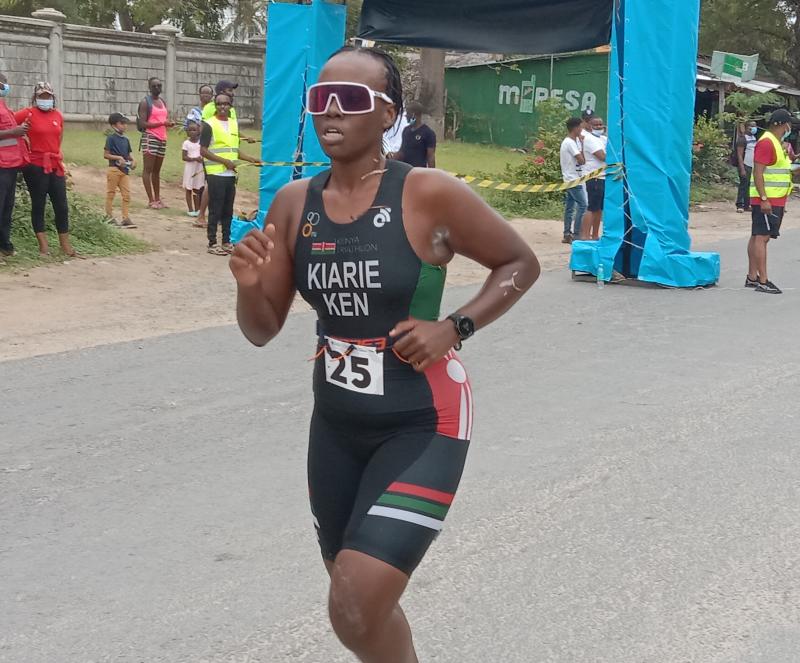 Kenya's top ranked female junior triathlete Josette Kiarie Njeri and John Paul are the winners of the Africa Zone 2 and 4 Triathlon Championship held on Saturday in Watamu, Kilifi County.
The duo beat a strong pool of 22 participants, an unforgiving 750 meters of choppy waters at the Turtle Bay Sea front and a strong wind on the 20 kilometer cycling section to clinch the zonal continental titles.
The victories are historic for Kenya that hosted the championship for the first time.
Interestingly, Josette, who is coming from a swimming background and is equally strong on the bike, has been racing professionally for the last three years. The 18-year old harbors dreams of becoming the first Kenyan woman to represent the country at the Olympic Games.
"This place is challenging. The sea here is choppy and there was a lot of head and tail wind in the cycling. It was quite an experience because this is my first competitive race since June," said Josette who took part at the Africa Triathlon Championship in Egypt last month.
She was followed by 15-year old Vivian Hillier of Mombasa and Gloria Kisiangani who was representing Nairobi, for position two and three in that order.
John Paul beat his closest challenger by almost 500 meters in a race where most of the participants made amends in the 5 kilometer run.
Kisumu-based Joseph Okal finished second ahead of Soud Hassan in the elite men's race.
For Soud, finishing third was a great achievement considering that he cheated death barely two weeks ago after he was involved in a road accident in the build up to the event.
"Swimming was the biggest challenge for me because today I still have fresh wounds. I couldn't push hard enough," said Soud.