NOC-K Secretary General Mutuku: We will ensure Women Athlete Safe Policy is in place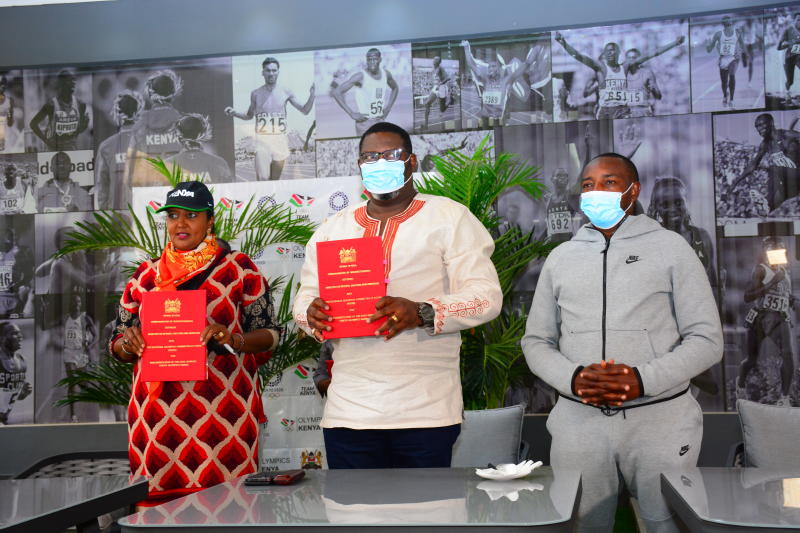 The National Olympic Committee of Kenya Secretary General Francis Mutuku has said NOC-K will continue to ensure that Women Athlete Safe Policy is in place.
Mutuku's statement comes a day after Sports, Culture and Heritage Cabinet Secretary Amina Mohamed warned federations and associations against the indecent treatment of women in sports.
"We fully support the directives with regards to female Athletes Welfare and the representation of women in a leadership position," said Mutuku.
"Infrastructure in the Sports Industry is male-dominated. This is with the exception of few female leaders in office administrators and technical official's positions. "
He, however, noted that participation of women in sports has grown as evidenced in the Tokyo Olympic Games 2020 with over 50% representation.
"The Cabinet Secretary's directives are very much in line with International Olympic Committee Gender Equality Policy 2020 where the objective is to have a ratio of 50:50 men to women," he added.
The CS constituted a nine-member ministerial committee on gender welfare in sports and also instructed all sports bodies to ensure that representation at the management level is on the constitutionally represented two thirds rule.
"However, despite the growth of female athletes, the support system in leadership and management has not equally grown," said Mutuku.
"NOC-K in the last few years, through its Women and Sports Commission, has supported women in sports in order to create more opportunities.
"This has been achieved through deliberate activities such as Women Administration Courses and more opportunities for Women Scholarship Programs. "
For the period 2021 to 2024, NOC-K's objective is to increase the participation of women in sports and to push for policieswith regards to leadership, management and administrative programs as guided by the Cabinet Secretary.