Africa high jump champion Mathew Sawe qualifies for Tokyo Olympics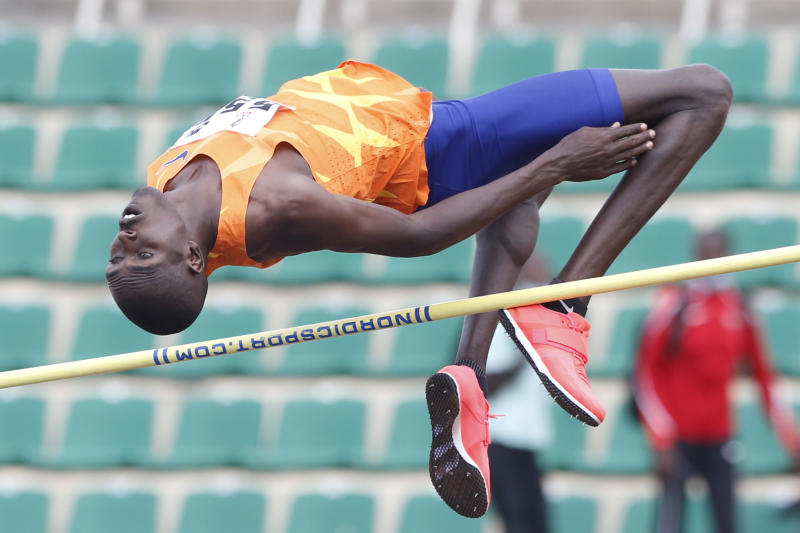 Africa high jump champion Mathew Sawe will enjoy his special day (Friday) –birthday –in spectacular fashion.
After years of sheer agony, Sawe will grace the world's biggest multi-sport bonanza in Tokyo, Japan, happily later this year.
He just qualified on the final day before closure of Olympic qualification on June 29.
That was a perfect and Godsend birthday gift for the Kenya Defence Forces soldier, who failed to make it to the 2016 Rio Olympic Games squad.
The two-time African champion is among 15 high jumpers who have qualified for the Olympics through World Rankings position after standing 24th in the world by end of the entry period.
Sawe had already been named in Team Kenya after the three-day national trials at Kasarani Stadium.
The event will feature 32 athletes, with 16 having gone through after attaining the Tokyo standard of 2.33m.
He will be making his debut at the Games after he was dropped from the Olympic team to Rio in 2016, just a month after he had won his first African title.
Top 30 athletes in World Athletics ranking by the end of the deadline qualify for Olympics with or without attaining qualifying standards.
Sawe, seventh-placed at the 2018 Commonwealth Games inside Carrara Stadium in Gold Coast, made it on Tuesday.
Sawe won the Africa Senior men's high jump title after he cleared a height of 2.21m, to miss his debut in the Olympic Games by 21cm.
But he has come a long way. He set the ball rolling when he equalled a then 23-year-old 2.24m national high record held by Jacob Katonon in 2015.
Julius Kirwa, the Olympic team track and field head coach, said Sawe's qualification would boost his team's morale.
"We are presenting high jump at the Olympic Games for the first time. That is a sign of good things ahead. Remember, we started it with javelin and the results are there for all of us to see.
"We have really tried to venture into new areas. Imagine we are taking two athletes in men's 100m, an event no one would have expected. Being a two-time Africa champion, Sawe has everything it takes to perform well. Let us hope for the best," said Kirwa.
Meanwhile, German star Johannes Vetter grabbed the headlines by throwing 92.14m in the men's javelin on a cool and rainy evening at the Spitzen Leichtathletik meeting, a World Athletics Continental Tour Silver event, at the Allmend Stadium in Lucerne on Tuesday.
Vetter opened the competition with 89.19m in the first round before improving to 92.14m from his second attempt.
The 2017 world champion threw the javelin to 91.39 in the third round before withdrawing from the competition after three attempts. Trinidad and Tobago's 2012 Olympic champion Keshorn Walcott finished second with 85.16m ahead of Julian Weber from Germany (84.85m).
Vetter has now thrown over 91m in seven competitions this season. He leads the world rankings with 96.29m.
Mathew Sawe High Jump medal Collection
African Championships
Gold 2016 Durban (SA) High jump
Gold 2018 Asaba (Nigeria) High jump
Bronze 2012 Porto Novo (Benin) High jump