Yego feels ready to bounce back at Olympic Games trials in Kasarani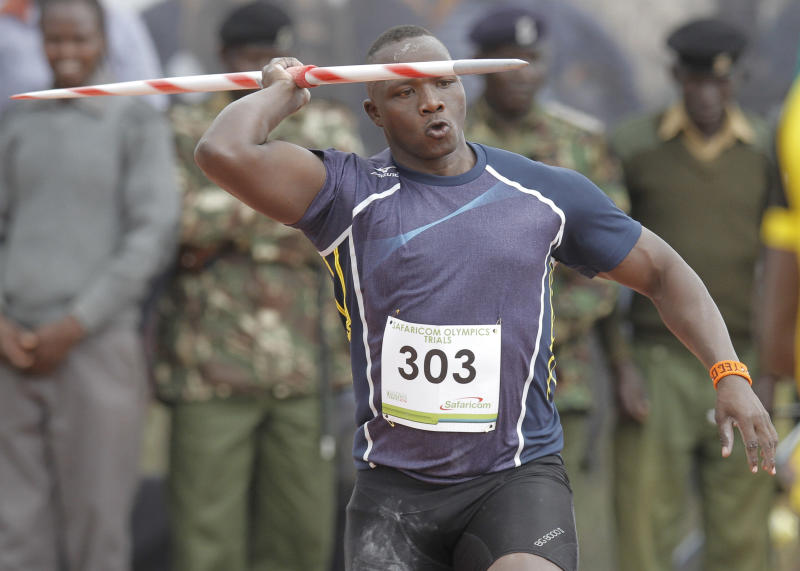 The heights continue to soar high yet the scream still sounds familiar.
When Olympic javelin silver medallist Julius Yego stands at the end of the pitch, staring up in an empty Kasarani Stadium on Saturday, he boils a task of ultimate sophistication down to sheer simplicity.
Yego, who only misses Olympic title in his trophy cabinet, must prove his mettle as he lines up against Alex Kiprotich, Duncan Kinyanjui and Boniface Kilonzo.
He has won the African Games, Africa Senior Championships, Commonwealth Games, World Athletics Championships, Olympic silver and some Diamond League meetings as a bonus.
Fans across the globe must have missed for long his signature scream.
The joy of that scream — the ecstatic feeling one gets after achieving the impossible, the sense of pride and emotion after a brilliant display— tells a lot about Yego's struggle to excel in a field event discipline, despite coming from a region endowed with track superstars.
Yego, the pioneer of the spear in Kenya as he is known, released the javelin that sailed in the air for eternity before registering the best throw during the 2015 Beijing World Championships–days after setting the Africa record of 92.72m in Birmingham, the fourth longest throw in history.
No Kenyan had ever won a field title – or even a medal – at the IAAF World Championships, but Yego sat pretty on top of the world, having ended this streak.
The performance appeared as an anti-climax for Yego, who boasts an impressive trophy cabinet.
"It is good I have the Olympic Games qualification. I do expect that more athletes will qualify. So far, at least 14 throwers around the world have qualified. I think more of them would still make in through the Diamond League meetings," said Yego.
Meanwhile, Hellen Syombua stands out as the only 200m athlete to bask in qualifying time just as Emmanuel Korir in the 400m contest. So far, no participant has qualified in men's and women's 400m hurdles race.
Mary Moraa, who posted an impressive 1:19.95 in Finland recently, must be at her best to make the cut.
She hit the Olympic qualifying mark at a meet in Kisii recently.
Ferdinand Omanyala, who posted 10.11 seconds in a meet in Nigeria and had been handed a doping ban for violating doping regulations, has been invited to the three-day national trials.