Eldoret City Marathon preparations enter top gear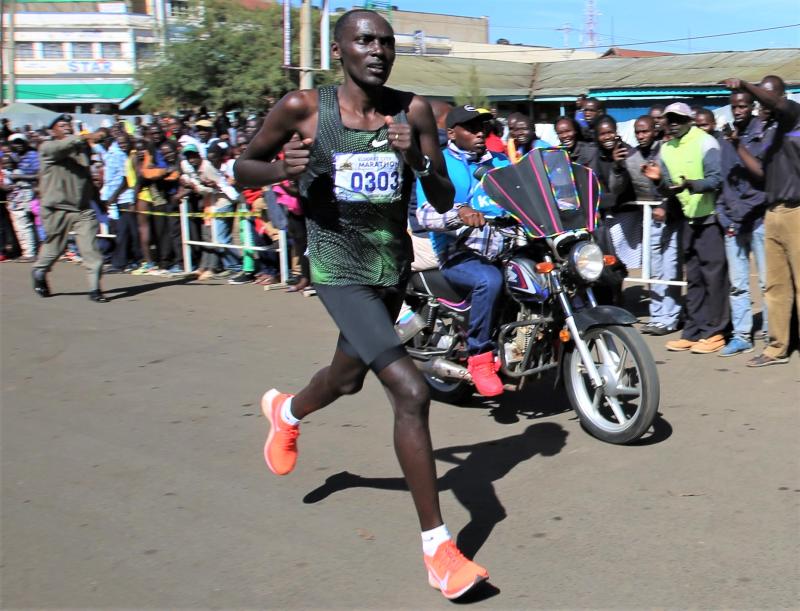 The long wait is almost over. Eldoret, the spiritual home of world athletics, will soon get back to life – though under strict Covid-19 restrictions.
No fans, top notch competition and world class pay out welcome you to Eldoret City Marathon on Sunday. Mark your calendar.
Expectation and excitement will no doubt remain visible since it is the first 42km race to be held in Kenya since the outbreak of Covid-19 pandemic last year.
Athletics analysts say the third edition of Eldoret City Marathon will serve as a manual to guide the planning and execution of marathons amid the Covid-19 pandemic.
The Sh3.5 million winner's prize – the highest pay out in Africa at the moment – will certainly send the athletics world into ecstasy.
It has Abott World Marathon Major (WMM) series recognition and became the only race in Kenya to attain such status even as it eyes a World Athletics label.
Yesterday, focus shifted to the finish line as preparations for the marathon entered homestretch.
Local organising committee (LOC) chairman Andrew Chelogoi issued strict guidelines aimed at minimising large crowds at the finish line while staging a good race.
Chelogoi said a maximum of 100 people will be allowed at the finish line between Ziona Mall and TAC Centre grounds.
Among the 100 people to get access to the finish line, he said, are a restricted number of VIPs, individuals representing sponsors and journalists.
"We want to set the mark on enforcement of Covid-19 protocols in competitions and that is why we are restricting the number of people at the finish line to only 100," Chelogoi said.
"We will be having a team of doctors and nurses deployed by our sponsors and the Moi Teaching and Referral Hospital (MTRH) to respond to emergencies," he added.
The LOC said only ten cars ferrying VIP guests among them Sports Cabinet Secretary Amina Mohamed and several governors led by Jackson Mandago will be allowed to the podium near the finish line at specified times.
Chelogoi said the VIP podium where 200 guests traditionally sit, will only take 60 people to uphold social distancing.
"We are asking fans to watch the race on KTN News because we will not allow crowds at the finish line," he added.
Moses Tanui, the race director and two-time Boston Marathon winner, said only persons with special passes will be allowed to the finish line.
"All areas near the Zion Mall will be a no go zone. It's only a few people with special identification badges," Tanui said.
"We will have a team of first aiders and health workers on one section and a space has been reserved for the timer to pass."