Numerous turns make Eldoret City Marathon course exciting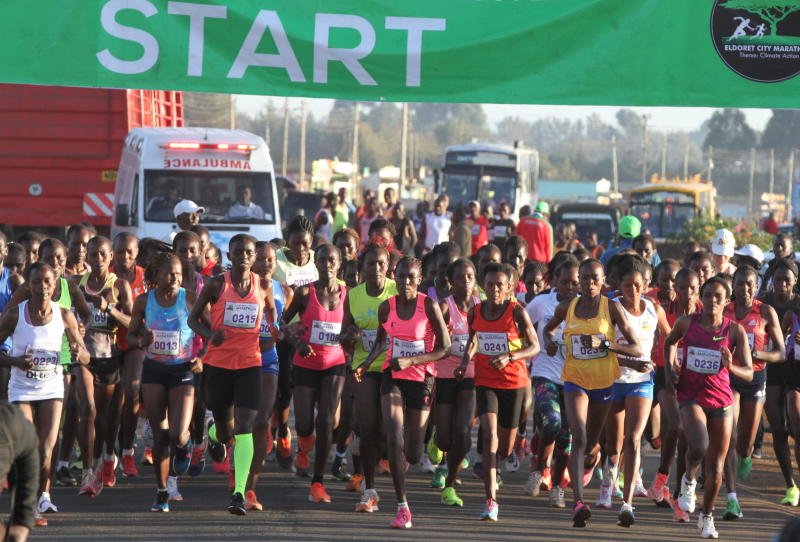 The clock is ticking. It's only eight days to Africa's highest paying race – Eldoret City Marathon.
It's no doubt a sigh of relief to athletics enthusiasts as it will keep them glued to TV sets in the midst of Covid-19 pandemic.
With over 40 Covid-19 measures that will be applied in the race already released, all indications are that the farming town looks ready to host the third edition of the marathon.
On Sunday, June 6, athletes will battle in at least 60 turns in the 42 km course, which will take them through a majority of the town's estates and historical sites.
This is in stark contrast to the Big Five marathons in the world –Boston, New York, Chicago, Berlin and London marathons.
In these well-heeled marathons, elevation profiles highlight the differences between historic courses like Boston and New York City and the flat courses where fast times are always posted.
Boston is a point-to-point downhill course with three turns and it's ineligible for world records as it can produce "too fast" times, like in 2011 when Geoffrey Mutai posted a sizzling 2:03.02 under a tailwind.
The Chicago Marathon's pan-cake flat course has 31 turns while New York City has 26 turns. London and Berlin flat courses have 19 and 17 turns respectively.
According to Eldoret City Marathon technical team, the sharp corners prepares athletes for tougher marathons.
Navigating the bends is common, all the way from the start at the university of Eldoret to the finish line at the Zion Mall.
The first turn is at the Chepkoilel junction on the intersection of Iten road and the road to the University of Eldoret.
After a flat course through Kimumu, Hawaii and Rock Centre, marathoners will make a sharp turn at the Veterinary junction as they race towards Eldoret Water and Sewerage (Eldowas) main offices and the PCEA Church.
Navigate eight corners
At the junction at Oloo Street near Sirikwa Hotel, the athletes will then head towards the Central Bank of Kenya, Eldoret branch and Uganda Road.
They will take two bends near Raiply and the Prince of Peace International Church before racing to take home the Sh3.5 million prize money. They then turn back to Uganda Road to another corner near Majengo Catholic Church at the sprawling Majengo Estate.
Off the highway towards the Eldoret Social Hall in Pioneer Estate, is where the athletes will navigate eight corners before rejoining Uganda road near West Market and Paul's Bakery, before racing straight back to the highway through Gulab playing grounds.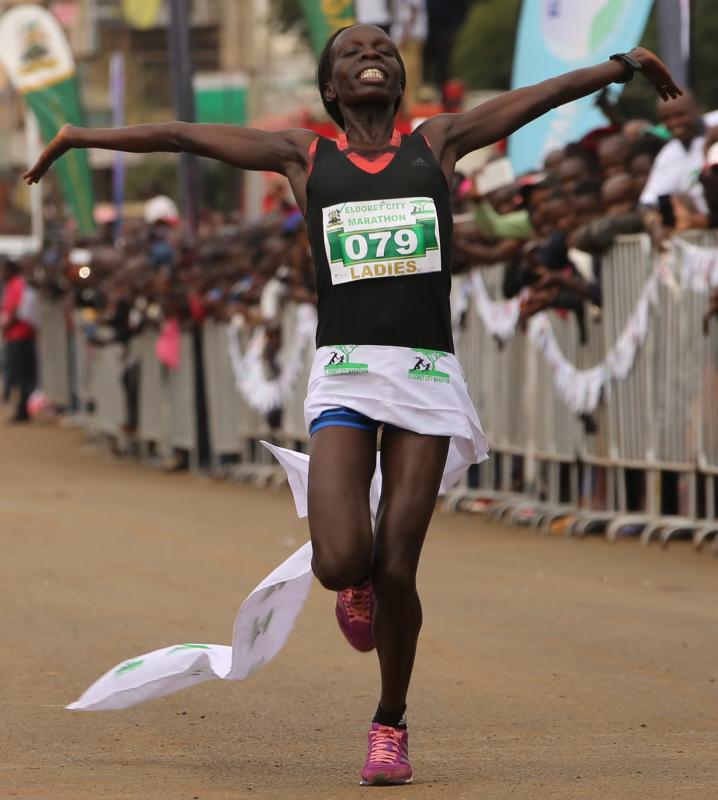 About 100 metres after Paul's Bakery, they take another 13 corners off the highway through Mahatma Gandhi Road, Sosiani Street and Arap Moi street and back at the Central Bank junction presidential
A stretch of at least 200m starts off near National Bank before another turn at Uganda road and Kenyatta Street.
At the Kenyatta street branch, take 32 turns through Kisumu road, Nyerere road, Elgon View estate, Boma Inn Hotel, Nandi road, Grand Prix Hotel, Sosiani Hotel, Ken-Knit Company, Moi Girls High School, Kapsoya Estate Kao La Amani Church, RVTTI, Rupa Mall and Village through Eldoret Cathedral Church to the finish line outside Zion Mall.
"It is a route with many corners but it is good for athletes who plan to compete in major marathons across the globe," race director Moses Tanui said.
Eldoret City marathon 2019 winner Valary Jemeli Aiyabei said she went ahead to win the Frankfurt Marathon, five months after winning the race.
"The course prepared me well for my win in Frankfurt. It was challenging, but I still managed to win," Aiyabei said.