The day Samuel Wanjiru shell-shocked the world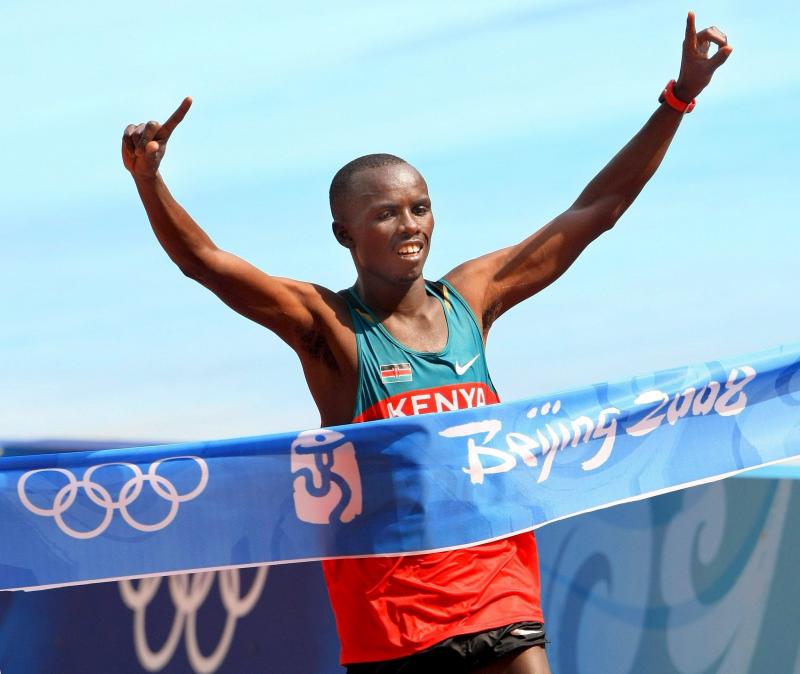 Ten years have rolled by since the tragic demise of Samuel Kamau Wanjiru - who was on course to be the greatest of all time in marathon running before he died aged just 24.
Although a decade has flown by since that fateful May 15, 2011 morning when the world awoke to the shocking news, Wanjiru remains one of the most respected figures in the ultimate distance running.
He pioneered the front running style in the classic 42.192km marathon distance that has seen his compatriots shatter the world marathon record an amazing four times since his death.
"Samuel Kamau left a huge legacy as far as the marathon is concerned. He came from a humble background and above all from a single parent. Diversity is what he left behind. He trained in Japan and beat the odds whereby young people can learn from and in the end, he won an Olympic gold medal. May he continue resting in peace," Olympic champion and world record holder, Eliud Kipchoge, told The Standard.
His last coach Claudio Berardelli recalls him as an extraordinary yet humble athlete.
"For the short time I was privileged to work with him, Sammy was with no doubt an extraordinary athlete with a very unique natural instinct for competition, which honestly I have not seen with any other athlete in all my years in Kenya.
It's like Sammy could really transform himself....finding extra confidence of himself that could make him almost unbeatable despite his level of shape," says the coach, who has since moved on to the 2 Running Club from Wanjiru's Rosa Associati Management.
Berardelli recalls Wanjiru as a humble and good-hearted man who was loved by those he came across both in and out of the athletic world. "I rarely saw Sammy being annoyed or unhappy with someone, he was a man full of life, always friendly with people surrounding him and that is why he was loved by many not only as a champion but also as a man."
Having famously lost the 2008 London Marathon title to a desperate final sprint uncorked by Martin Lel (2:05:24 against 2:05:15), Wanjiru returned home crestfallen before he tore up the marathon running script to shreds when he next took to the course at the Beijing 2008 Olympics final.
In simple terms, conventional wisdom dictated the most gruelling running event should be tackled at a slower pace in the first half before finishing fast in a bid to conserve as much energy as possible for such a grueling race.
However, on August 24, 2008, in what remains his most enduring performance, the stocky Wanjiru stormed to the gold by deploying tactics never seen before in a marathon.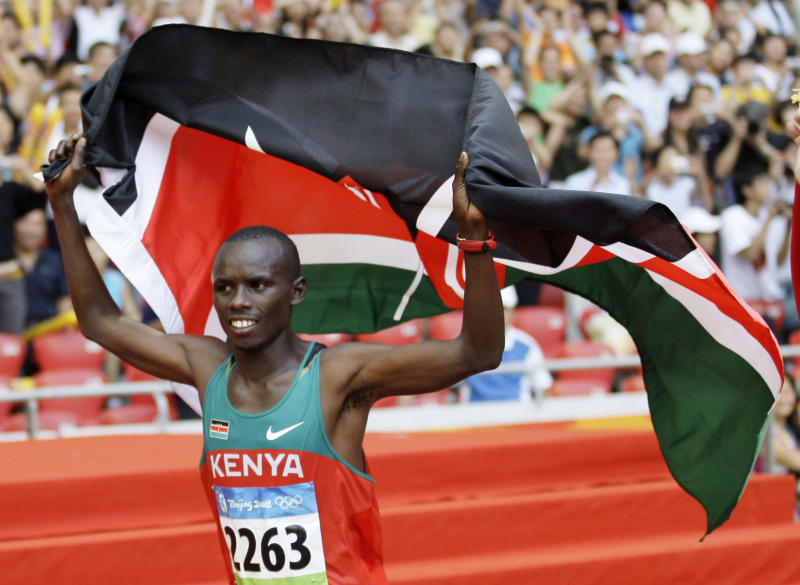 From the gun, Wanjiru set off at a world record pace for the first 10km, running through 10km in 29:25, which is not supposed to happen in a championship marathon, especially when the conditions are supposedly not conducive to fast racing.
The field was shell-shocked when he and Lel took the lead and reeled off kilometre after kilometre of sub 3:00 per kilometre.
The assembled group of international runners was blown apart, and by 10km, there were only about 10 men at the front of the field.
Although the pace slacked in the latter half of the race, Wanjiru made what was the race's decisive move at about 37km.
After throwing Deriba Merga one look as if to tell him "so long" Wanjiru went to the front, threw in a fierce kick that lasted perhaps 100m, but it was enough to end the Ethiopian's challenge.
Merga had worked his way from the back to join a front three that also had Jouaid Gharib of Morocco, with the latter moving up to silver when the Ethiopian who had spent much to catch up faded badly out of the podium. Another Ethiopian, fast-finishing Tsegay Kebede overhauled him for bronze.
But Wanjiru was the man of the day – the then 21-year-old, running in only his 3rd marathon took the Olympic field and simply ran them off his heels. It was insane running he set off at a pace that everyone must have thought was completely suicidal. And of course, he did slow down but his remarkable finishing time of 2:06:32 remains an Olympic record.
"I realised that if I waited to go close to the finish, I could miss my chance. So, I decided to train to run fast from the start, all the way to the end," Wanjiru remarked after his famous win, toasting his epic victory with a swig of beer, straying from the norm of the reserved nature of the Kenyan athlete.
For good measure, Wanjiru then turned the tables on Lel at the 2009 London Marathon where he stopped the timer at his marathon lifetime best of 2:05:10 before later that fall, adding the Chicago Marathon crown in 2:05:41 to establish himself as the world number one marathoner.
Injuries saw him miss the spring (April to May) season in 2010 but later that fall, a half-fit Wanjiru- plagued by a stomach virus- changed tact, beating his now familiar foe Kebede to the Chicago crown by using shadows to confuse the Ethiopian before flooring him in the final sprint for a 2:06:24 victory.
Sadly, that was to be his last great victory. At the start of the 2011 season, Wanjiru who was beset by fitness and legal problems with his widow Triza Njeri relocated from Nyahururu to Kapsabet.
And so it came that on an off day given to attend to a court hearing in Nyahururu on May 11, Wanjiru was to pass on under circumstances that are the subject of a legal inquest.
What cannot be questioned is his legacy to a sport that honoured his contribution by renaming the prestigious USD500,000 World Marathon Major trophy after him.
The writer is a Line Producer, Sports at CGTN Africa