Eliud Kipchoge puts his INEOS moments on NFT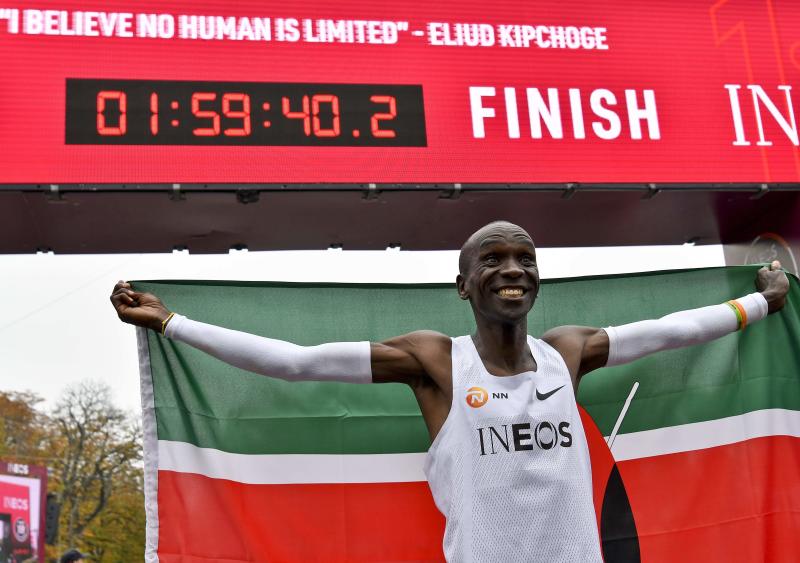 It resonates well in the minds of over four billion viewers that followed Eliud Kipchoge's INEOS 1:59 Challenge on the streets of Vienna on October 12, 2019.
He became the first person on earth to run a full marathon under the magical 2-hour mark. Some compare it to the first man to land on the moon. That is how extraordinary this achievement is –a jaw dropping 1:59.40.
For years, the best runners, coaches, and scientists doubted whether it was possible for a human being to run 42 kilometres and 195 meters in less than 2 hours. Kipchoge has shown that this is possible and is therefore not only the best runner of all-time but also an inspiration to many.
To make this legendary moment even more special, Kipchoge made his highlight available as an NFT.
This NFT (Non-fungible token) represents the career milestone of Kipchoge on the blockchain. It is digitally signed and officially approved by the hero himself. Bid to win and become the owner of this piece of history.
Eliud 'the philosopher' Kipchoge (born 5 November 1984 in Kapsisiywa, Nandi District) is a Kenyan long-distance runner who has won medals at Olympic and World level. He grew up on a farm where he worked hard and often cycled from his home to Kapsabet, lugging several gallons of his family's milk to sell at the local market.
He also used to run to school every day, covering the 3km twice a day. Kipchoge grew up close to Patrick Sang and wanted to be like him in the future. Patrick Sang agreed to write training programs for Eliud Kipchoge and they developed a strong relationship which brought them many successes.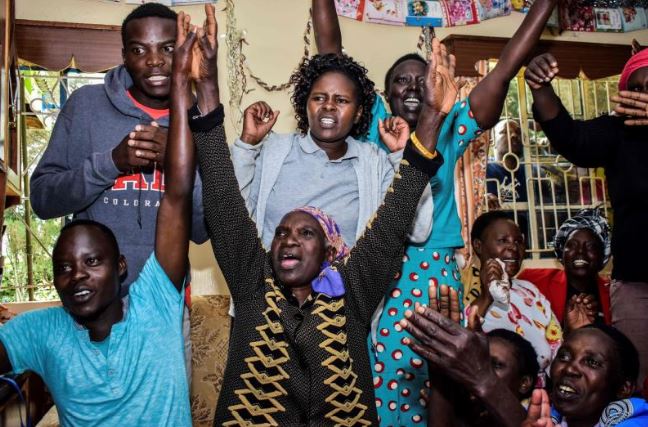 He came to prominence in 2003 by winning the junior race at the IAAF World Cross Country Championships, setting a world junior record over 5000 meters on the track, and then becoming world champion at the 2003 World Championships in Athletics.
An Olympic 5000m bronze for Kenya followed at the 2004 Athens Olympics and he took another bronze at the 2006 IAAF World Indoor Championships.
A series of silver medals came, starting at the 2007 World Championships in Athletics before another runner-up placing at the 2008 Summer Olympics. He was fifth at the 2009 World Championships but again reached the podium at the 2010 Commonwealth Games; he was second behind Moses Kipsiro in both the 5000m and 10,000 meters. In addition to this, he has won four medals at editions of the annual IAAF World Athletics Final.
His 3000 meters best of 7:27.72 ranks him among the top ten at the distance and his 5000m best of 12:46.53 makes him the fourth fastest ever in the event.
After missing the 2012 London Olympics, Kipchoge decides to switch to road running. In September 2012 he makes an impressive half marathon debut in Lille by running 59:25. Kipchoge made his marathon debut in the 2013 Hamburg marathon, where he ran a fantastic race and finished first in a new course record of 2:05:30.
He ran his second marathon in Berlin where he finished second in a huge PB of 2:04:05 which made him the sixth fastest athlete ever on this distance. This time made him the third athlete ever (besides Gebrselassie and Tergat) who broke 12:50 for 5000m, 26:50 for 10.000m, and 2:05 in the marathon. Since his race in Berlin, Eliud won the Rotterdam Marathon and Chicago Marathon in 2014.
One of Kipchoge's biggest marathon successes was winning the prestigious London Marathon in 2015, where he won the race in 2:04:42 by beating (former) WR holders Wilson Kipsang and Dennis Kimetto. In 2015 he also claimed the Berlin Marathon title and ran a new personal best despite insoles getting out of his shoes.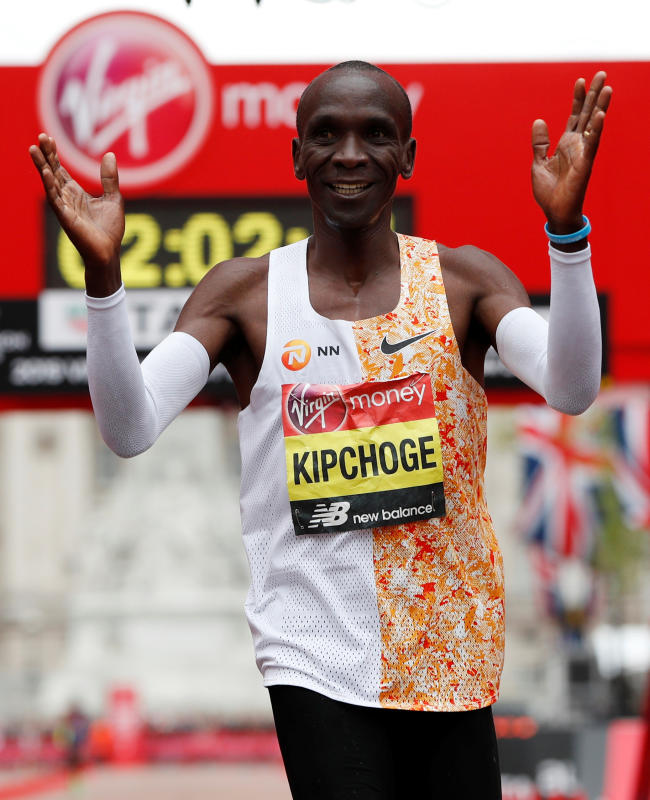 Thanks to these two victories, he won the Abbott World Marathon Major series 2015-2016. He started the new series strong with another victory in London Marathon. He came very close to the world record by clocking 2:03:04. His 5 top marathons have an average of 2:04:01 now, which is the best in history.
The Kenyan federation selected Eliud for the Rio Olympic Games. He started as the big favourite in the men's marathon and lived up to the expectations and won gold. After a bronze medal in Athens and silver in Beijing, he has now won the most special medal of his career.
A new project started for Eliud after the Olympics, the Nike Breaking2 project. After seven months of preparation, Eliud tried to break the 2-hour marathon and write history on the auto race track in Monza. He showed the world that the 2-hour barrier can be broken in the near future by running 2:00:25.
After Breaking, Kipchoge went on to win the Berlin Marathon (2:03.34) 2017 and London Marathon 2018 (2:04.17). In fall 2018, Eliud came back to Berlin, he ran an incredible race and smashed the world record by running 2:01.39.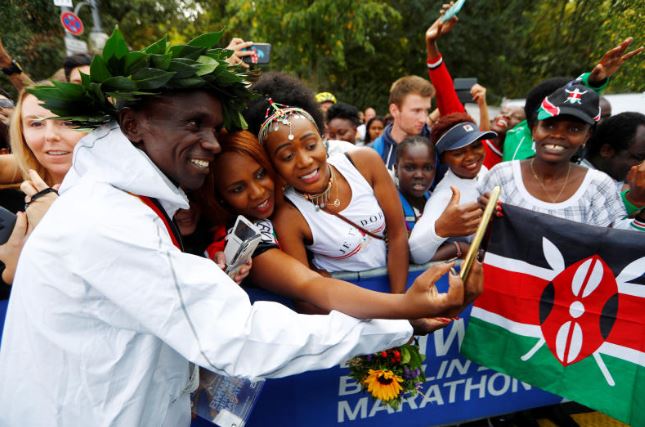 Kipchoge completed a remarkable tenth successive marathon victory in April 2020 by securing an unprecedented fourth London Marathon title. To add further gloss to the performance he ran the second fastest time in history (2:02:37) and a course record mark.
His unparalleled career of marathon accomplishments reached a new high when Kipchoge became the first human in history to run a sub-two-hour marathon as part of the INEOS 1:59 Challenge. Aided by a team of pacemakers, he recorded a staggering time of 1:59:40 in Vienna.
Kipchoge's performances places him in an illustrious list with Haile Gebrselassie and Paul Tergat, as they are the only three athletes who have run sub 12:50 for 5.000m, sub 26:50 for 10.000m and sub 2:05:00 for a marathon.
Eliud Kipchoge really believes in the old school mentality where athletes start with track and cross country races before they move to the marathon. His years on the track from 2003 to 2011 helped him to become a strong marathon athlete.