'Eldoret Express' tunes her engines for Tokyo Olympics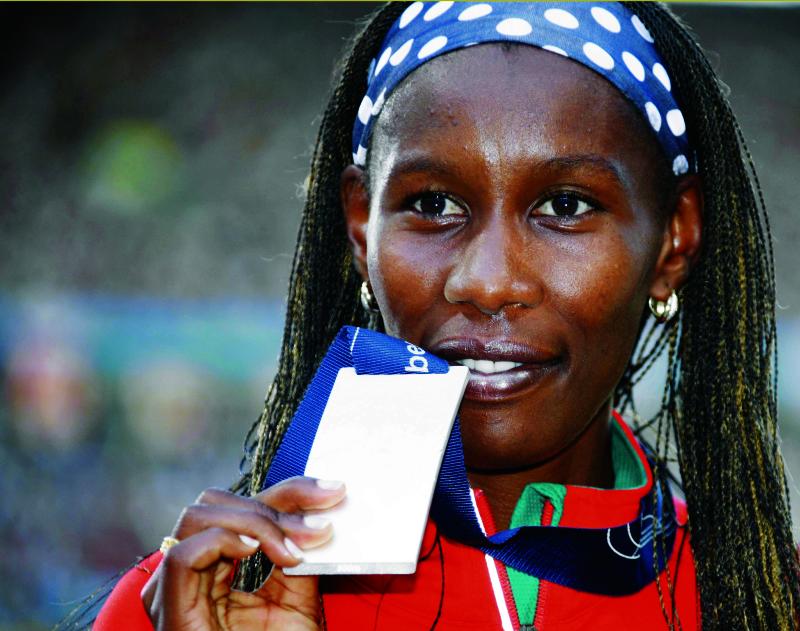 Her smooth running with easy steps, the economical movement of the arms and a textbook long-distance running style makes Janeth Jepkosgei Busienei stand out.
Her bobbing pony tail – her hairstyle – has remained her distinctive feature for the last two decades. Standing at five feet eight-inch, she is a bit of a towering figure.
While a Form Two Student at Sing'ore Girls in Elgeyo Marakwet, Jepkosgei earned her nick-name 'Eldoret Express'– the public transport buses plying Western, Rift Valley, Nyanza routes – thanks to her athletic power.
But her giant strides to the pinnacle of world distance running began in 1999 when she made the national team to World Youth Championships in Bydgoszcz, Poland. And since then, she has not disappointed.
Watching her sprint on the homestretch, her legs cutting through the air with the rhythmic power of a well-oiled engine, Jepkosgei's looks always leave the packed stadiums in awe.
Jepkosgei is the perfect billboard that would leave any pin-up model gasping in envy. Her full lips sit pretty on her lovely, bright face, emphasising a beauty that the manicured nails crowns such great flair.
Her track exploits in the past two decades have – and still are – well supplemented by her long strides.
She's cheerful, stunning and big-hearted. "I have endorsed three products. I have done it for Kenya Airways, Milo and Absa (formerly Barclays), which we did with Eliud Kipchoge," she said.
Jepkosgei said athletes must look at business opportunities from modern lens of sports marketing.
"My brand as Eldoret Express has helped me a lot. Everybody listens at the mention of it. It's an advantage for me.
"As athletes, we need to improve on our personality. We don't have to fear. We are brands; we can attract the market and endorse so many products. We just need moderate English speaking skills. Your image alone speaks volumes. These opportunities are just lying," she said.
She is a prodigious talent, who has earned her place in the genuine pantheon of world's 800m superstars in the 21stcentury. Mozambique's Maria Mutola, South Africa's Caster Semenya and 2008 Olympic champion Pamela Jelimo rivals her. No one else is on the zip.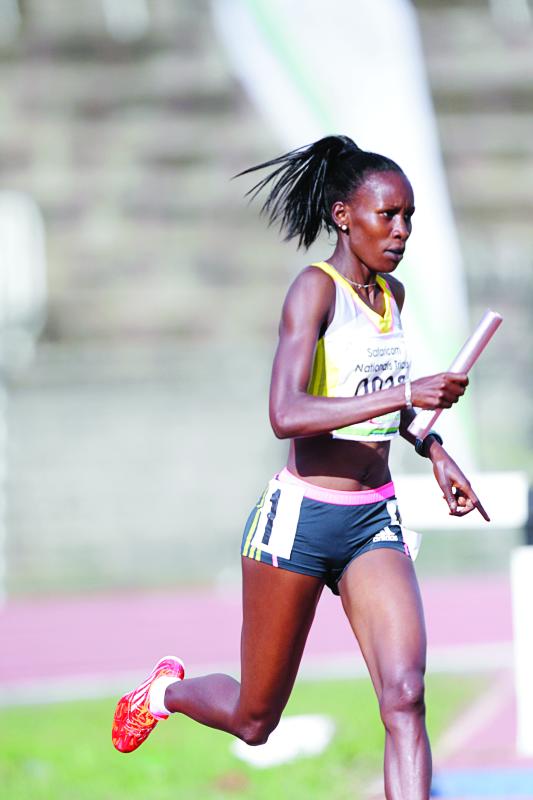 And Eldoret Express would soon roar on the tracks at global competitions.
Jepkosgei said: "I am preparing for Olympic Games. If I make the team, fine. But I have not retired. I am still enjoying running. After two years, I will retire. Before this, I must prepare another champion. I want to be the Kenyan mother of 800m."
She said Kenyan women should close the gap on 800m. "We have the right talents. It's only how we develop them from primary, secondary schools and elite level. I am certain we can. I believe in one year or two years we will have closed the gap."
In the same vein, she said, there are so many opportunities Kenyan athletes can get within and outside the country.
"We have so many sponsors and we can approach them and change our societies. I spoke to founder of Shoe4Africa (an American charity organization). He bought my ideas and helped me build classrooms in my former primary school.
"I am happy the school has improved in academic performances. At the moment, I am engaged in All for Running programme, which comprises secondary school students. It's part of Shoe4Africa programmes.
"I mentored Eunice Sum, the 2013 world 800m champion. Right now, I have Nelly Jepchirchir, a Form Four. She won at the under-20 trials in Nairobi. I have a group of young athletes who are doing very well in the race," she said.
Jepkosgei said she helped some young Kenyan athletes secure US track scholarships. And Raymond Kibet, the 800m star, now studies petroleum engineering at Tulane University in New Orleans in USA.
"All of us have a chance to help young athletes with good grades and athletics talents to get US track scholarships. With the help of Paul Ereng, I have ensured five athletes to America.
"We need athletes' doctors, nurses, lawyers, engineers and other fields. We should strive to ensure our athletes have something else other than athletics.
"After Form Four, I wanted to be a nurse. I really admired the profession. I like helping people. When you are a doctor or a nurse, you meet so many people and challenges in life. That's what I expected to have me remain in constant touch with children, high school students and the entire community.
By design or default, Jepkosgei was recruited into National Police Service.
"By enlisting in the National Police Service, I got the opportunity to help talented athletes into the job. I asked them to train hard so that they get a chance to be employed in the police.
"They were fortunate to be recruited. Even if I missed a chance to study nursing, I achieved my target. I can still do the charity," said Jepkosgei, an Inspector of Police based at Mwingi Police Station in Embu.
The track queen has had her low and high moments in her two-decade career in the two-lap race.
"The transition from junior to senior was tough. I went to Italy and performed poorly. It was not easy and I had to sacrifice."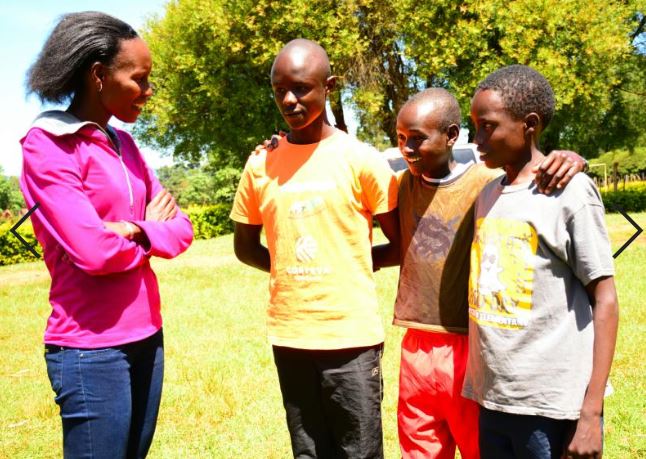 Jepkosgei, a hurdler who took up 800m by default, went down in history in 2007 as she became the first Kenyan woman to bag gold medal in middle distance in a global championship at senior level.
She is best remembered for dethroning Mozambique Maria Mutola, upstaging in 1:56.04 at the 2006 Commonwealth Games in Melbourne, Australia.
"I battled against the world's best in Maria Mutola, Caster Semenya and Pamela Jelimo. The Osaka world championships remain the highest moment of my career. I expected to win Olympic gold in Beijing but I could not since Jelimo was in top form. I went to St Moritz, Italy, for training ahead of the Olympic Games.
But with a world title (in Osaka in 2007), Commonwealth crown (in Melbourne, Australia, in 2006), world and Olympic silver medals tucked safely to her trophy cabinet; Jepkosgei is certainly among top world 800m stars.
She comes from Kabirirsang Village in Nandi County, where some of the world's elite 800m athletes come from.
The area has dotted the global charts since the days of Kipchoge Keino in the 1968 Olympic Games.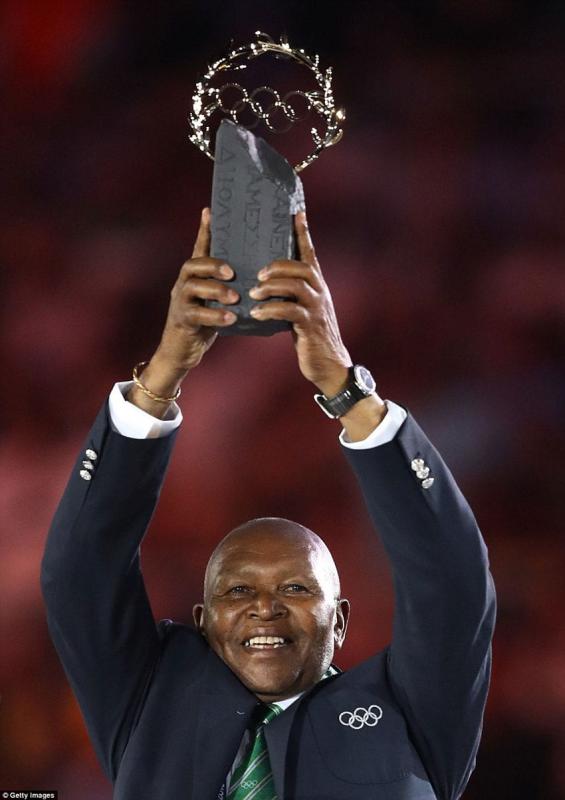 Kabirirsang remains naturally special, spawning not one, not two but a bulk of 800m champions that would be the envy of any other country.
The tiny village is the birthplace of Henry Rono, the man who broke four world records (3000m, 3000m steeplechase, 5000m and 10,000m) in just 81 days in 1978.
The village boasts a collection of more than 30 medals with the highest number of Olympic, World, Commonwealth and Africa champions in 800m ever in history.
For 13 years, her Kabirirsang village was basking on the world record –then held by Kenyan-turned-Dane Wilson Kipketer –as Sammy Kosgei dominated the Africa 800m all-time best for 26 years.
"My village loves athletics and we have huge talents. It's Kipchoge Keino who inspired my village. I must play a role to ensure there is a continuity. We want Nandi to remain as the source of champions," said Jepkosgei.
Her Father Michael Busienei was an 800m athlete, who competed against Olympic 10,000m silver medalist Ben Kogo in the 1960's.
In Poland during the 1999 World Youth Championships, Jepkosgei could not go beyond the semi-final after finishing third in her heat. She went ahead to win the gold medal at the World Juniors in Kingston, Jamaica, in 2002.