Why Kenyans need to look over their shoulders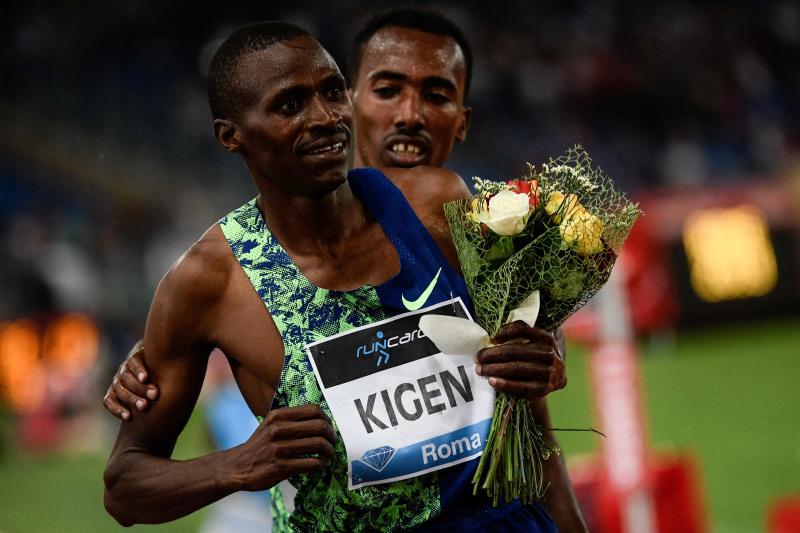 World Indoor Tour: Gudaf Tsegay, another Ethiopian, breaks world indoor 1,500m mark
Ethiopian Getnet goes 0.04 seconds shy of world indoor 3000m all-time record that has stood since 1998.
Ethiopian steeplechase specialist Getnet Wale won men's 3,000m in 7:24.98, at the World Athletics Indoor Tour meeting in France on Tuesday night.
This is the second-fastest indoor performance in history that threatened Kenya's Daniel Komen's world record mark.
Komen holds three world records; 3,000m (indoor), 3,000m (outdoor) and two miles. He proved his might as he set the world outdoor 3,000m record of 7:20.67 in Rieti, Italy, on September 1, 1996.
He then went into history books as the only man to run two miles under eight minutes where he set the world record mark of 7:58 in Hechtel, Belgium, on July 19, 1997.
Komen finally set the world indoor 3,000m record of 7:24.90 in Budapest, Hungary, on February 6, 1998.
Ethiopia's multiple record holder Kenenisa Bekele and Haile Gebrselassie tried several times to break the records but with little success; only until the athletics world branded the all-time marks as 'Mt Everest'.
But at the Hauts-de-France Pas-de-Calais in Lievin, France, on Tuesday night, the Ethiopian made a daring charge on Komen's record.
Komen said: "I think my world indoor record shall be the first one to fall. The outdoor and two mile ones might still for a while. I don't feel threatened at all; records are there to be set and broken. It has taken too long anyway."
"It is unfortunate that Ethiopians are also closing in on our 3,000m steeplechase dominance. As a nation, we need to up our game," said Komen.
In recent years, Ethiopians and Moroccans mounted a wave of attacks in 3,000m steeplechase at the World Athletics Championships and the Diamond League series.
Benjamin Kigen, who finished sixth at the 2019 Doha worlds in 3000m steeplechase, ruled out Ethiopian threat in the water and barriers race.
Kigen, who is the reigning African Games champion, said:
"Kenyans should not worry at all. Indoor and outdoor events are quite different. But let me assure you that we will beat them. We have studied their tactics well."
"They normally sacrifice an athlete, whom we know, to do the pacesetting and burn out our team. So, that's is it."
In 2019, Olympic champion Conseslus Kipruto won by the thickness of his vest against then Ethiopian teenager Lamecha Girma. It was the closest ever finish meeting in 3000m steeplechase at the World Championships.
And here comes Wale –just 20 years old – who led an Ethiopian 1-2-3-4 finish that put Komen's long-standing world record of 7:24.90 under serious threat.
The pace was fast even as Vincent Keter led the field through the opening 1000m in 2:31.05 with the second kilometre covered in 2:30.
World 5000m silver medallist Selemon Barega hit the front with three-and-a-half laps to go with fellow Ethiopians Wale and world steeplechase silver medallist Lamecha Girma close behind.
Wale took a turn at the front with two laps to go, then Girma kicked hard with 300 metres to go.