Running away from bandits in Baragoi turned Simiu into a long distance star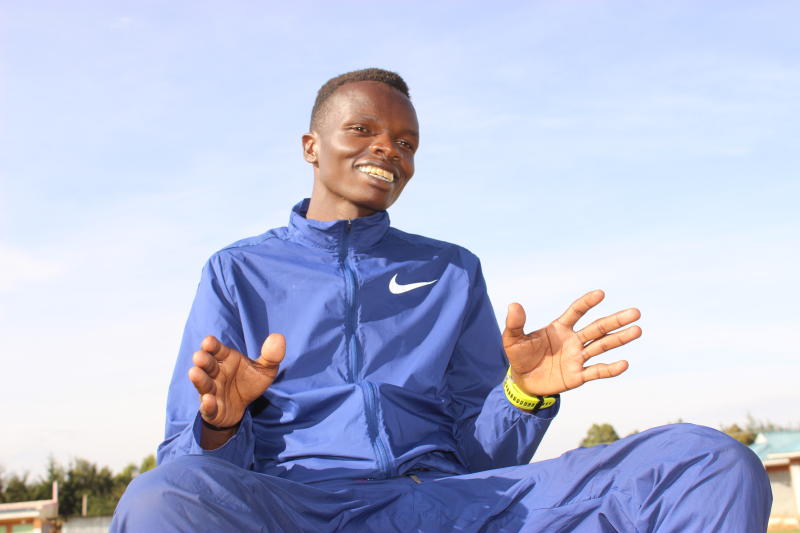 A 24-kilometre walk to school in neighbouring Laikipia also helped build his career.
For nearly three years since joining the elite ranks in athletics, his name has remained the most confusing one.
The confusion in his name is however not as scary as the mention of his origin, which is in an area described as one of Kenya's most dangerous places to live in due to armed conflict.
Is he Simiu or Simiyu? That's the confusion athletics fans and sports journalists have been treated to as they struggle to understand an Iten-based track and cross country racer who missed the opportunity to represent Kenya in 5,000m at the 2019 world championships in Doha, Qatar.
Daniel Simiu Ebenyo, 25, shot to fame after powering to a second place at the national World championships trials.
Even Athletics Kenya race officials have been misspelling his name, recording it as Simiyu – a name that is common among the Luhya tribe of Western Kenya.
The confusion about his name aside; who is this man Simiu?
In Iten where he trains, he can walk to town and enjoy a cup of hot tea in the evening without attracting any attention, unlike big names including four-time London Marathon champion Mary Keitany, two-time world champion Edna Kiplagat and multiple world marathon major champion Wilson Kipsang among others.
Simiu's athletics career started in the volatile Baragoi, Samburu County where he ran away from dreaded cattle rustlers at a young age and turned him from a footballer to a runner.
For many years, Baragoi has been synonymous with deadly banditry attacks, but surprisingly birthed Simiu's athletics talent.
"A mention of Baragoi scares many people, but that is where I was born and grew up. It is the place I call home," he said.
"As for the name Simiyu, I just got used to it. Some fans and athletes have asked why I can't represent Western Kenya in local competitions. The good thing is that many people are getting to know me. What they don't know is that I come from Samburu."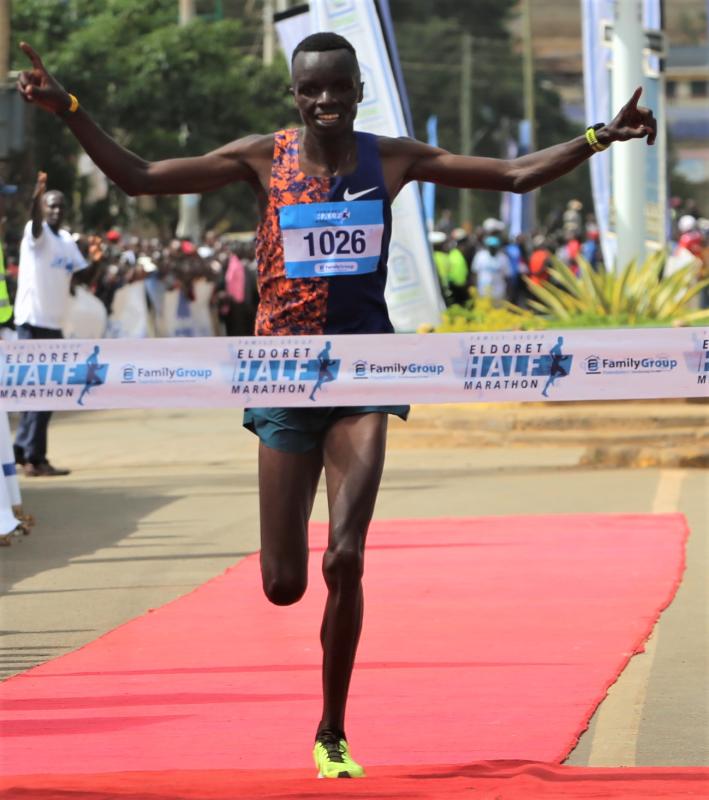 Simiu, a last born in a family of five children, says the long distance to secondary school also became a launchpad to his athletics career.
He says he was lucky to be enrolled in Kirimon Primary school - a boarding institution in Samburu Central as his nomadic parents kept migrating from one corner of Baragoi to another, looking for pasture and water for the cattle and goats.
In Primary school, he says, he loved playing football and represented Kirimon in local school competitions.
"I didn't go far in football but I liked the sport," he said.
He says it was while at Aiyam Day secondary school when a 24km trek to the learning institution and back home would make him an athlete.
Walking to school early in the morning and back in the evening, he explains, was the most dangerous journey, since they crossed bandits' battle grounds along the narrow paths to the institution.
He says because of the long trek to school, which started at 5.30am he became an athlete by default.
Simiu was expected to be in school but teachers who knew the distance from his home to the institution gave him a 30-minute allowance, and he would arrive at 8am.
"It is while in secondary school that I developed interest in athletics. It started as inter-dormitory competitions and I discovered I was good. I also represented my school but I only reached the regional level. My games teacher Maurice Osuma spotted the talent and encouraged me to train harder," he explains.
"Despite being given the special consideration of arriving at school 30 minutes later than the stipulated time, I made sure I ran faster to arrive at 7.30am like the rest of the students. I asked myself, if I can run 12km to school and cover a similar distance back home, what would stop from being a professional athlete?"
He says the distance to Aiyam secondary school would often become longer during moments when bandits were battling along the way.
"I would be forced to take a longer route to escape being attacked by rustlers. It meant increasing my pace to reach school on time," he recalls.
Simiu says training in the low altitudes (1300 – 1400m above sea level) of Samburu made his athletics journey, as a student, difficult.
He never wasted time. In 2016, upon completing his secondary school education, Simiu travelled more than 400km to Iten to train. His elder sister Pauline Eskon, a road runner had come to Iten earlier and she welcomed him when he arrived in the famous high altitude training base.
More than four years later, they are still next door neighbours with Eskon in Iten.
"My elder sister is like my mother and my mentor. I like living next to her. Eskon is the second adviser after my coach Eric Kogo," he says.
Simiu says he had never set foot in Iten, and only heard about the athletics town in the news.
"My sister was training here and was making some money out of races. She was depended on in the family and I wanted to be like her. I was a toddler when she started athletics and didn't know much about the sport," he says.
The circumstances surrounding his being dropped from the Kenyan team to the world championships in Doha in 2019 remains edged in his mind.
He was outsprinted by Michael Kibet in the September 2019 national trials in Nairobi in the last final 100m in the 12-lap race.
A then devastated Simiu recalls he almost quit athletics to go and herd cattle in Samburu at a time his star was rising.
"My coach was called and informed that I had not taken an out of competition doping test and that I had been disqualified. I had not been informed earlier of any tests ahead of the trials. I didn't believe it at first. I saw my coach crying after delivering the message and I felt like my career was crumbling. I was full of bitterness and I asked myself many questions but with no answers. Later, I moved on. The decision made 2019 my worst season," he narrates.
A month later Simiu won the Family Bank half marathon.
Simiu who is in top form this season has his sights on a second attempt to represent Kenya in 5,000m at the Olympic Games.