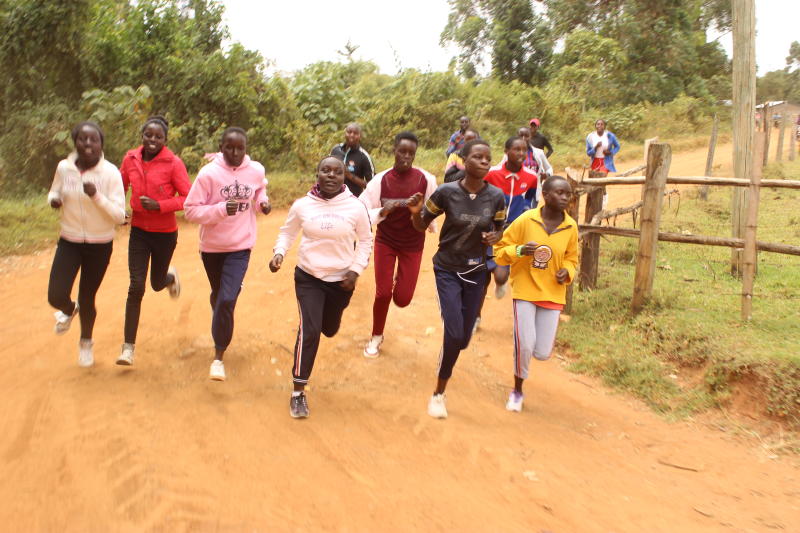 A dusty, winding road off Mosoriot-Kabiyet road at the Kamoiywo in Nandi takes you to Muruto junior athletics training camp.
It is along this four kilometre road, which gets muddy whenever it rains, that junior athletes train every day during school holidays.
The camp, which was established in 2015, has been the training base for athletes in track events including 100m, 110m hurdles, 200m, 400m, 800m, 1500m, 3000m, 5000m and 10000m. They also train for field events including high jump and pole vault.
With nearly 30 athletes in the camp located in an area described as the source of champions owing to the numerous athletes the region has produced, Muruto has over the years proved to be a unique camp.
Secondary schools, with the interest of establishing formidable athletics teams, have catered for the junior athletes' fees as they seek to nurture the best talents.
For the last five years, the training camp's coach and founder Andrew Kipkoech says parents have not paid school fees because they encourage secondary school principals to support the students complete their education.
Several athletes, Kipkoech says, will sit for their KCPE exams this year and already, some secondary schools have expressed interest in admitting them.
Kipkoech was a former volleyball player and coach, but developed an interest in athletics much later.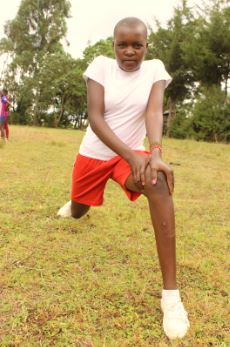 He says the junior athletes represent their schools in different competitions and their performance in athletics and academics has been impressive.
According to the coach, the camp is on a mission to support juniors from humble backgrounds by growing their careers while seeking to secure them full scholarship opportunities in secondary schools and colleges.
"Those who were expecting to sit for their national examinations in 2020 were to receive their admission letters last December had education not been disrupted by the Covid-19 pandemic. We normally receive their admission letters as we break for Christmas and New Year festivities," the coach says.
Kipkoech added that some head teachers from Elgeyo Marakwet County have expressed interest in offering the junior athletes academic scholarships in their secondary schools.
"Head teachers from secondary schools with interest in athletics, follow progress of the athletes and once the races are over, they pick the best and admit them under full scholarships once they finish primary school," he said.
"We are lucky that all our junior athletes have secured scholarships."
The coach said some of the students have changed secondary schools after landing the scholarships.
In one of the regional school competitions in Tambach Teachers Training College in Elgeyo Marakwet, Addah Jebet was lucky to get the nod of a principal who had come to scout for talent. She later transferred to AIC Cheptonon Secondary school after getting the grant.
"Coaches from Kenya Defence Forces and National Police Service scrambled for our pole vaulter Michelle Jeruto, who eventually signed for Kenya Navy," Kipkoech said.
"Three other athletes, who sat for their Form Four exams, are now training with the National Police Service team."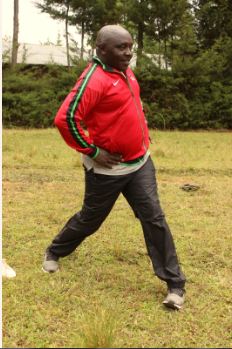 So, how was the Muruto training camp set up?
The founder says he was living with two of his nephews who were in standard six and seven then and whenever he sent them to buy provisions from the nearby Teldet trading centre, they would use the longest route using my bicycle.
That's when I discovered they had some talent that needed to be nurtured.
He says he encouraged them to take part in a local competition and one of them won in 100m and another one finished third in 200m.
"I was impressed with their performances, which gave me the idea to start a camp at the nearby Muruto Primary School. The one who specialised in 200m competed at schools national games under my watch at the camp," he said.
He says the camp started with eight junior athletes in 2015.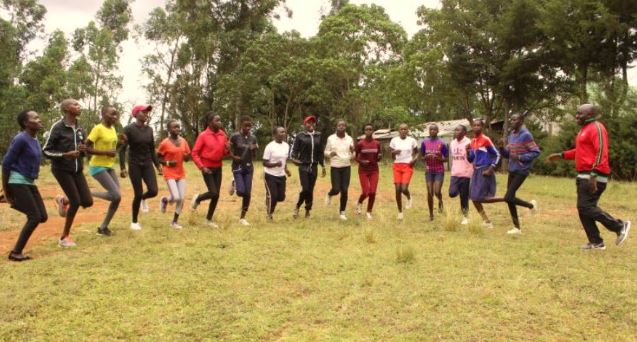 Caroline Jepkorir, who had 375 marks in KCPE in 2014, could not raise secondary school fees and was forced to repeat standard eight.
She joined the camp and competed up to the regional level alongside Faith Jepchumba and Salome Jerono, who qualified to go to the national games.
In 2016, athletes at the camp had increased to 12.
The annual Isaiah Kiplagat Memorial Ndalat Gaa cross country, which takes part in Nandi, was a perfect spot for athletes from the camp put their strength to test.
"I used to expose them to running opportunities in Ndalat Gaa, Tuskys and University of Eldoret cross country competitions where they offered a strong challenge to athletes from well established training camps," he says.
According to Kipkoech, 2016 is was when the camp started mentoring the juniors through talks from elite athletes including former world 800m world champion Eunice Sum, Faith Chepngetich (former 1500m world champion) and 3,000m steeplechase world record holder Beatrice Chepkoech, among others.
"The senior elite athletes advised them on various issues ranging from preparation for races, self discipline and integrity in sport. That year, we sent 10 junior athletes to the primary schools national competitions. The Rift Valley regional competitions were in Tambach and our camp sent the highest number of junior athletes to the national competitions," he said.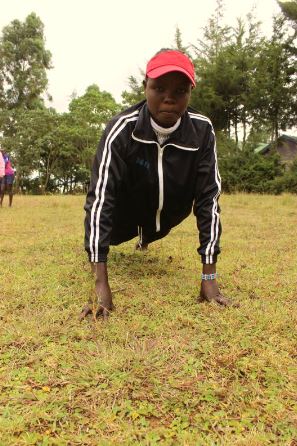 Kamoiywo Secondary School, which sponsors cross country junior athlete Caren Jeruto, who is in Form One, said the programme will help the institution nurture talents.
The school's Principal Briarose Kenduiywo said they are sponsoring six junior athletes.
"We have exempted the athletes under the scholarship programme from early morning revision because that is when they take part in their morning runs. They are in Form One and are already representing our school at the Nandi County level. We are glad they are shining at a tender age," she said.
Valeries Jeruto, a student of Cheptwolio Secondary School in Nandi, says she has set her eyes on 2021 school competitions, hoping to qualify for the nationals in 3,000m steeplechase.
"2020 was a tough season. I hope to reach the national level in 2021 because I am in top form," she said.