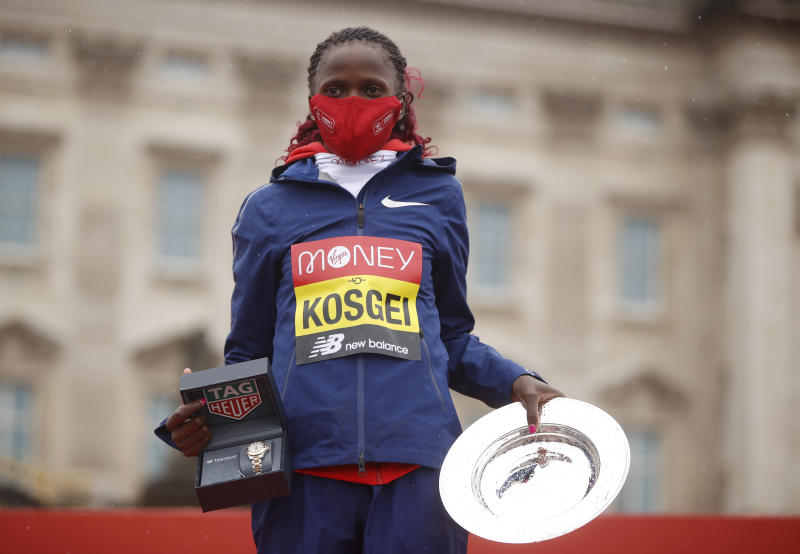 World marathon record holder Brigid Kosgei and Ugandan Joshua Cheptegei have been named among Africa's most influential persons of 2020.
The duo is among 100 prominent persons listed by NewAfrica magazine as the influential Africans of 2020 due to their resilience and stellar performances in a sporting season, which was hit hard by the Covid-19 pandemic.
Brigid weathered harsh weather conditions to win the London marathon in October while Cheptegei stunningly smashed three world records in 5km, 5,000m and 10,000m.
Yesterday, Brigid, who broke the marathon world record in 2019 in Chicago at the age of 25, described the recognition as humbling.
"I am humbled to make the list of influential persons in my continent. It's encouraging as we head into a new season and hoping for better results," she said.
Her remarks after the London marathon, detailing a battle with chilly conditions were cited by NewAfrica as inspirational.
"The weather is not good. So we struggled. It's wonderful to race. We have not prepared well due to the pandemic. I struggled up to the moment I finished. I will be well-prepared for good results next year," she was quoted as saying in London.
In 2019, Brigid, who trains in Kapsait, Elgeyo Marakwet County, became the youngest woman to win the London marathon on her way to a world record win in Chicago six months later. And this year, she had to endure a pouring rain and autumnal cold in London in her race.
"Nothing was more normal in a year more abnormal than any in current memory than that Brigid Kosgei should win the London Marathon. After all, she had done it the year before. Yet the circumstances could not have been more different – and more testing," NewAfrica said.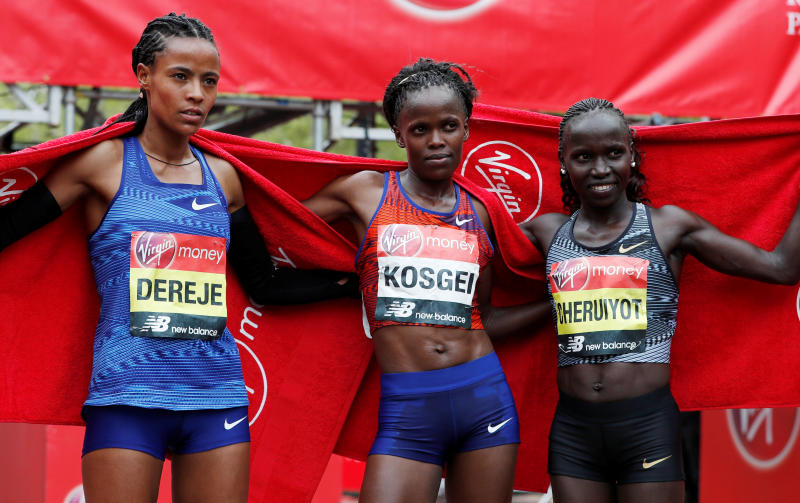 For two-thirds of the London race, Brigid matched pace to pace with world champion Ruth Chepng'etich before she broke away and battled against the weather to finish in 2:18.58.
NewAfrica magazine said Brigid's London win signified courage.
On his part, Ugandan Joshua Cheptegei is the most decorated athlete of 2020.
Cheptegei had a season of almost seamless success, breaking three world records in the four races he contested.
His journey to the list of world record breakers started with a 5km road racing record in Monaco in 12:51.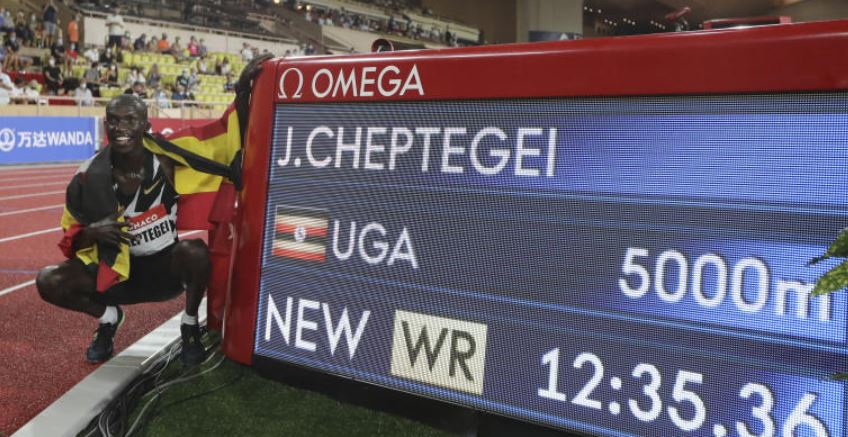 He set new world records in the 5,000 metres in a time of 12:35.36 at the Diamond League meeting in Monaco and the 10,000 metres (26:11.00) in Valencia, to become the 10th man in history to hold both two long-distance records.
In March, although Covid-19 had resulted in either postponement or cancellation of several international races, the 24-year-old Ugandan carried over his outstanding form when competitions resumed.
Cheptegei's 5,000m victory has been nominated for World Athletics' new Covid-19 Inspiration Award.
According to NewAfrica magazine, the race was testament to his tenacity as he got there only after an arduous 80-hour journey, which involved two lay-overs and a charter flight arranged by his country's President Yoweri Museveni.