How Nike experiment opened way for Boit in Olympics cross country skiing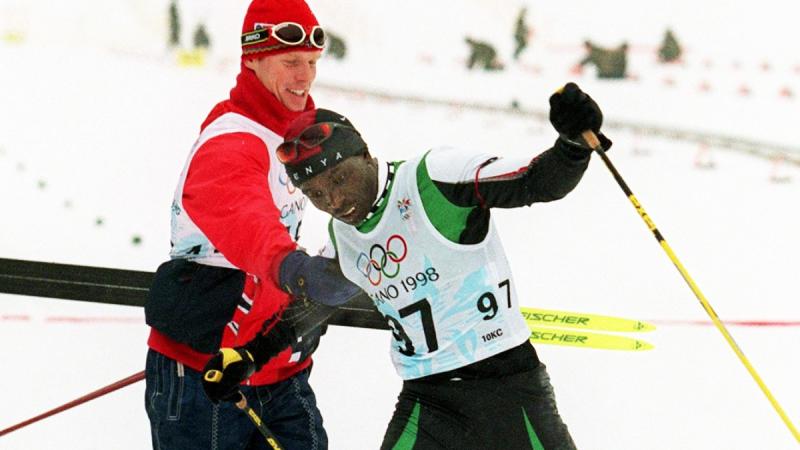 For 20 years, the former 800m and 1,500m athlete trained in Norway and Finland
Philip Boit was only 24 and his athletics career in 800m and 1,500m was just taking off.
Like athletes his age, the dream of making a name by winning races and even shattering a world record was alive and he had plans of investing his earnings.
But most importantly, he wanted to be like his uncle Mike Boit, a bronze medalist at the 1972 Olympic Games in Munich.
In February 1996, the younger Boit would find himself in the history books of a totally different sport – a sport that took him thousands of miles to Finland and Norway.
He quit the track and travelled to the Scandinavian countries to become the first Kenyan and African then to take part in professional skiing.
In the sport, he represented Kenya in four winter cross country Olympic games.
From Kesses in Uasin Gishu County where he was born and where his athletics dream started, Boit was heading to snowy Finland where he would explore the unknown.
He was perhaps following the advice of American physicist Brian Greene who once said "Exploring the unknown requires tolerating the uncertainty."
Boit returned to Kenya in 2015, 20 years after he left the country.
But how he quit athletics to become a professional skier is equally as intriguing as how he made attempts to shine in the sport that is rare in Africa, but popular in Europe.
"Sometime in 1995, Nike, my sponsor came up with an idea of taking Kenyan athletes to participate in a skiing experiment which would result in a shift from running to the new sport. Nike wanted to know whether athletes would transit to skiing and register good performance in the sport," Boit recalls.
He says the reason was to measure how endurance in track racing would be tapped in skiing.
"Nike spoke to my coach Mike Kosgei and asked him to pick two athletes for the assignment. Kosgei (coach) named Henry Bitok and I and we set off to Europe," he said.
Even as they left for Finland, the duo had lots of questions on their new assignments.
They were on a mission to be the first Kenyan team to take part in winter cross country skiing.
Boit says he knew only one cross country which is run on dry courses and in laps and not the one they were going to be trained on in Finland.
According to him, none of the two former athletes had ever seen snow.
Nairobi was a pleasant 25 degrees celsius when they left their home country, but the temperatures were below zero degrees celsius when they landed in Helsinki, Finland.
"We were so unaccustomed to the climate in Finland that within a few days we just wanted to return home. Our toenails were beginning to fall off because of the unfamiliar boots and weather," Boit says.
"I started freezing right at Helsinki airport. I had carried my track and did not have warm clothes. Walking 100m within the airport was a big challenge. I began asking myself a lot of questions about the new sport. Putting on skis and rollers was a nightmare. I was used to my running gear."
Boit says he couldn't stand with skis, leave alone training in them.
He recalls how he fell down 100 times and at one point being rushed to hospital in a chopper during the first day of training in a new sport where a player glides across a snow-full course at an average of speed 120km per hour.
In Finland, he trained at Pajulahti national training centre, some 70 miles north east of Helsinki.
"I got used to the sport (skiing) after three months of training. It was tough but I was determined to be the first Kenyan skier to compete in the Olympic cross country," he said as at his dairy farm near Ngeria GK Prison.
He says he later moved to Norway where he stayed and trained for the two decades while representing Kenya in one of the most unfamiliar sports in the country known for producing world beaters in athletics – both track road racing.
"I was young and I would win prizes including expensive watches and some money, and that encouraged me to continue training and competing," says Boit.
After a blistering two-year training, the time for Boit and compatriot (Bitok) to represent Kenya in skiing presented itself at Nagano, Japan Winter Olympic cross country in 1998 he took up the challenge.
There was only one slot for Kenya in the 1998 Winter Olympics and Boit was lucky to represent Kenya. Bitok's career came to an end after the selection.
Back at home, a few fans, fellow athletes and family members in Kenya, who knew about the shift from athletics to skiing, were reacting with disbelief and laughter, even as ski officials raised concern that participation of athletes with lesser skills in the sport would encourage what they described as Olympic tourism in serious competitions.
"I was lucky to have learnt skiing. I may not have won a medal in the Olympics but I took part in a sport that no one would imagine an African would participate in. I thank Nike for the opportunity," he says.
Boit would later take part in the 2006, 2010 and the 2014 Winter Olympic skiing.
Upon return to the country, a proud Boit embarked on a mission to mentor the next generation of Kenyan skiers.
Two of his protégés - Australian-based Kenyan Saprina Wanjiru and Swiss-based Paul Mwangangi represented the country in Pyeongchang, South Korea where Boit was the chef de mission.
"I started as the only Kenyan to take part in the Winter Olympic Games and today I was impressed that in the last competitions, there were 16 skiers from different countries. I am proud to be the pioneer," he said while in Korea.
One of his sons Daehlie Boit who is a student at St Patrick's high school Iten represents the institution in 800m and 1,500m, following in the footsteps of his father.
He named him Daelhie in honour of Bjorn Daehlie, the winner of the 1998 Winter Olympic cross country skiing who caused delay in the award ceremony as he waited for Boit who was in the 92nd place to finish the race so that he could hug him.
Boit was moved by the gesture and he named his son Daehli.
"My son runs for his school in 800m and 1,500m. I would have wished that he joined skiing, but don't wish to influence his decisions. I want him to excel well in academics first and take up whatever sport he wants in the future. From my observation, he likes athletics," he says.
He suggests that the country can start by training future skiers from a young age through roller-skating.
According to Boit, Kenyan roads should be made friendlier for skating as the next generations of skiers are prepared for training in suitable environments in Europe and other Western countries.
"I would have excelled in skiing but I started training late. I now need to teach young children to love the sport," he says.
As he prepares to chaperon another team to the 2022 Winter Olympics in Beijing, China, Boit says he is optimistic that Kenya will one day shine in skiing.