Kibiwott Kandie just wanted to be like Paul Tergat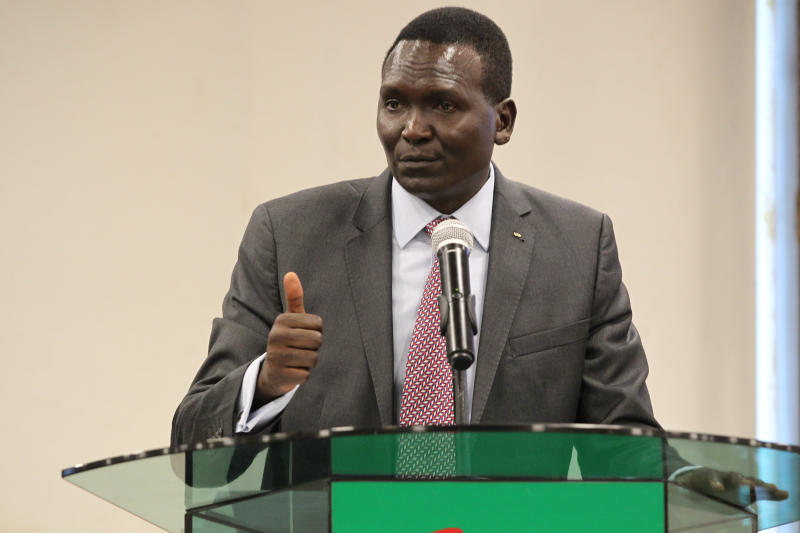 In little more than a year, Kibiwott has gone from being unknown to entering the annals of athletics history.
For a man whose fame and fortune has been defined by how quickly he can run between two very specific points on the map, Kibiwott Kandie was somewhat vague about the distance between his home and that of his famous near-neighbour Paul Tergat.
"Let's just say between 10 and 15 kilometres apart," mused Kandie after reducing the world half marathon record to 57:32 in Valencia on Sunday 6.
Nevertheless, Kandie was clear and precise about the influence Tergat has had on him, the pair both hailing from Baringo County.
After all, Tergat was the first official world record-holder over the half marathon distance that Kandie conquered by the Mediterranean, running 59:17 in Milan back in April 1998 when Kandie was not even two years old.
Even in a country like Kenya, which has produced a plethora of superlative runners over the past 55 years since Kip Keino set the country's first world record, Tergat has a special place in the pantheon of athletics greats with further world records over 10,000m and the marathon to his name as well as his memorable five consecutive world cross-country titles.
"Yes, I know Paul Tergat very well and, when I was young, I used to hear everyone saying, 'Paul Tergat, world records'," said Kandie. "This has stayed in my mind."
"He became a kind of role model and I used to think 'When I grow up I would like be like him, I would like to run like him, I would like to do the things he has done.' He still inspires me, he's still a role model for me. The work that I am doing (in training) is because of him."
Take a quick survey and help us improve our website
Take a survey
The words of Tergat were still echoing in Kandie's ears as he embarked on the journey back to Kenya after finishing second at the World Athletics Half Marathon Championships in Gdynia, Poland seven weeks ago.
He had to settle for second there to Uganda's Jacob Kiplimo in that race, losing out by five seconds to bring his 2020 four-race unbeaten streak to an end and he had been unable to achieve his ambition of emulating his hero, who took back-to-back titles in 1999 and 2000.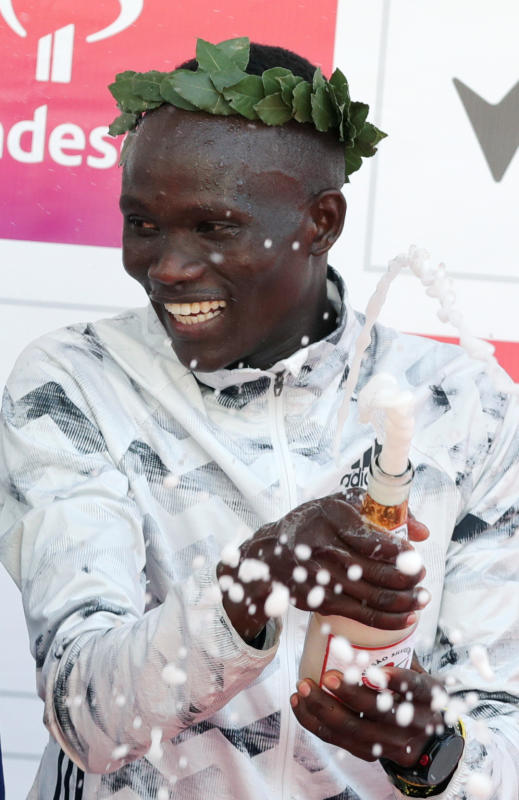 "You could say this race (in Valencia) was a revenge. After the world championships, I went home, and I have been focusing on this race ever since."
"I was very motivated for this race after losing at the World Half Marathon. At that race, I pushed a lot but Kiplimo won so I said to myself 'In Valencia, I have to beat Kiplimo and break the world record'."
"I knew I was able to run alone for the last four or five kilometres but we got to three kilometres here (in Valencia, with Kiplimo his last remaining rival and still on his shoulder) and that's where I started to move on.
"I thought: 'I am not going to make the same mistake as I did at the World Half Marathon Championships and push too late'. I knew we could get the world record and I really wanted the world record, not just make the pace for Kiplimo (to break the world record)."
Another factor in Kandie's victory in Valencia, according to the runner himself, was also changing his training environment from Ngong Hills to the Kenyan running mecca of Iten in the interim after Gdynia.
"I just sat down, worked out what my problem was (in Gdynia). Iten is at a higher altitude than Ngong and I adapted very well there. I trained very hard with no injury problems."
Unlike many top-level Kenyan runners, Kandie passed under the radar during his teenage years and only started appearing in local road race results in Kenya at the start of 2017 when he was already 20.
However, according to the runner, he started running when he was 16, just before finishing secondary school and joining Kenya Defence Forces a year later.
"But it was only in 2019 that I started training seriously, and putting in the hard work, and then I got invited to run in some races abroad," he added.
Kandie's breakthrough performance was in August 2019 when he won the Lille Half Marathon in 59:31 and backed that up less than two months later with an impressive third place, finishing just two seconds in arrears of his time on French soil, in the always-competitive and high quality Delhi Half Marathon.
His feats in these two races led to Kandie elevating his ambitions radically.
"At the start of this year, I started to think about having a record. I didn't know whether it was going to be the half marathon or maybe 10km, but I said to myself 'I have to break a record this year'. I started well, I was running well at cross country (he won the hotly contested Kenyan cross-country title in February) but then the epidemic destroyed everything, all my racing plans."
"But I never gave up; I carried on training knowing that one day there would finally be a race. I stayed in good shape and in Prague I ran a personal best (58:38 on 5 September).
"But really, I have been working for 10 months for this record (since he won the RAK Half Marathon in what was then a personal best 58:58)," he added.