Kenya's forgotten sprinter Musyoki Kamba finally recognised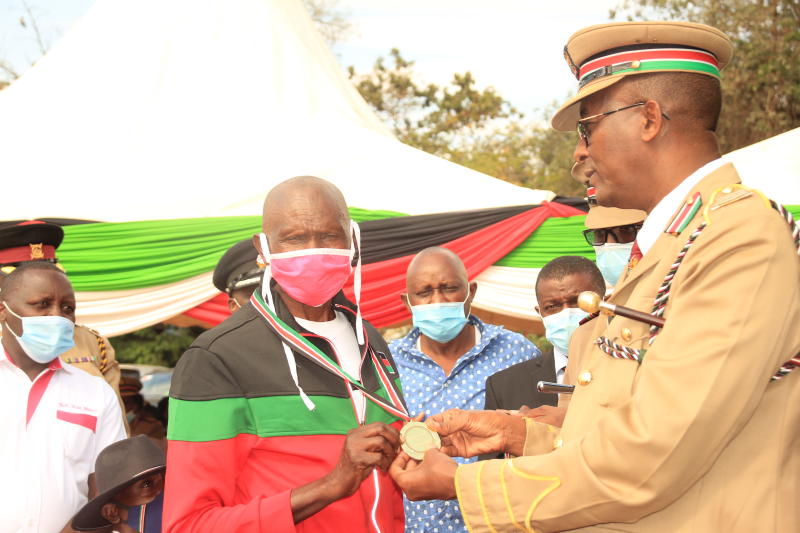 If it was not for this year's Mashujaa Day celebrations, Francis Musyoki Kamba, 72, would still be an ordinary, unheard-of farmer at his Itangini farm, Kaiti, Makueni county.
He was one of four heroes and heroines who were feted for their achievements.
He would just pass as any ordinary farmer, but what many don't know is that he a retired athlete whose medal collection speak out.
During the national celebrations, one of the most decorated sprinters if not the most, a four-time gold-medalist calmly sat on a podium behind Maalim Mohammed, Makueni county commissioner at Unoa grounds, Wote town.
When his time to stand came for the man who once wore the shield of Kenya, he pulled from the podium, with his hands dark, rough out of farming as as he received his medal.
"I am happy to have been recognised. It's never too late to be recognised even after many years off the field," said Kamba.
After he was feted, Sunday Standard followed him back home to know how it's like to have a quiet life off the track with nobody barely noticing what he did for the country before.
We found him tending to crops on his small farm. Since 1998, he has been doing irrigation farming taking water from a well that he sunk on his farm. He uses a water pump to water his tissue culture bananas, maize, mango trees and cabbages.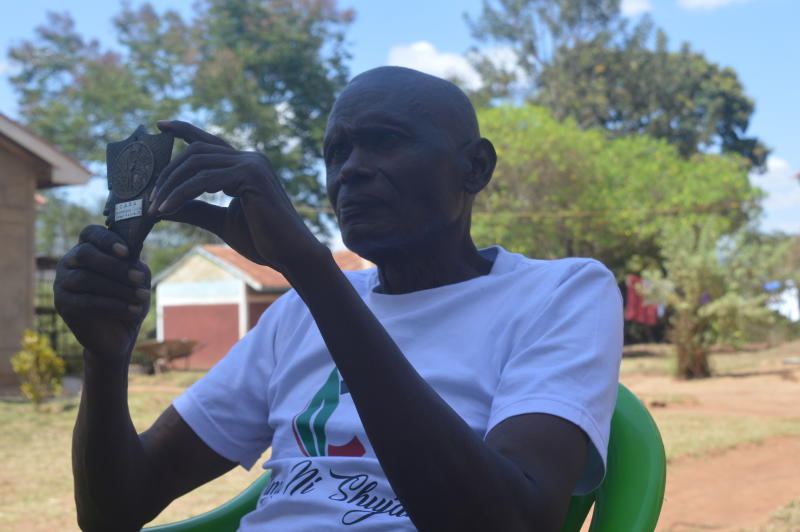 "Farming and any other chores that an old man can do after retiring are what I am currently doing. This is where I get my daily bread," said Kamba.
He says there is always the sad reality when people find out what you have really achieved in comparison to what one ends up in doing after retiring.
Back to the living room of the peasant farmer, medals are evident, both silver and gold with an old tattered album filled with black and white photos.
Kamba started his athletics life back in primary school, high school, before joining General Service Unit (GSU) where his career peaked.
"In the All Africa Games 1973 in Nigeria, I took part in 4x400m relay where I won the gold medal. In the same year, in World games, Finland, I won a silver medal in 400m," said Kamba. It didn't stop there as in August the same year, he won silver in 400m in Dakar, Senegal.
"In 1974 there were the Commonwealth Games in Christchurch, New Zealand, and I took home a gold medal in 4x400m with the Kenyan team," he said.
He would later resign from GSU to join Kenya Breweries and due to busy days there he did not train enough, hence a drop in competitive sports.
Musyoki is challenging upcoming sports personalities to desist from working for quick riches saying that success in athletics comes with determination and it calls for patience while training and observing the trends of your competitors
He compared athletics then and now saying that doping has spoiled the sport.
"Doping nowadays is an unfair process where young people want quick riches. Doping is not only illegal but also posing health problem to most of our athletes," said Musyoki.