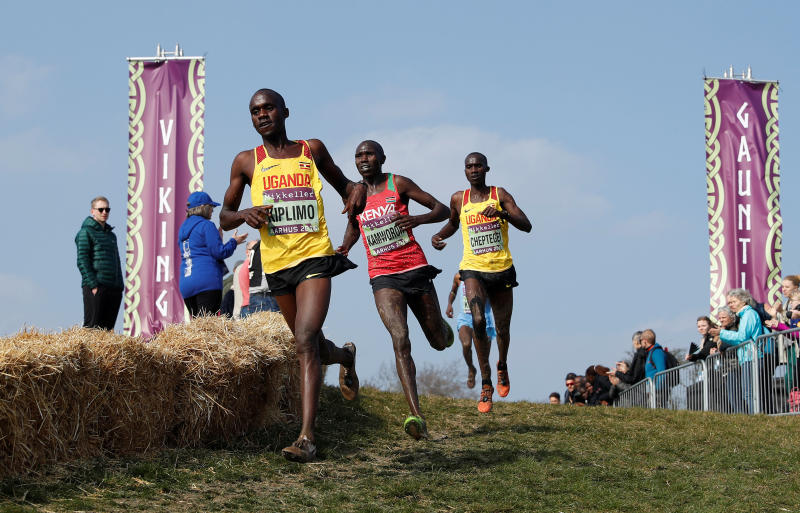 The road to the top of the world started in Kween, a rural district in the east of Uganda, close to the Kenyan border.
There, at an altitude of about 1,900m (6,200ft), Jacob Kiplimo would run five kilometres to and from school each day. As a child, he was building an aerobic engine that would eventually allow him to outrun the world's best.
The manner in which the 19-year-old dismantled the field at the World Athletics Half Marathon Championships in Gdynia last weekend suggests a future paved with gold, but those who've been tracking his progress these past four years know just how much he has already achieved.
Kiplimo is a world U20 cross country champion; a World Cross Country silver medallist at senior level; he's run 7:26.64 for 3000m, 12:48.63 for 5,000m, and, as of last weekend, he's the world half marathon champion.
It started from humble beginnings. Kiplimo's family were maize farmers, and his entry to competitive running came about through his older brothers. Four of them were athletes, and one of them – Victor Kiplangat, a half-brother – competed alongside him in Gdynia last weekend, finishing 16th in 1:00:29.
Growing up, Kiplimo would watch them head out the door every morning to train. "To my mind, I said: 'I want to be like them,'" he says.
His first proper race was in 2015, a selection trial in Uganda ahead of the World Mountain Running Championships. Kiplimo won it, but his federation told him he was too young to compete internationally. In December that year he moved to Tuscany in Italy to work under a new coach, Giuseppe Giambrone.
The following year he won bronze over 10,000m at the World U20 Championships in Bydgoszcz, clocking 27:26.68, and he then competed at the Rio Olympics over 5,000m. In 2017 the World Cross Country Championships were on home turf in Kampala, and Kiplimo became a hero to the thousands thronging the course winning gold in the U20 race.
"The president was there and when (foreign athletes) come and take your medals it's not okay, it looks bad," he says. "It was fantastic to win on home soil."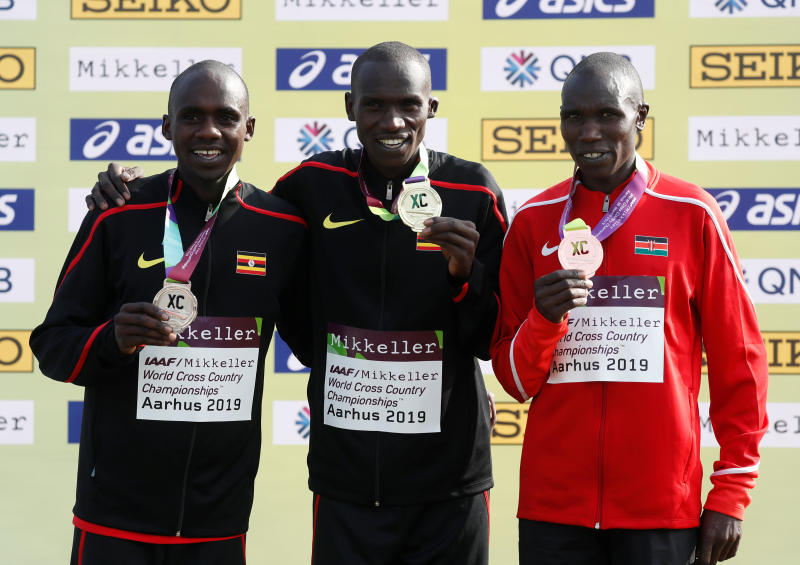 After that he came to a crossroads. Kiplimo wanted to remain in Uganda but his coach wanted him based in Italy. In the end Kiplimo chose Uganda, and he has trained primarily in Kapchorwa over the past few years.
That's also where Joshua Cheptegei is based, and while Kiplimo joins in with him from time to time, most of his work is done with a different group. Through 2018 and 2019 he followed either his own plan or that of the locals in Kapchorwa, but since the start of 2020, he has been coached by Italian Iacopo Brasi, a colleague of Kiplimo's manager, Federico Rosa.
The journey to senior success wasn't always smooth. Kiplimo appeared to be hitting the big time after last year's World Cross Country Championships in Aarhus, where he won silver just four seconds behind Cheptegei, but his track season was ended before it began.
After victory at the Great Manchester Run in May he developed a pain beneath his knee that ruled him out for four months.
"When you are not training," he says, "you don't want to see other people train."
His first event back was the INEOS 1:59 Challenge in October, where he helped pace Eliud Kipchoge around the streets of Vienna, and last December he went to Brazil for the Sao Silvestre 15km road race on New Year's Eve.