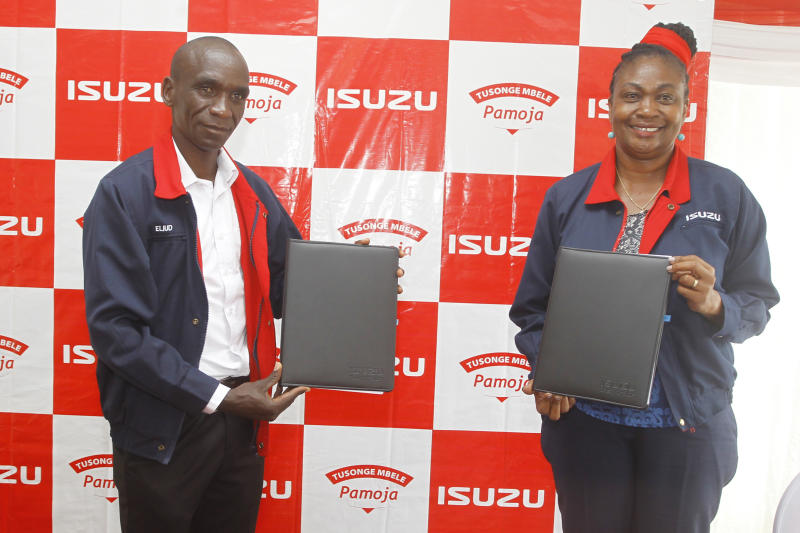 Hardly do partners or sponsors stand with athletes after defeats or poor performances.
But Isuzu East Africa is not leaving legendary marathoner Eliud Kipchoge after he failed to defend his London Marathon title on October 4.
Having started the journey with Kipchoge in 2017, the motor vehicle manufacturing company has stood by the World marathon record holder, in good and bad times.
Kipchoge, 35, suffered his first defeat since 2013 when he lost to Ethiopia's Shura Kitata in London early this month. He finished eighth in 2:06.49 after suffering cramps and a blocked ear.
But yesterday, his relationship with Isuzu went a notch higher when they extended their deal for one more year.
Under the new deal, Isuzu will work with the Eliud Kipchoge Foundation to uplift the wellbeing of the community through access to education, sports talent development and environmental conservation.
Through the Science Technology, Engineering and Mathematics (STEM) programme, Isuzu has committed to support Kipchoge in the construction of a Sh100 million library in his home village of Kapsisiywa, Nandi County.
As he welcomed the new partnership, Kipchoge, who will be eyeing to defend his title in the 2021 Tokyo Olympic Games, said winning races without bringing change to the society is nothing.
"As far as I'm concerned, life is not all about competition and earning, but it's about giving back to the community. I believe if you are winning or losing and you cannot create any impact in this world, then you are nothing," said Kipchoge.
"Competitions are there in the world; from politics to education, but who has ever won them? For example in cycling, you cannot win if you don't have a leader; a leader can be number eight but his teammates can be number one."
"It is not about being number one all the time but the impact you make is what matters most and that's why I've started a library and environment conservation programmes back home."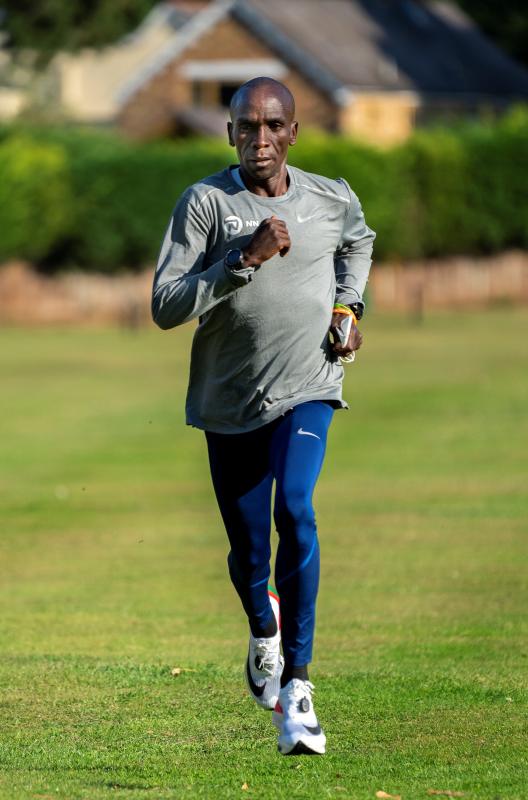 "Yes, I have been winning all the time and creating impact but my losing in London also created impact to show that I'm a human being who can also be beaten. So, it's a win-win situation. Let's not see competition as the only element but think more and bigger than that."
Rita Kavashe, the Isuzu East Africa managing director echoed Kipchoge's sentiments urging other sponsors to look at the bigger picture of their partnerships.
"For Isuzu East Africa, our relationship and partnership with Eliud is bigger than running, winning or losing a marathon. Surely, we will be missing the point if all we want of him, is to keep. But what will happen to these young and old people, who are looking to hear and share their admiration, discipline, resilience and tenacity of Eliud?" posed Kaveshe.
"Sometimes, it is just words of encouragement that we need to help us move to the next level. Therefore, that's the relationship we would want to create and it is deeper than winning."
Reflecting on his disappointing outing in London, Kipchoge said:
"I've healed from the London disappointment. I trust when you get a setback, you need to get up, see what happens and move on. So, I have moved on."