Why technology is seen as new form of doping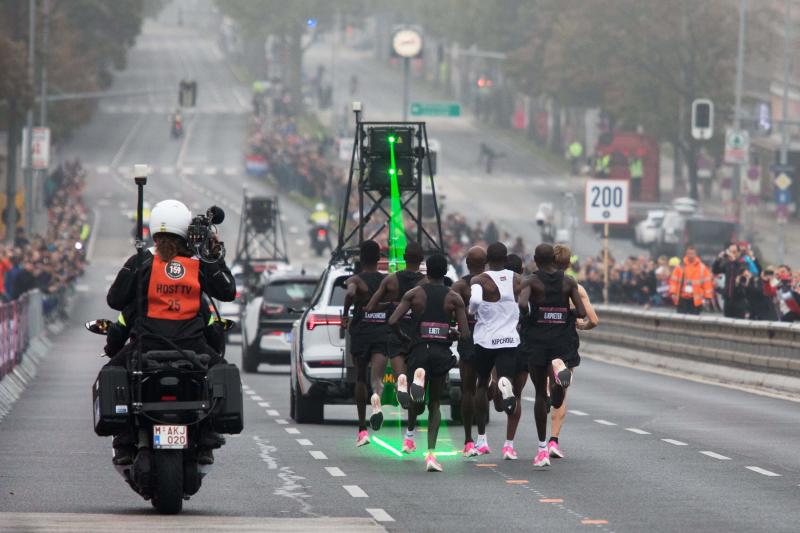 Uganda's Joshua Cheptegei (26:11.00) and Ethiopia's Letesenbet Gidey (14:06.62) record-breaking run in Valencia on Wednesday set tongues wagging.
The spectacular showing which saw the Ugandan set a new 10,000m record just weeks after setting a new world mark in 5,000m and Gidey stroll to a 5,000m women record raised more questions on technological advances in athletics.
Both athletes wore the controversial Nike ZoomX Dragonfly spikes, though the shoes have been approved by World Athletics.
They were led by a team of clock pacesetters that used wavelight technology –a guiding pace setting lights system that shows the world record pace.
The move generated heated debate on whether the records set under such circumstances should be ratified.
Double world champion Dutch woman Sifan Hassan and Britain's four-time Olympic champion Mo Farah, also broke the one-hour world records at the Diamond League meeting in Brussels last month using the same technology and the new marks were ratified by the World Athletics.
Athletics analysts say the new technology is similar to Eliud Kipchoge's 1:59.41 mark at the Ineos Challenge in Vienna, Austria, last year, which is not an official world record.

Critics say the wavelight technology is better than having men pacing women's race into world records.
Moses Tanui, who was the first man to run half marathon under one hour (59.47) in Milan in 1993, said there are some changes in athletics nowadays.
"There are so many things happening is athletics nowadays. It's like evolution of mankind. There is a revolution on technology. It's changing faster.
"The modification of shoes and the wavelight are giving sports a new look. Although World Athletics have approved the controversial shoes, there is need to ensure all athletes get the same opportunity to use the shoes. It should not be a matter of the chosen few," said Tanui, a two-time Boston Marathon winner.
Tanui, the 1991 world 10000m champion, said it's difficult to control such revolutionary technology advances since the events are privately organised.
"The NN Valencia World Record event was a private event. In the Olympic Games, World Championships and other championships, athletes use the same shoes.
"If World Athletics ratifies, Cheptegei and Gidey records, then Eliud Kipchoge's 1:59.41 mark should be made official world record because it's almost the same conditions," said Tanui.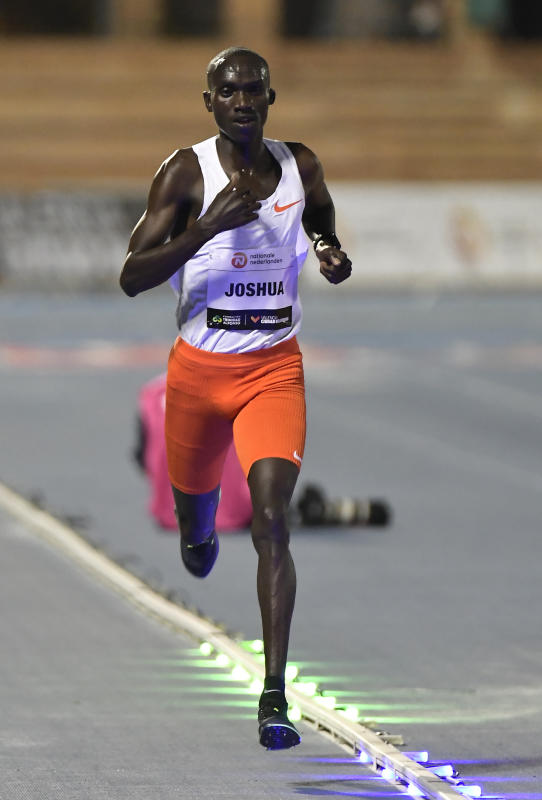 World 5,000m champion Hellen Obiri, who sits fifth in world 5,000m rankings with an impressive 14:18.37 time set inside Stadio Olympico at the Rome Diamond League in 2017, said she has no issues with the shoes.
"If an athlete is in good, he or she can perform. It's not about the quality of the shoe. For wavelight, I feel all athletes should be given the same opportunity.
"They can even introduce in Diamond League. But the results should be ranked differently," said Obiri.
There have claims that racing spikes like Nike Air Zoom Victory on the tracks and Alphaflys NEXT%" for road running gives the athlete an advantage.
Moses Kiptanui, who was the first man in the world to run 3,000m steeplechase under eight minutes, faulted the new technology.
"The records should be classified differently. Records that were paced by human beings, records that were guided by wavelight and records came down through doping. The Valencia records should not be recognised.
"Even in Safari Rally, you cannot allow another vehicle with a Turbo charger to participate with others without.
"We should not classify all races equally. Use of technology has no difference with doping," said Kiptanui.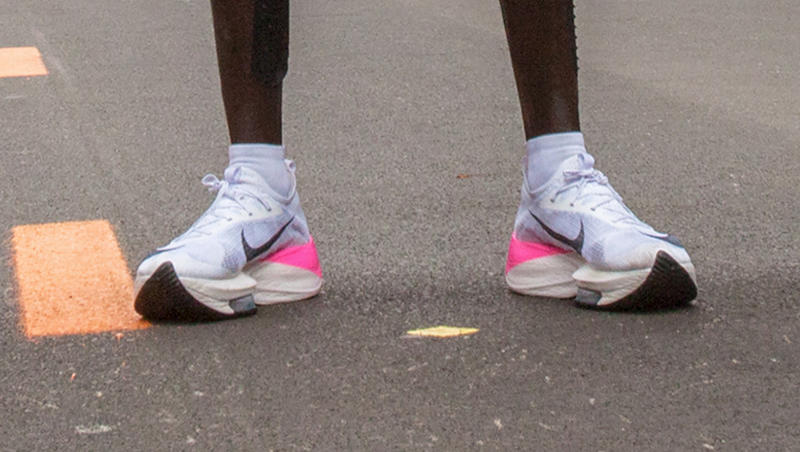 At Zurich's Weltklasse meeting in 1992, Kiptanui stunned the world when he set in a world record of 7:59.18 to become the first man in history to break the eight-minute barrier in the 3000m steeplechase –without pacesetters.
"I didn't want any pacemakers because I was very confident and I don't like to have anybody before me. It's better to clear the hurdles as the leader."
"When ratifying the world records, the World Athletics, should categorize separately all-time marks aided by technology like wavelight in the same way women-only and mixed races are classified," he said.
Daniel Kipng'etich Komen who has three world records –3,000m (indoor), 3,000m (outdoor) and two miles –under his belt cannot afford to sit easy with the advancement of technology.
Komen, a glowing alumnus of Biwott Secondary School in Keiyo South, proved he was no push-over as he set the world outdoor 3,000m record of 7:20.67 in Rieti, Italy, on September 1, 1996.
That was not enough, the highly talented Komen went into annals of history as the only man to run two miles under eight minutes where he set the world record mark of 7:58 in Hechtel, Belgium, on July, 19, 1997.
He then proved his mettle, setting the world indoor 3,000m record of 7:24.90 in Budapest, Hungary, on February, 6, 1998.
Ethiopia's multiple record holder Kenenisa Bekele and Haile Gebrselassie tried a number of times to break the records in vain; only until the athletics world branded the all-time marks as 'Mt Everest'.
Komen now fears his records will fall because of the new technology.
"The records will no doubt fall. I wish I got the kind of technology we have now then," said Komen.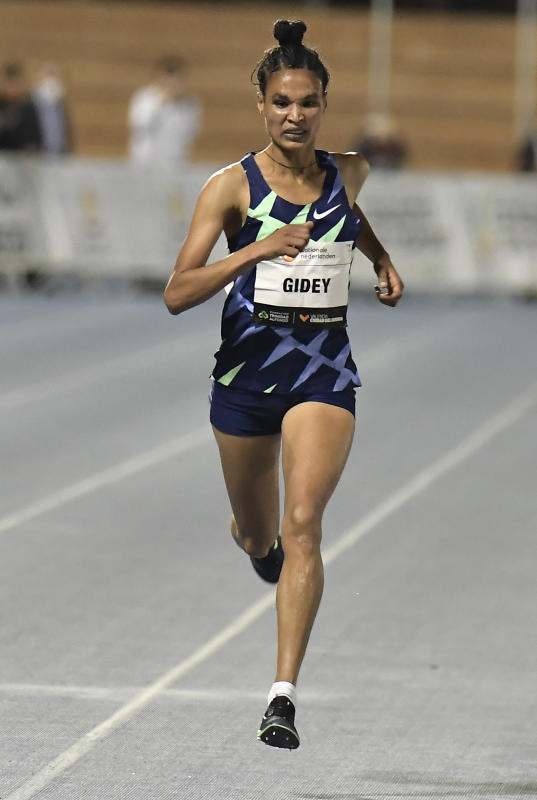 Dr Kipchumba Byron, a Kinesiology and sports management expert, said the new technology is enhancing-performance mechanism.
"The technology is just like doping. The technology is not available to every athlete. The few who get have an unfair advantage. So expect world records to fall.
"Sooner than later the technology might be blacklisted as doping. Psychologically, an athlete performs better in a group than being left in isolation.
"People who train alone tend to be independent in competitions that they run alone. It is a question of psychology and the manner he is accustomed to training.
Kipchumba said men pacing women is faster than the wavelight technology.
"Look Brigid Kosgei running 2:14.04 is world record for mixed race but the women alone is 2:17.01 (Mary Keitany). Look at the three minutes difference. The question now is what makes them sustain the pace with these male pacemakers. It goes back to training. Those who train in a group with men tend to keep a high pace.
"Soon we will have a race of men and racing together in a major marathon. It is about creating an atmosphere where women can run faster," said Kipchumba.