Joshua Cheptegei makes history, smashes Kenenisa Bekele's 10,000 metres World Record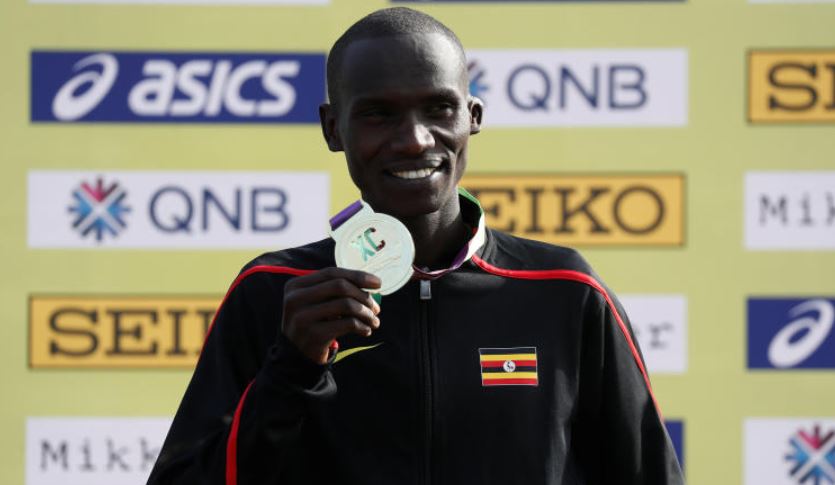 Uganda's Joshua Cheptegei made history on Wednesday night after breaking Kenenisa Bekele's 10,000 metres world record.
Cheptegei smashed the World Record clocking a sensational 26 minutes 11.02 seconds at the Valencia World Record Day.
The 24-year-old broke Bekele's time of 26:17.53, a record that the Ethiopian set in 2005.
Only 400 people including sponsors, journalists and staff were allowed in Valencia.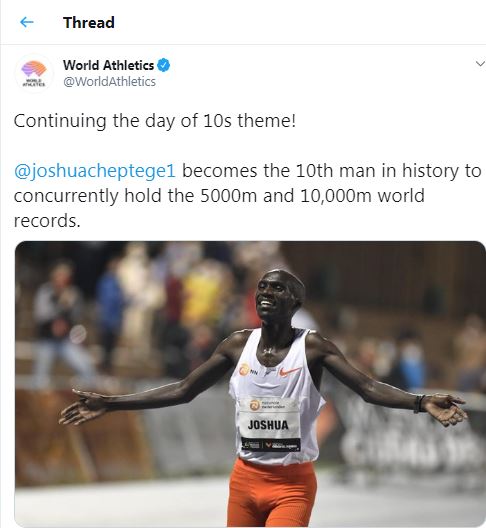 The Ugandan superstar became the silver medalist in the 10,000 metres event at the World Championship in London, 2017.
In 2018, he set a world record for the 15 km road race and became the cross country world champion in 2019.
At the Monaco Diamond League meet August this year, he set a new 5000 metres world record of 12:35.36, breaking Bekele's 16-year-old world record of 12:37.35.
World Athletes with the 10,000 metres record in history according to the World Athletics:
Finland's Paavo Nurmi (1922-1932)
Finland's Taisto Maki (1939-1942)
Czechoslovakia's Emil Zatopek (1954)
Soviet long-distance runner Vladimir Kuts (1957-1960)
Australia's Ron Clarke (1965-1972)
Finland's Lasse Viren (1972)
Kenya's Henry Rono (1978-1982)
Ethiopia's Haile Gebrselassie (1994-2004)
Ethiopia's Kenenisa Bekele (2004-2020)
Uganda's Joshua Cheptegei (2020)
KING????@joshuacheptege1 breaks the 10,000m world record in a time of 26:11:00. Outstanding. pic.twitter.com/IzS5FNVtjd — World Athletics (@WorldAthletics) October 7, 2020