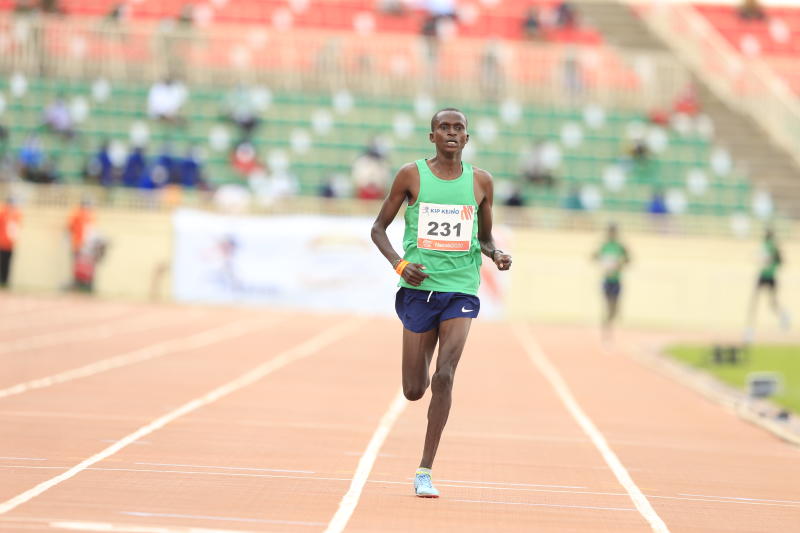 Kenyans will hope this is a start to reclaim 25-lap race honours from Uganda and Ethiopia.
Kenyans started their bid to end the men's 10,000m gold medal drought –at the Olympic Games and world championships with a dominant show at the Kip Keino Classic meet at Nyayo Stadium yesterday.
Olympic silver medalist Paul Tanui made two clear statements: that Kenya can stop Ethiopian and Ugandan aggression and win the elusive gold in major championships and proved a point on Kenyan 10,000m runners that train in Japan.
Tanui, a two-time world 10,000m bronze medalist, wore the composure of an experienced athlete as he toyed around a strong field that had Nathan Lagat, Yosei Mneria and Rhonex Kipruto to win in 28:06.0. Lagat (28:22.2), Mneria (28:26.3) and Kipruto (28:32.5) checked in second, third and fourth respectively.
Saidumu Muisio (28:37.6), former Africa 10,000m champion Wilfred Kimitei of Kenya Prisons (28:40.8), Solomon Boit (28:44.12), Edwin Kiplagat (28:55.2) and Geoffrey Musonga (29:18.9) followed in that order.
The race started on a slow pace before Tanui stormed into the lead in the 18th lap as the chasing kept close tabs.
With spectators on their feet, Tanui who basks in a personal best of 26:49.4 set at the 2014 Diamond League meet in Eugene deployed the afterburners with a killer pace that Lagat and Mneria could not respond to.
"This is my first outdoor race this season and this victory with a season best of 28:06.90 gives me hope that my training is going on well.
"It has been difficult with the Covid-19 restrictions but this race closes my season as I hope to come back ready for next year's Tokyo Olympics," said Tanui.
It was a major comeback for Tanui, who failed to finish the 10,000m race at the African Games in Rabat, Morocco, last year.
Running a sub-28 in Nairobi's high altitude gives him hope as he prepares for the Olympics.
The 29-year-old won silver in the men's 10,000m at the 2016 Olympics in a time of 27:05.64 before improving his time at the 2017 World championships in 26:50.60.
In javelin, African Games javelin silver medallist Alexander Kiprotich won after throwing 76.71m.
Kiprotich's win renewed Kenya's hope of finding a succesor to Julius Yego even though it was not closer to Yego's 92.72 meters.
Kiprotich managed a throw of 77.50 at the African Games last year in Rabat, finishing second behind Yego who won gold after throwing 87.73m.
"I am now hoping to keep in shape and better today's performance at the Olympic Games next year," Kiprotich said after the win.
He said the pressure of competing at home jolted him to victory, since he could not let down fans.
"It has been a very good build up for me ahead of the Olympic Games," said Kiprotich.
Yego, the African champion had hinted at competing at the Nairobi meeting of the Continental Tour but his management did not give him the nod.
He said the 2021 competitions might be his last show representing Kenya at the Olympics.
Kiprotich threw the 76.71 in his first attempt and 76.24 in the sixth and final attempt at the Continental tour. [Reports by Jonathan Komen, Stephen Rutto and Dennis Okeyo]