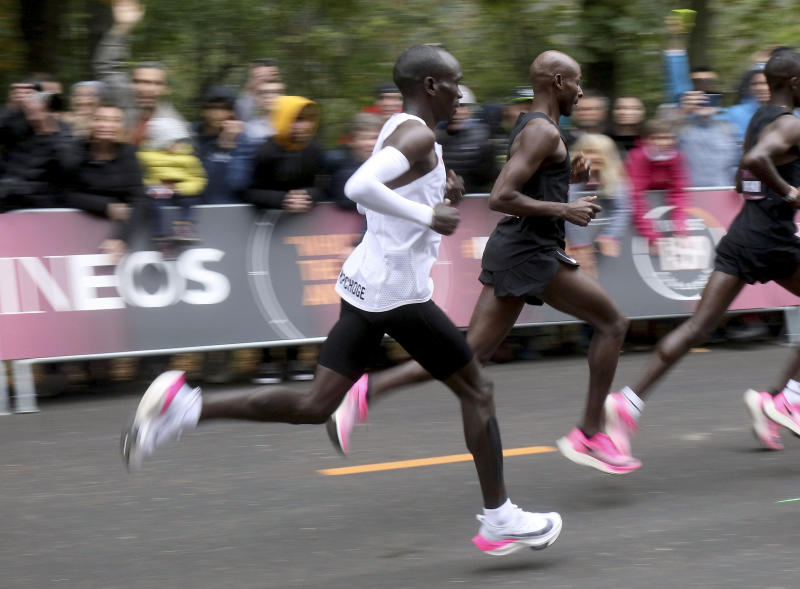 The fastest marathoner, Eliud Kipchoge and the second fastest, Kenenisa Bekele are both managed by the same manager- Jos Hermens of Global Sports Communications.
The two archrivals flew aboard the same private jet to London for arguably the biggest and most anticipated race of the year- The London Marathon. That is as far as their similarities go.
The two greatest long-distance runners of all time are separated by only two seconds in their personal best times.
Come Sunday, one of them will dent the other's stellar accolades. If Kipchoge beats Bekele, he will not only have beaten him for the fourth consecutive time but Kipchoge will also have made it a career 10 wins out of 11 marathons.
If Bekele wins, he will have handed Kipchoge his first loss since 2013 and proven to him that he can beat him both on the track and road.
One thing is for sure, whoever will win will have to really dig deep; this is because Kipchoge and Bekele are the only marathoners to have run the marathon below two hours and two minutes, meaning they are the only ones that run at an average speed of a kilometre in two minutes and 53 seconds which is a blisteringly fast pace not for the faint hearted.
If any of the other 38 runners is not up to shape, they should not attempt to keep up with these two greats, but just run their own race.
The differentiating factor for who will win the race between Kipchoge and Bekele could be narrowed down to their running styles. Experts call these running styles biomechanics.
The other two factors that also influence endurance performance are running economy which is basically the amount of energy an athlete uses through various sections of the race and lactic threshold, the physiological intensity of pain that a runner can sustain over a long period.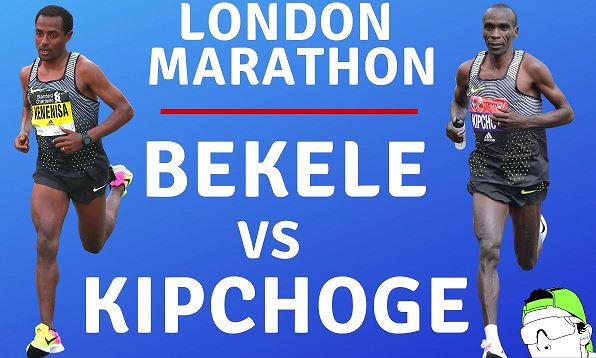 Runners come in all shapes and sizes, and this makes some of them run bent, others straight up; some are vigorous and quite rapid while others are smooth and very economical with their energy expenditure.
So how do these two athletes' biomechanics compare?
Kipchoge and Bekele first went head to head in London marathon in 2016, where Kipchoge beat his Ethiopian rival by setting the course record of 2:03:07 and relegated him to third position.
However, this was the first good tiding for Kenenisa who was a late entrant in marathon after a successful track career.
When Kipchoge to the Rio Olympics of 2016, Bekele was not picked by Ethiopian selectors. Therefore, to prove a point, he entered the Berlin Marathon that September where he not only won, but he also set a new personal best of 2:03:03 that was four seconds faster than Kipchoge's personal best.
In that 2016 race in Berlin Bekele adopted an even splitting running strategy. Since he did not have a pacemaker, he followed Wilson Kipsang at a constant pace of approximately two minutes and 55 seconds per kilometre.
This he did to the 40 kilometre mark, where at the last fluid station, he replenished his energy with the then new 16 per cent Maurten sports drink. Thereafter, he was all speeds and Kipsang could not catch up.
Come 2017, at the Berlin marathon, Kipchoge had a point to prove to Bekele. On that Sunday morning, the weather conspired against the marathoners. Not only was the road wet and slippery, it drizzled for the better part of the race.
With the foregoing, to have a good finish time, one had to have a good combination of race strategy and mental strength. In this race, Kipchoge adopted three strategies; an even splitting approach in the first half of the marathon at an average pace of two minutes and 55 seconds, clocking 1 hour, 1 minute and 29 seconds for the first half of the marathon.
By then Bekele, also a master of even splits running style was right next to him and they crossed the half marathon mark together. As the rain kept drizzling, the runners began slowing down and this disrupted Bekele's running rhythm and he dropped out of the race at the 30-kilometre mark.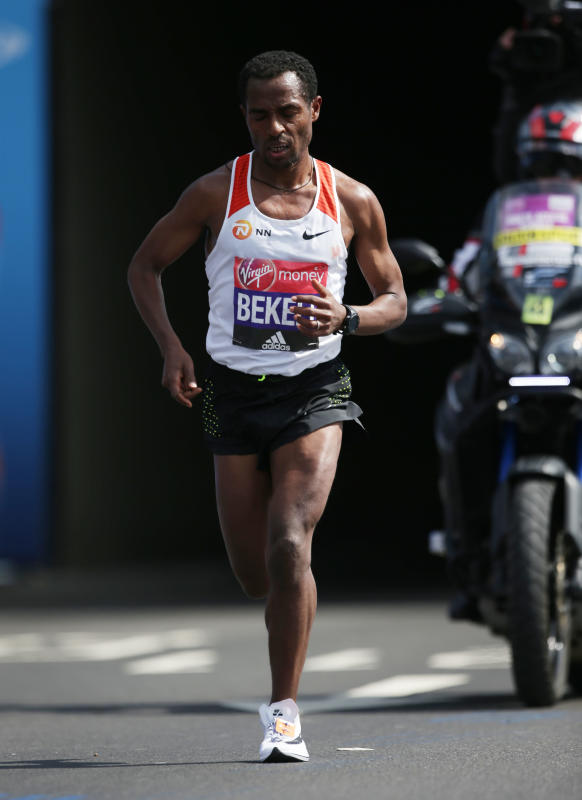 From the 30 to 40km mark, Kipchoge deployed his second strategy of positive splits by slowing down to an average of three minutes and one second per kilometre. At this point, his new adversary - Guye Adola from Ethiopia - was running shoulder to shoulder with him.
The agitated Kipchoge in a bid to shrug him off, had to literary show his new adversary the blue line on the tarmac to avoid a possible collision and dropping out of the race.
With two kilometres to go, Kipchoge unleashed his third and final strategy of negative splits, running faster at a pace of two minutes and 56 seconds per kilometre. The exhausted young Adola could not respond to Kipchoge's surge and settled for second position.
In 2018 on a hot spring morning in London, Kipchoge won the race beating Bekele to the sixth position. The embarrassment was too much for Bekele that he opted not to participate in that year's Berlin marathon and went on to compete in the Amsterdam marathon.
As if to confirm that 2018 was not his year, at the Amsterdam marathon, Bekele dropped out after 40km.
The in-form and inspired Kipchoge chose the 2018 Berlin Marathon as his opportunity to prove to the world he was the best.
In this race he dropped his old even splitting running strategy and adopted new fast splits of two minutes and 36 seconds per kilometre in some sections of the race. As the race progressed, looking at the very fast pace Kipchoge had set, most pundits thought he would burn out, but they were all astounded as they saw him keep up.
So fast was Kipchoge that he did a negative split of running the second half of the race at a blistering 31 seconds faster than the first half; something extremely rare.
This strategy of dropping your competitors early to allow you to run alone had been previously adopted by the late Samuel Wanjiru in the 2008 Beijing Olympics where he literary ran alone for over five kilometers towards the finish line.
After the disastrous 2018 season, many analysts wrote off Bekele. However, this was not to be. He went back to his camp in Sululuta, Ethiopia to strategise. This strategy was so meticulous and secretive that he opted for a high-altitude European training camp to enable him train alone.
This investment paid off when he was able to shock the world by running his own race in the 2019 Berlin marathon. With Kipchoge absent, Bekele had less pressure to mess his rhythm and style, he was able to slow down from the halfway mark to the 35th kilometre mark before picking up pace towards the finish line.
So fast was the pace that he clawed his way from third to first position. Unfortunately, this mixed split running strategy was not meticulously executed, and he missed Kipchoge's world record by only two seconds.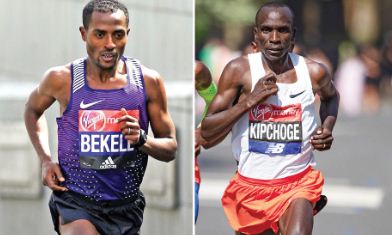 When elite runners disrupt their competitors by increasing the tempo of the first and mid-sections of the marathons, they leave their competitors with a high lactic acid concentration and intense pain. The only recourse for the chasing pack is to slow down and ingest some air. In this forthcoming London marathon, since the two top runners have experimented with both even and negative splitting, it will be for the viewers to see what cards are on the decks.
As opposed to previous London marathon which have been on the roads on the city with a total of twenty six 90 degree turns spread throughout the race; this year will see sixty six 90 degree turns in close succession as they run 19 loops in the 2.15 kilometer route. Such loops are not only dizzying but can predispose the not so prepared to ankle sprains.
Eliud is not new to loops. In the 2017 Nike Breaking-2 race in a formula one racetrack in Monza – Italy, he was able to run 25 seconds shy of a 2-hour marathon. With this muscle memory coupled with the longer loops in Vienna-Austria during the INEOS 1:59 marathon, he has a head-start. However, the secretive Kenenisa might have something up his sleeves having been a seasoned and world record setting track athlete. Furthermore, while Eliud might depend on his team-mates from Global Sports Camp in Kaptagat to pace him, Kenenisa might just ask his daring country mates to agitate Eliud to nearly a kilometre to the finish line and then he goes into his characteristic mad sprint to the tape. Has Kipchoge prepared for a sprint finish? Has Bekele prepared for a mixed splits high pace race?
Let us wait and see!
Paul Ochieng ([email protected]) is a Sports Economist and Dean of Students at Strathmore University and Gerald Lwande ([email protected]) is a Biomedical Scientist