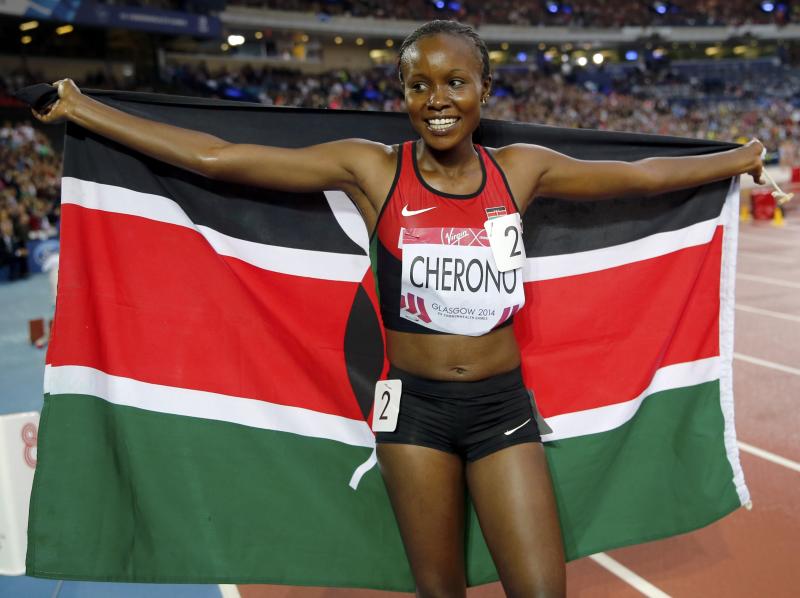 After two seasons of injury frustrations, the 2014 Commonwealth Games 5000m champion Mercy Cherono is in great shape and ready for her long-awaited return to competition.
The 29-year-old, who finished fourth at the 2016 Rio Olympic Games in the 5000m event behind her compatriots - gold medalist Vivian Cheruiyot, Hellen Obiri and Ethiopian Almaz Ayana - has been entered to compete in the women's 1,500m event at the next week's World Athletics Continental Tour Gold series in Nairobi.
"After the Rio Olympics, I had a frightening foot fracture that made me miss out on the 2017 and 2018 seasons. I had to lay back from competitions and I decided to start a family and in the process, I had a baby girl," Cherono said.
With sports disrupted, travel restricted and meets and competitions delayed or cancelled due to Covid-19 pandemic, Cherono decided to channel the frustrations of the forced shutdowns into more training and preparations for her comeback.
"I started training last year and I had hoped to compete fully this season but the virus shutdown happened. I used the virus frustration to train more and get into better shape. I can say I am 80 per cent in terms of fitness and ready to compete during the World Athletics Continental Tour Gold series in Nairobi on Oct. 3," said Cherono.
But her beautiful looks and the latest hairdo will no doubt make a statement about her off-the-track lifestyle, just as she did when she won 5000m gold at the Commonwealth Games in Glasgow, Scotland – without much fuss.
Cherono is no longer that rural girl from the far-flung Kipajit village in Bomet County but a fashion model. She is gorgeous in her running kit and absolutely stunning in an evening gown!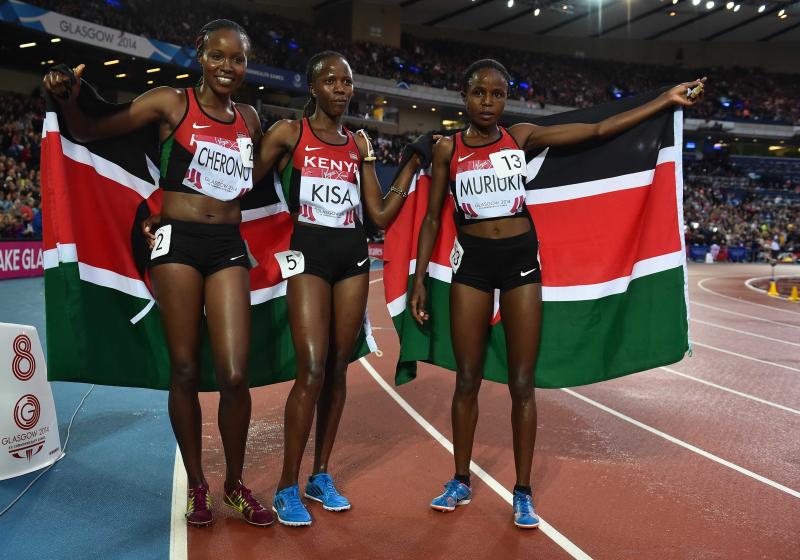 When she threw down the gauntlet to the Commonwealth nations' participants, one point came out clearly inside Hampden Park in Glasgow: the world's male sporting enthusiasts cooed with envy as the beauty queen headed to the start line.
Cherono, whose beauty and style drooled over the global athletics scene, did not disappoint her fans when she blew away her rivals to smithereens.
She is the World Youth and World Junior champion as well as the world senior silver medallist in 5000m and her hairdo sporting colours of the Kenyan flag always causes a stir and admiration among the menfolk across the globe.
She is no doubt a perfect definition of a billboard girl as her hair brings out her personality.
For the Kenya Police corporal, the colours indicate she is 'out of the box', unlike most Kenyan athletes.
She has come a long way from the clean-shaven Ngariet Secondary Schoolgirl and now does it all for the love of the country that inspires her trademark hairdo.