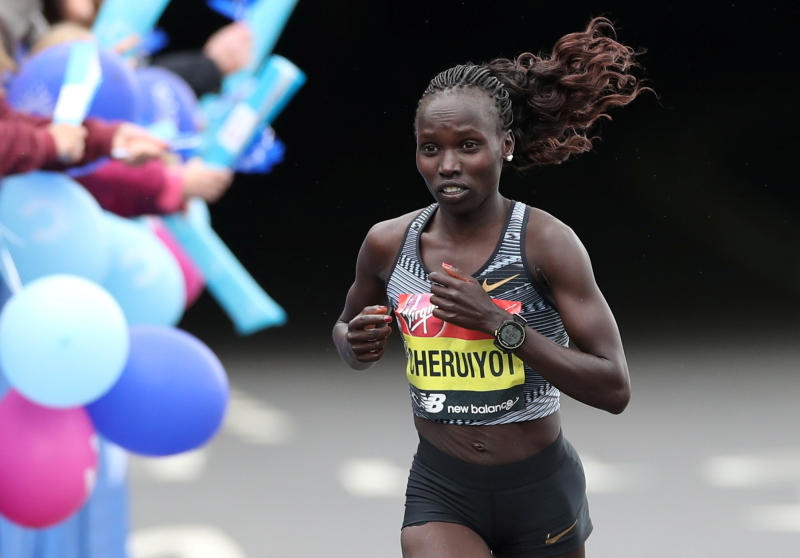 For the third time in a row, Brigid Kosgei will face off with Vivian Cheruiyot at the London Marathon next weekend.
At this venue, the current score stands at Brigid - 1 and Vivian - 1.
In 2018, the experienced Vivian outsmarted Brigid to lift the London marathon crown.
However, last year, Kosgei was in great shape to not only dethrone Vivian in April, but also break the women's world record (2:14:04) in October at the Chicago marathon.
Will Vivian have her revenge, or will Brigid extend her dominance over her compatriot in London?
This year's race, which will be held at the closed-loop circuit around St James's Park in central London, is not a foregone conclusion as it seems.
Due to the continuing effects of COVID-19 pandemic, this year, the race organisers have selected an elite squad of 30 women marathoners accompanied by eight pacers who will make sure whoever eventually wins, really sweats for the crown.
Top in contention for the title will be current world champion Ruth Chepngetich, who braved the hot and humid conditions in Doha to beat a strong field and be crowned the world champion.
Kenya's stellar team in London will also have last year's Frankfurt Marathon champion Valary Jemeli and another promising star Edith Chelimo, who will be making her marathon debut.
The Ethiopians are also bringing their top guns for the top race. They'll be led by the third fastest female marathoner; the 23-year-old Roza Dereje, who won last year's Valencia marathon.
Also in the mix will be the experienced 2019 Berlin Marathon champion Ashete Bekere (32-years-old).
What will it take to dethrone Brigid Kosgei? First, she is young (26 years) and has been in the form of her life as was evident during the recent one-hour time trial on the track at Wanda Diamond League event in Belgium.
In the last two years, she has reduced her finish time by more than six minutes, something that is no mean feat amongst marathon runners.
Last year, she not only broke the marathon world record but also set the Great North Run course record. Whoever will take her on, must match and surpass her current mental and physical state.
The 37-year-old Vivian Cheruiyot is an experienced marathoner with multiple major titles both on the track and road.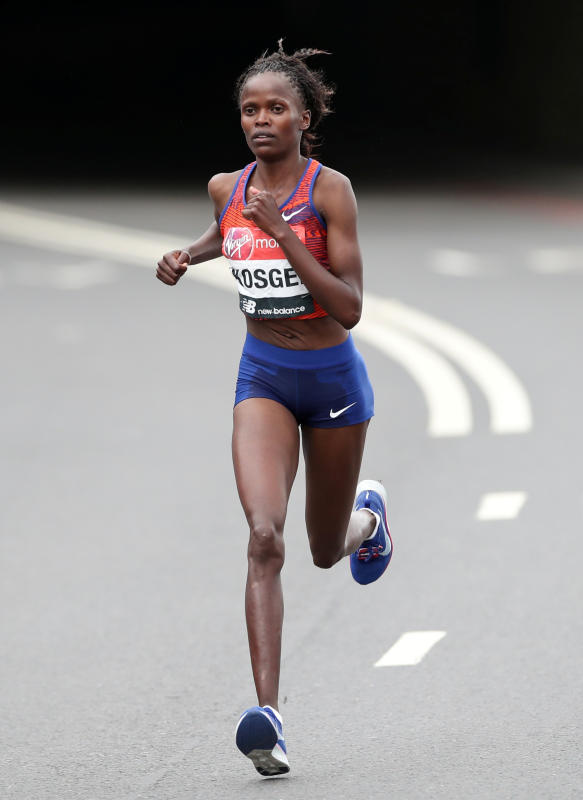 She has the pace and mental strength to match the defending champion; but will this year's fast course level the playing field for all contestants and thus make it hard for her to reclaim her title?
Roza Dereje and Degitu Azimeraw, (21-years-old) all sub-2:20 runners, are serious contenders if their recent good form is anything to go by.
This will not only be an East African affair but a contest between the young and daring versus the experienced and tactical.
With all the elite aiming for a win, will the ensuing contest result in a world or a course record?
World Athletics recognises two world records in the Women's marathon. These are, the mixed-race world record held by Brigid Kosgei (2:14:04) and the women's only world record set during the 2017 London marathon by Mary Keitany (2:17:01) since she had only female pacers.
With the eight female pacemakers keeping the speed high, this elite field is capable of something special.
London also offers ideal conditions for breaking the world record. The British capital has an elevation of four meters above sea level, which is quite ideal for a marathon.
Comparatively, Chicago, where the world record was broken last year, has an elevation of 182 meters, no wonder in the last 17 years, the world record has been broken four times with three of them being in London and once in Chicago.
This year's London marathon's specially designed course is very fast because of its elevation and route profile changes.
The only other thing that needs to be ideal is the wet bulb and ambient temperature and we could be in for another world record.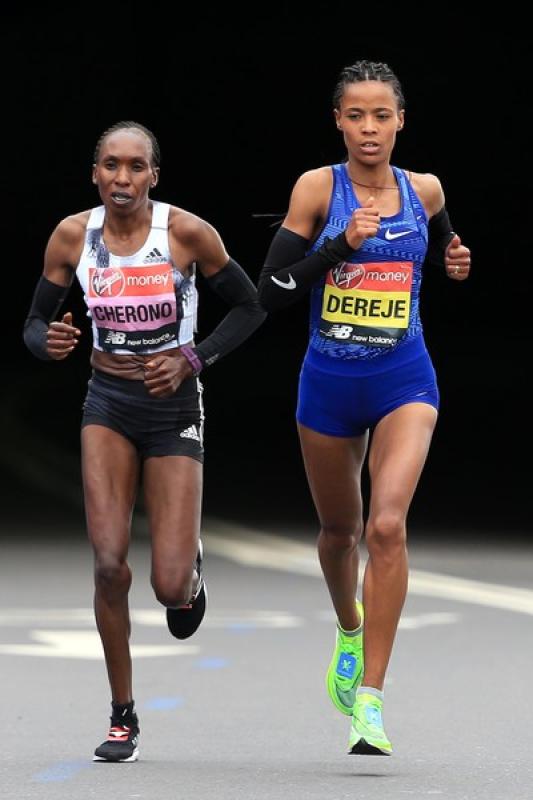 The London marathon will also be a battle ground for the two leading sports shoes companies – Nike and Adidas to compete on who has the best marathon shoe.
Adidas will be launching its carbon fiber plate embedded shoe known as the Adizero Adios Pro in response to the record shattering Nike's Alphafly NEXT % that Brigid wore during her last year's world record victory in Chicago.
Leading the charge for Adidas will be Kenya's Valary Jemeli - a platinum label athlete and currently ranked 10th in the overall world listing in the women's marathon.
Should she triumph, Adidas will have proven that they too can produce a world-beating shoe and this possible win could open wide the inter-manufacturers competition on the best marathon shoe.
The debate on how big or wide a running shoe midsole should be has been raging ever since Eliud Kipchoge came 25 seconds shy of breaking the world record in May 2017 wearing Nike's Vaporfly Elite.
Critics claimed that the shoe gave the athlete an unfair advantage and secondly, that it was a prototype shoe not available in the mass market.
To try and resolve the debate, World Athletics amended its Rule 143 (on Clothing, Shoes and Athlete Bibs) and now any shoe that is first introduced after April 30, 2020 may not be used in competition unless and until it has been available for purchase by any athlete on the open retail market for at least four months prior to that competition.
The two mentioned shoes meet the above criteria and so the race is on for supremacy.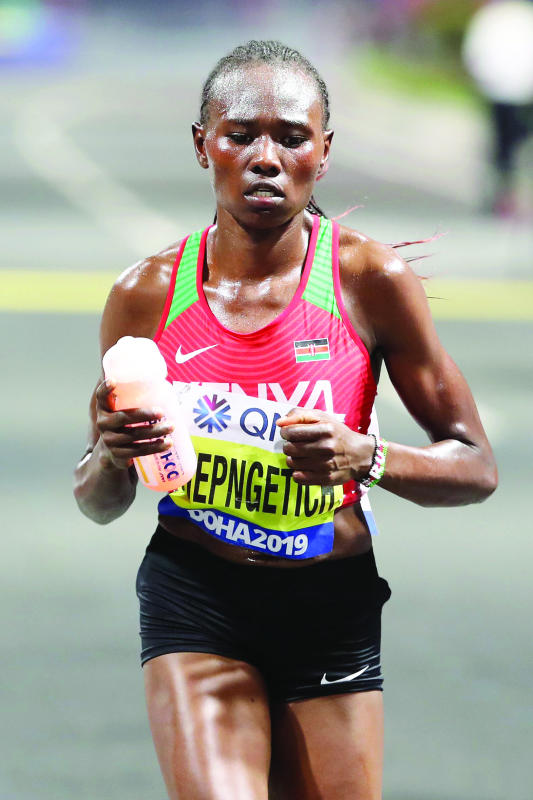 We hope this competition between the shoe companies will not reduce the marathon to a shoe "arms race" of some sort but bring out the best of the elite athletes by improving the conditions under which they will compete and thus optimize their athletic performance.
This year's London marathon will not have the crowds and fun-fare that accompany it, but it will not be short of drama.
This field of runners is the best-assembled in the recent past, they are all hungry for a win considering the scarcity of marathons this year and they will be in some of the best shoes manufacturers can offer.
Will experience triumph over youthful energy or will it be a brain over brawn race. Just like you, we too will wait for the October 4, 2020 race to find out.
May the best lady win.
- Paul Ochieng is a Sports Economist and Dean of Students at Strathmore University and Gerald Lwande is a Biomedical Scientist