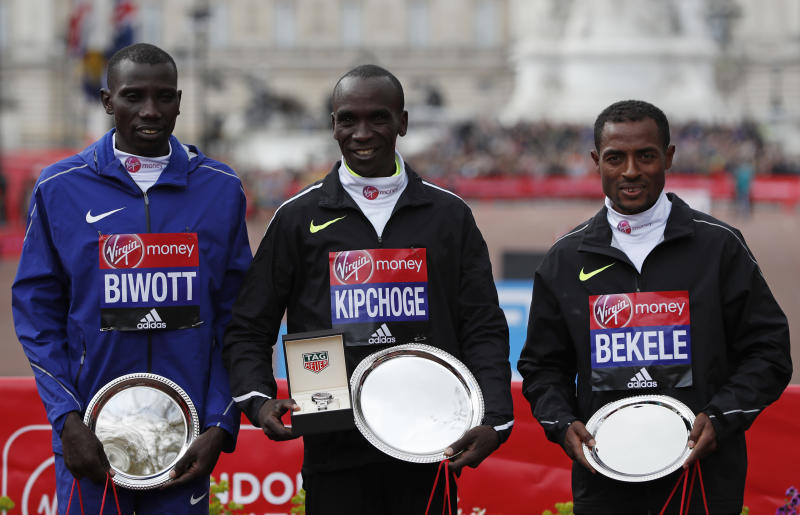 Top athletes will earn less in this year's London Marathon as effects of Covid-19 continue to hit the sports world.
Organisers of the October 4 race say the prize money has been cut by nearly half of what was offered last year.
With only 17 days to the 40th edition of the London Marathon, the announcement comes as a shocker for marathoners who are just returning to the sport after months of heavy lockdowns.
Interestingly, for the first time there will be a separate prize pool for the best performing British athletes for the London clash that will present the scintillating clash between the world's fastest marathoners - Kenya's Eliud Kipchoge and Ethiopia's Kenenisa Bekele.
The elite men's race will see one of the most eagerly anticipated clashes in marathon history with Kipchoge going head-to-head with Bekele, the man who came within two seconds of his world record last year in Berlin.
Organisers link the slashing of the multi-million prize money to the current financial turmoil from the Covid-19 pandemic.
Last year, organisers issued $313,000 (Sh33,491,000) prize money for top finishers and an additional $850,000 (Sh90,950,000) for time bonuses.
Kipchoge pocketed $42,000 (Sh4.2 million) for winning last year's race but in next month's race, he will pocket less.
Explaining the decision to reduce the prize fund, London Marathon's head of elite athletes, Spencer Barden, said reduction of the prize money was not an easy decision.
"What we've done this year is reduce the price structure for the international runners by almost 50 per cent from previous years. However, we've also created a British-only place prize structure this year – so the top three British athletes will have prizes solely for them," said Barden.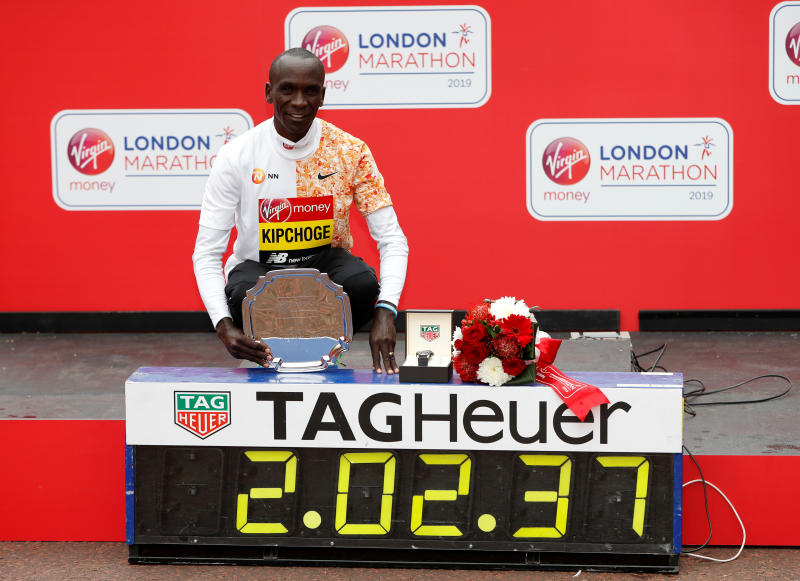 London Marathon race director Hugh Brasher promised the world a special race despite the change of course as a result of the Covid-19 pandemic that necessitated the running of the race in a biosecure bubble in London.
"This year will be one of the best ever. We know this course is fast and the athletes are excited about showing us what they can do. But what we are also doing with this event is to also highlight this amazing sense of community and togetherness," said Brasher.
The races will take place on a closed-loop circuit around St James's Park in central London.
British Mo Farah who just last month broke the one-hour world record on a remarkable return to track will be pacing to help his compatriots run under 2:11:30, the Olympic qualifying time in the special 19.6-lap circuit around St James' Park.
In the elite women's race, defending champion and world record holder Brigid Kosgei of Kenya will return alongside her compatriots' world champion Ruth Chepngetich, 2018 London marathon winner and 2019 runner-up Vivian Cheruiyot.