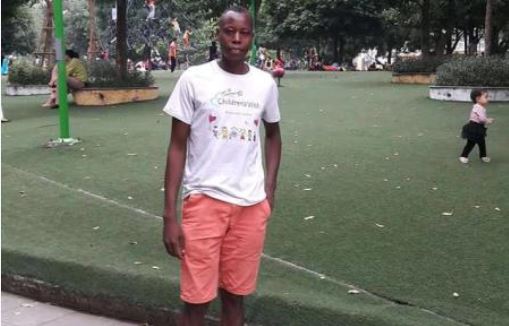 The family of an athlete said to be stranded and living in a public park in Vientiane, Laos Republic, South East Asia, is seeking help to evacuate him.
Marathoner Benjamin Chepkwony from Kapseret, Uasin Gishu County left Kenya on December 4 last year to compete at the Vientiane Marathon, according to an athlete friend Enock Kigen.
A picture of Chepkwony idling in Public Park in Vientiane made rounds on social media on Tuesday evening, with Kenyans calling for his evacuation.
Uasin Gishu communications director Silas Tarus said the county government is planning to facilitate the athlete's return to Kenya after his photos were shared on social media.
But Chepkwony's family said it had been trying to bring him home but to no avail.
Yesterday, his family through his elder brother Noah Chepkwony said Benjamin was not neglected, noting that the family has spent at least Sh800,000 for his air ticket to Kenya but he has declined to return.
Noah said his younger brother may have slipped into drug addiction in Laos Republic.
"Our brother went to Laos to compete and we are worried that he has found bad company and may have plunged into drug addiction," Noah said.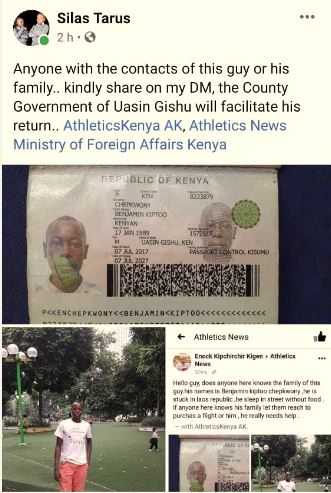 The agonised brother continued: "We have sent between Sh800,000 to Sh1m for his air ticket but he has refused to return to Kenya."
Noah explained how his athlete brother has been requesting for money for air ticket and renewal of visa, and whenever he receives the money he goes missing.
"Some photos and videos showing our brother in drinking sprees with some West African men have emerged," he said.
He said his brother may have sunk into depression in a foreign land for unknown reasons.
"As a family, we have done a lot to help our brother return home but he has been giving excuses whenever we send money to enable him get a ticket. At some point, he said he wanted to renew his visa and continue participating in races. He also told us that he wanted to go to Indonesia and China but we discovered he was squandering the money in drugs," Noah narrated.
He said family friends in Kenya and the United States are holding meetings to send some athletes to return his brother to Kenya.
The family said they sent Sh100,000 two weeks ago to help him pay an air ticket, which costs Sh70,000 but he switched off his phone after receiving the money.
"We are asking the government and well-wishers to help us bring Benjamin home. We don't know any Kenyan in Laos and this has made it difficult for us to know what our son is doing and why he is living in a park," Noah said.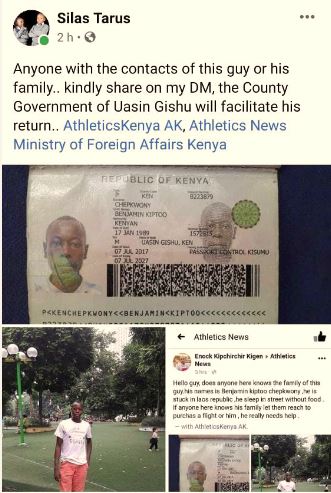 Kigen, the marathoner who was with Chepkwony in Laos last December said he has been attempting to persuade him to return to Kenya but no avail.
"Chepkwony called me two days ago and requested for money. He threatened to commit suicide when I told him I had no money. This is an athlete who needs professional counselling," Kigen, who had competed in the Nong Khai marathon in Thailand said.
He said he has been sleeping under a tree in Vientiane for months.
"He doesn't have a house in Laos. He has been using the money he gets from well-wishers to stay in hotels and after exhausting the cash, he returns to the public park," Kigen said.
He said he has been sending a Laos athlete Lodkeo Inthakoumman who is also a police officer to check on Chepkwony.
"I was worried when he threatened to commit suicide and I sent Inthakoumman to check on him on Tuesday and didn't find him at the park. The Laos athlete waited for him from 4pm to 7pm and he didn't show up. He returned at 10pm and he didn't find him. His phone has been off," Kigen said.