Squad that shot Kenya to the top of World Athletics show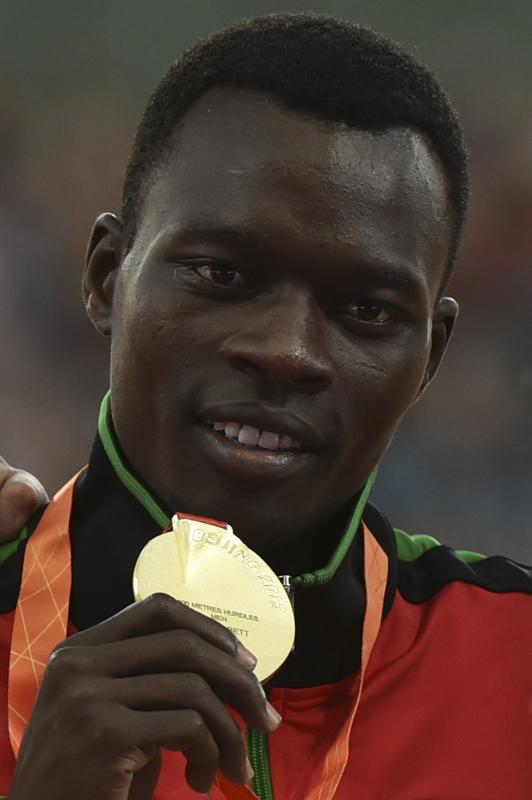 It remains the best team ever. They won historic seven gold medals at the 2015 World Athletics Championships.
Kenya's seven gold medals haul at the 2015 IAAF World Athletics Championships in Beijing, China, remains the best performance in the nations' athletics history.
They won six silver and three bronze medals, with Jamaica and the USA in second and third places respectively.
The golden crew were absolutely stunning at the finish line inside Birds Nest Stadium thanks to their stylish celebratory signs and antics.
From Vivian Cheruiyot's one-finger salute to Ezekiel Kemboi's theatrics in celebration and then Julius Yego's loud scream, Kenyans were over the moon.
It was an outing that Kenya ventured into new territories as Julius Yego struck Africa's first gold in javelin while the late Nicholas Bett won the 400m hurdles to end a then 43-year-old drought for the race title in Africa.
The late Nicholas Bett (gold medalist 400m hurdles)
He won Kenya's 46 gold medal in the history of the IAAF World Championships, which was Africa's first 400m hurdles gold medal in a global competition since 1972 Olympic Games in Munich, Germany, when Uganda's John Akii-Bua won the 400m hurdles gold.
Take a quick survey and help us improve our website
Take a survey
And although the race did not go as they expected in the 400m hurdles, it was particularly sweet victory for Bett who had to atone for having seen his elder brother Haron Koech bow out of the semi finals in Beijing.
Unlike other Kenya's seasoned athletes, Bett never had a defined celebratory antic.
Finnish track and field agent Jukka Harkonen, who handles former World and Commonwealth Games javelin champion Julius Yego, also managed them.
They come from Simat village in Uasin Gishu County, the home of three-time world 1,500m champion Asbel Kiprop.
Bett, who set a national record of 47.79 in Beijing, was a traffic policeman based in Kisumu and is the son of former triple jumper Joseph Boit, now serving as Athletics Kenya Uasin Gishu branch vice chairman.
While a pupil at Simat Primary School and Cheptil High School in Nandi County, the late Bett gathered a huge interest in volleyball and 100m hurdles.
The two siblings –Haron and Nicholas –led Cheptil High School to a record title at the East and Africa Secondary Schools Games in volleyball in 2009 and 2010.
Bett was excited with his gold medal and dedicated his performance to his children Sadly, he died in car crash at Lessos, Nandi County, on August 7, 2018.
Hyvin Jepkemoi Kiyeng (3000m steeplechase)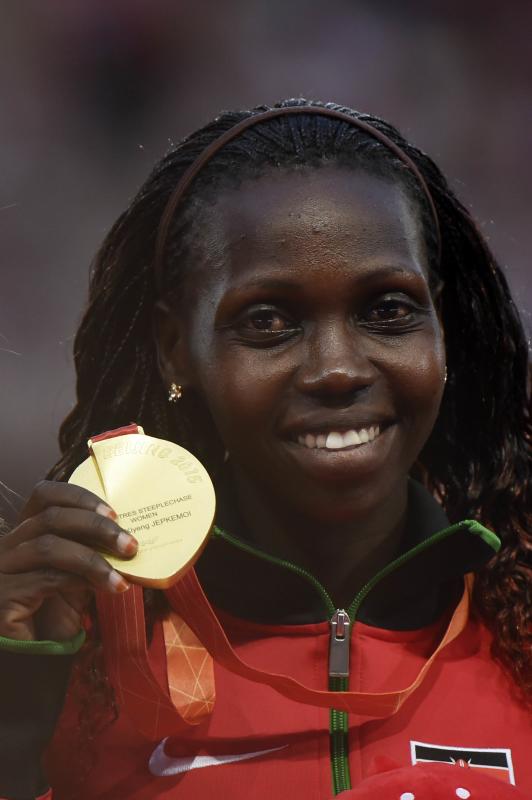 The 28-year-old from Kocholwo village in Keiyo South won her first major championships medal, having finished sixth in Moscow in 2013.
That was no surprise as she went into the women's 3,000m steeplechase final, the only certainty was that there would be a new world champion as none of the five previous winners had made it to Beijing.
She had won gold medal at the 2011 All Africa Games in Maputo, Mozambique and a bronze medal at the Africa Championships in Porto Novo, Benin, in 2012.
She defended the world title that Milca Chemos won in Moscow in 2013 and opted to celebrate it with a dance –just like Chemos. She won silver at the Rio Olympic Games.
Ezekiel Kemboi (3000m steeplechase)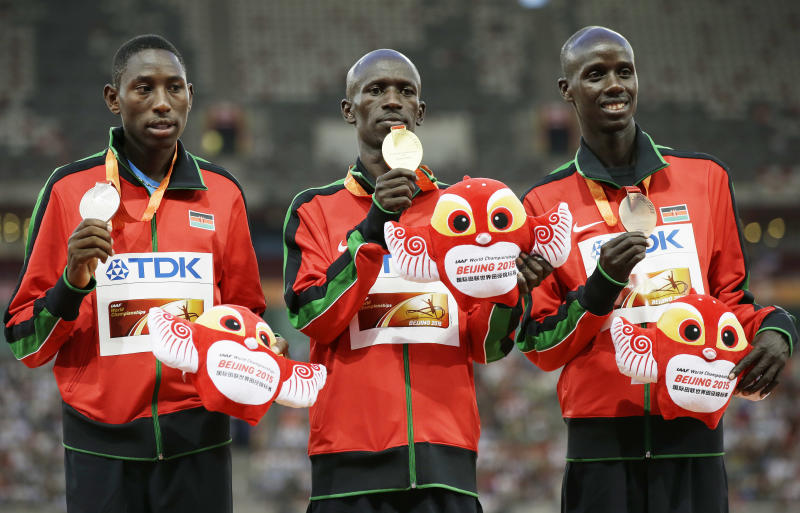 He is the flamboyant and 'crazy jigman' who never ceases to amaze with his celebratory antics.
Kemboi's daredevilry character; his loving tendency for night hang-outs; unique dressing code to fit special occasions and canny running style makes him stand out on the tracks.
With two Olympic titles and four world championships' crowns to his name –and three world championships silvers as bonus –makes Kemboi the world's steeplechaser of all time.
Asbel Kiprop (1,500m gold)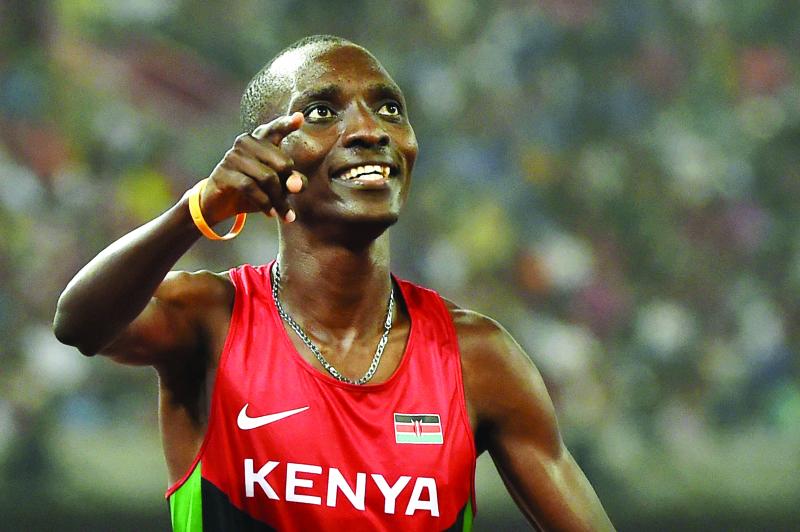 Asbel Kiprop, who won his third straight title in Beijing, discontinued schooling while a Form One student at Kaptinga Secondary School in Uasin Gishu County and concentrated in athletics.
And just like his parents, who served in Kenya Police, Asbel is a police officer, and his brilliant shows on the track buttresses the myth that prowess in athletics is hereditary.
At just 18 in 2007, Asbel stunned the world when he claimed the World Cross Country junior title in Mombasa in his maiden international race – barely 20 years after his father did. Both of them had their first international races in Kenya.
Asbel often flashes his one-finger salute. He, however, did a three-finger salute in Beijing –a sign that he had recorded third consecutive win at the world championships
Vivian Cheruiyot (10,000m gold)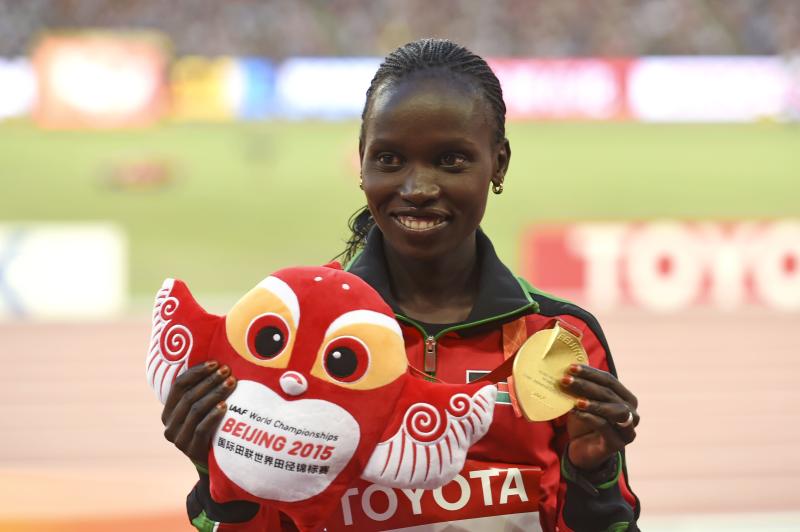 She started running while a Standard Four Pupil at Chemwabul Primary School in Keiyo South.
Vivian was born on September 11, 1983, and will celebrate her birth day next month. She is the Third Born in a family of eight and started to train in athletics while herding the family's goats at the nearby Kaptagat Forest and trekking to their ancestral farmlands in Kerio Valley.
Vivian, a highly talented athlete and glowing alumnae of the athletics-rich Sing'ore Girls High School in Keiyo North, punches her one-finger salute into the air in celebration. She comes from Kaptarakwa in Keiyo South. She won London Marathon in 2018.
Julius Yego (Javelin gold)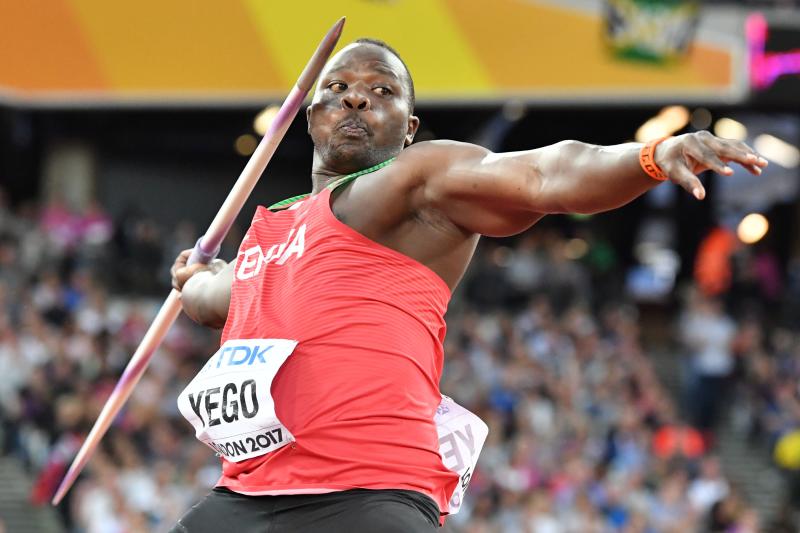 He has an identical scream as his trademark after a perfect throw.
Yego, the newly crowned world champion, uses the scream as his traditional cool down dose.
The 'Youtube' athlete as he is known and who hails from Cheptonon village in Nandi County, started off with stick-throwing while herding livestock in the tea-rich farmlands of Nandi Hills. He won the 2016 Olympic 800m silver medal.
David Rudisha (800m gold)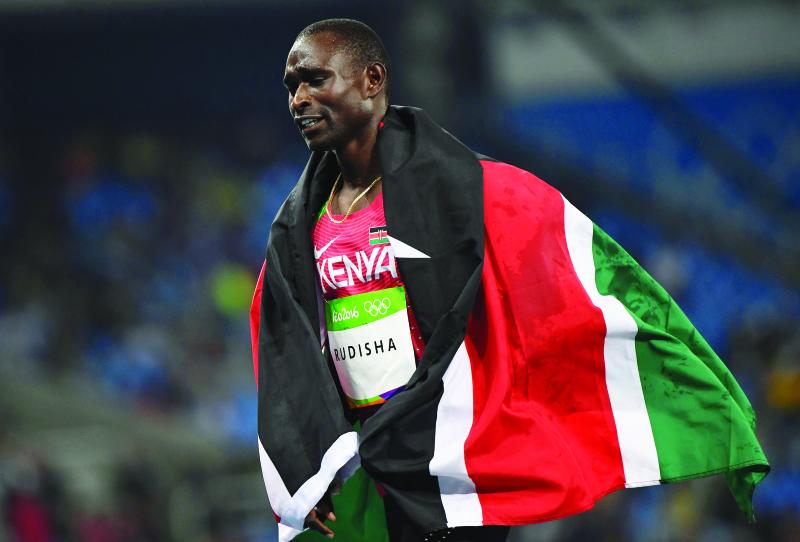 David Rudisha's brilliance in 800m race clearly shows a steady evolution in Kenyan athletics in the past five decades.
Rudisha was the first Kenyan to win the prestigious IAAF World Athlete of the Year award in 2010 and has won a record three consecutive Track and Field Athlete of the Year wards as he tied with Carl Lewis.
Rudisha has the world 800m record (1:40.91); Olympic champion and world champion titles as well as former Africa and world junior crowns.
Rudisha was the first person to run under 1:41.00 for the event, and he holds the three fastest, six of the eight fastest, and half of the 20 fastest times ever run in this event.
His father, the late Daniel Rudisha, was a former athlete who won silver medal at the 1968 Olympic Games in Mexico City in the 4x400m relay team, while his mother Naomi Rudisha is a former 4x400m hurdler.
Born in Kilgoris, Rudisha attended Kimuron St Francis Kimuron Secondary School in Keiyo North, where he studied alongside former world cross-country silver medalist Lucas Rotich. King David, as he is known, always punches into the air like a king to celebrate his victory. He won the 2016 Olympic 800m title.