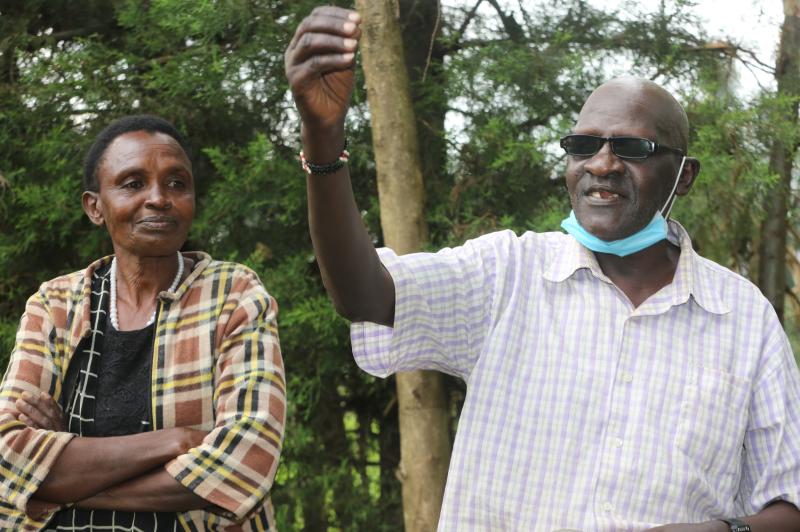 They laid the athletics marker and paved a golden path for Kenya's world-beating stars in track and road running.
From the 1958 Commonwealth Games in Cardiff, Wales, they kept on shipping home the bullion from foreign lands.
But, sadly, a handful of these legends enjoy life in the fast lane. Most of them – now on their sunset years –lead squalid lifestyles.
The script reads from pioneer Olympic medalist Wilson Kiprugut Chumo, 1968 Olympic 3000m steeplechase Amos Biwott, silver medalist Benjamin Kogo to Susan Sirma, the first Kenyan woman to win a medal at the 1991 World Athletics Championships in Tokyo.
Biwott, who set the tradition for Kenya's dominance in the water and barriers race, does small scale farming in his home in Ndonyo Ngaria near Eldoret International Airport.
Although he could not win a medal at the 1972 Olympic Games in Munich, Germany, the outing stands out as a memorable moment for Biwott. He met his wife Cherono and brewed love, which saw them join in matrimony.
"We were in the Kenyan team. We were just familiar with each other but I developed intense love for her that time....We later married," Biwott said with a pensive smile yesterday at his home.
Cherono, who competed in 800m and 1500m, said: "I met Amos in Munich and a year later, God blessed our marriage with our first born daughter."
Biwott keeps some dairy cows. "I enjoy looking after the cows because this is what I love doing. We also have a garden that my wife manages," said Biwott.
His athletics journey started in 1963 at Lelmokwo Primary School, some five kilometres away.
Unlike many Kenyan athletes, Biwott did not harbour big dreams. He wanted to train hard and make the Rift Valley team so that he could to travel to Nairobi to buy a pair of long trousers.
"At the provincial competition in Nakuru, we ran barefoot. I hoped to win 5000m and 10000m then proceed to Nairobi for the nationals. I had a dream of traveling to Nairobi so that I buy a long trouser. We only wore shorts those days and I had seen neighbours who had traveled to Nairobi and return with long trousers," he remembers.
"I got my first Puma sports shoes at the national training camp. We were paid one US dollar at the national team training camp. The cash enabled me to buy my first pair of trousers and a suit," he said.
Kiprugut, Kenya's first Olympic medalist in 1964, lives in a four-acre piece of land some three kilometres from Kericho town.
The 82-year-old Kiprugut battles poor health conditions. His leg is swollen, poor eyesight and lost hearing.
He is a widower, having lost his wife to heart attack on July 20. His son Gideon Rugut said: "We recently lost our mum who was a great pillar to our dad and therefore he is not in great shape to talk a lot," said Gideon.
Kericho Governor Paul Chepkwony, who recently unveiled a Sh37 million tartan track at Kericho Green Stadium, said they would rename the stadium The Wilson Kiprugut Chumo stadium.
"The hero proved to Africans and, more importantly, that we can shine in athletics. His inspiration to many athletes will not go unrecognised," he said.
"Every generation produces its heroes and heroines and in our time we have many shining stars in athletics who are flying the Kenyan flag high all over the world and it all started with Kiprugut Chumo," Chepkwony said.
Keino, the two-time Olympic medalist and former Olympic Committee of Kenya president, enjoyed a bigger slice of the glory in sports administration.
With seven gold, three silver and a bronze medal, Kipchoge's life still revolves around sports. He owns the Kipkeino Sports house in Eldoret town which sells sportswear and trophies among other items and has served in International Olympic Committee executive.
The sports house is under Keino Sports Group, an events, marketing and tourism firm.
Tegla Chemabwai Sang, the first woman Olympian in 1968, is an athletics coach and director of Chemabwai Education Centre in Uasin Gishu County.
Tegla, who was married to the late Julius Sang, worked as an instructor at Moi University under sports management course while Kimaiyo – whose national record of 13.69 in 100m hurdles still stands – worked at University of Eldoret.
Being among the first women to compete at the Olympics in 1968, Tegla inspired Sabina Chebichii, who was Kenya's first woman to win a medal at the Commonwealth Games in Christchurch, New Zealand in 1974.
"I left Eldoret University and decided to invest in a school. It's picking on well," she said.
Susan Sirma, the 1987 All-Africa Games 3000m gold medalist, said there is no Government support for the retired athletes.
Her claims comes even as this Act of Parliament provides for recognition of heroes, selection and honouring of these heroes and establishment of a National Heroes Council.
But the Act has never been in force and the National Heroes Council is yet to be appointed.
"Many pioneer athletes are suffering. Others have battled illnesses that come with old age and have died. Some have indulged in alcoholism because frustrations," Sirma, who is the Veteran Athletes Association chairperson, said at Standard Group offices in Eldoret yesterday.
According to Sirma, at least 300 athletics legends among them 70 medalists are from North Rift region.
In Sugoi, Uasin Gishu, Sammy Tirop, who won gold in 800m at the 1990 Commonwealth Games in Auckland, New Zealand.
Tirop, 61, was involved in a motorcycle accident after retirement from the sport and had one of his legs amputated.
He is among legends who helped Kenya stamp its authority in 800m but, today, he can't attract a passing glance as he struggles with a disability.
At 76, Benjamin Kogo, the 1968 Olympic Games silver medalist in 3000m steeplechase does small scale farming at his home near Kapsabet.
Suter Chemweno, who lined up in 800m at the 1958 Commonwealth Games in Cardiff, retired as an Agricultural Extension Officer and now lives in Kapkoi in Elgeyo Marakwet.
Fathwel Kimaiyo, whose national record of 13.69 in 100m hurdles still stands, lives in Kapsabet and works at University of Eldoret.
Paul Cherop, the first national cross country champion, retired as a primary school teacher and lives in Kapteren village in Elgeyo Marakwet.
Daniel Kimaiyo (Nandi), Henry Rono (Nandi) and Mary Chemweno (Uasin Gishu) form a long list of Kenya's forgotten heroes and heroines.
Cosmas Silei, 73, a 1972 Olympian and 800m All Africa Games gold medalist is battling an illness in his home in Mosoriot, Nandi County.
"The country's leadership heap praises on our veterans when they die. When the country recognise and reward them while they are still alive," Simon Biwott, the 2001 world championships medalist Simon Biwott said.
After many years of neglect, several athletics legends have battled poverty and diseases until they died.
After a long battle with cancer, 1972 3000m SC Olympics silver medalist Ben Jipcho died on July 24 at 77.
Jipcho won gold medals in both 5000m and 3000m SC in the 1974 commonwealth games in Christchurch, New Zealand as well as the 1973 All-African Games in Lagos, Nigeria.
Former Olympic relay champion Robert Ouko died on August 18, last year, aged 71 after battling an illness since 2014.
Ouko won two gold medals at the 1970 British Commonwealth Games, first in 800m and then as a member of the Kenyan 4×400m relay team.
In the same year, he made the Kenyan 4x880 relay team, which set the new world record of 7:11.6.
Another pioneer athlete Nyandika Maiyoro who died on February 24, 2019 aged 88 in Kisii.
Maiyoro was among Kenya's first group to compete in the Olympics, a breakthrough achieved at the 1956 Games in Melbourne, Australia where Kenya competed for the first time.
Kenya's first 10,000m Olympic Games winner Naftali Temu died in March 2003.
No other Kenyan has won 10000m in the Olympics since 1968 when Temu wrote history in Mexico City Games.