Which marathon star will race to victory in London?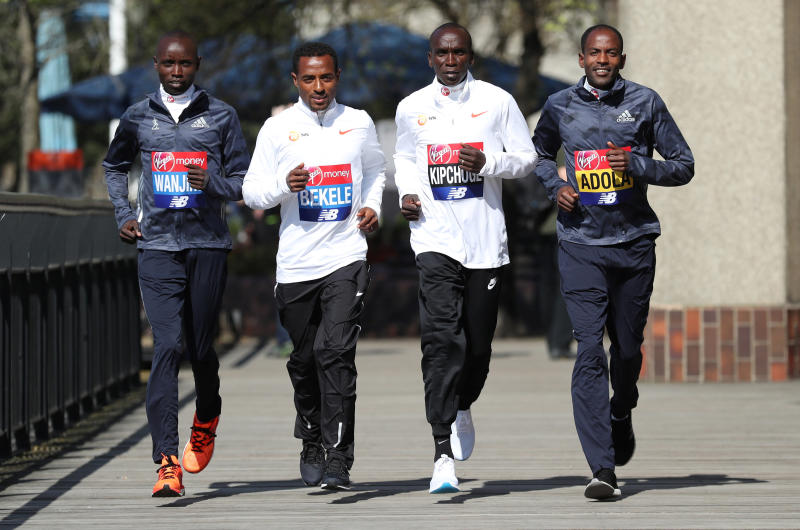 October 4 will be the defining moment as the top two fastest marathoners go head to head in London.
The epic clash pitting Eliud Kipchoge, 35, against Kenenisa Bekele, 38, is expected to present one of the world's mouth-watering encounters this year.
On Thursday, organisers of the London marathon reported that this year's edition which was initially scheduled for April 26 will take place as an elite race for men, women and wheelchair athletes.
According to organisers the 2020 event will see elite racing take place within a controlled environment to limit crowding and prevent spread of coronavirus.
The announcement now sets the stage for a clash of two of the world's greatest runners of all time.
And it will be interesting to watch the two marathoners whose rivalry started on the track in 2003.
It will be the third Kipchoge-Bekele head to head in London.
Yesterday, Kipchoge described the new 2020 London race rules as sad for participants who were looking forward to a mass race.
Kipchoge who is heading to the Masai Mara today as Kenya starts a plan to leverage on sports to market tourism said he was happy to be back in London in October.
"I am happy to be coming back to London for a very different and exciting race. You may not be running with me or cheering me on in the crowd but in our minds we will run together and I will use that as motivation to run my best race," Kipchoge posted on Facebook.
He continued: "As elite athletes, we will give our best on October 4 and try to bring some positivity and excitement in these difficult times."
The last meeting between Kipchoge and Bekele was at the 2018 London Marathon.
During the 2018 meeting, Bekele who beat Kipchoge many times on the track lost to the Kenyan star. Bekele placed sixth.
In 2016, during their first meeting in London, Kipchoge won in 2:03:05, more than three minutes ahead of Bekele, who closed the podium in 2:06:36.
Back in 2003, the duo raced each other on several occasions across a couple of distances but Kipchoge lost to the Ethiopian.
Individually, Kipchoge rips off essentially one exceptional marathon performance every time he goes to the start line as his marathon record now stands at 10 victories from 11 starts, with the course record in London (2:03:05) and the fastest 26.2-mile time ever by a human (2:00:25 at Breaking2 in 2017) and Ineos Challenge where he unlocked human potential posting a brilliant 1:59.40 in Vienna.
While Bekele has yet to bring his A-game to any of his match-ups with Kipchoge, he is one of the few men who at his best, has a chance to challenge Kipchoge at his best in the marathon.