Meet Kenya's eight ageless athletics stars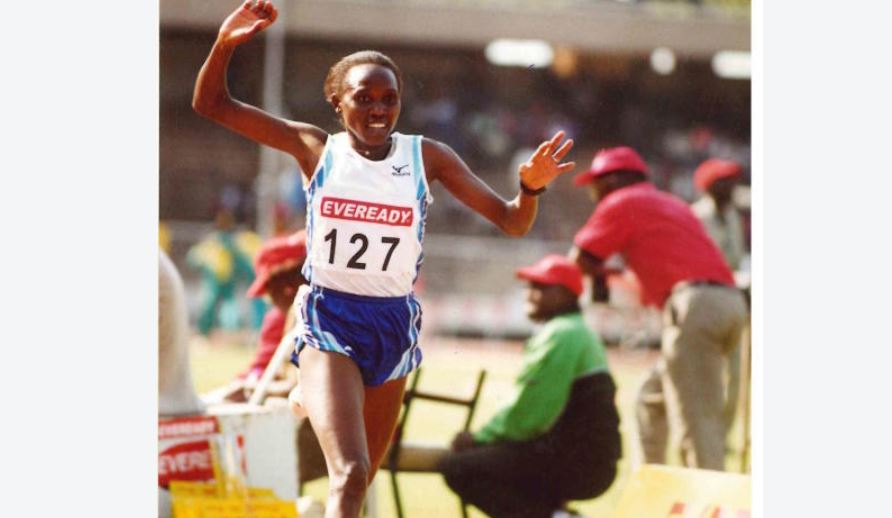 Log in to athletes' bio data at the World Athletics website anywhere around the globe and you are taken on a mental flight straight back to Kenya.
And two adjectives – consistency and longevity – springs into your mind. This is the script that defines Kenya's veteran athletes who defied huge odds to remain active in the sport for many years.
From 1987 All Africa Games 10,000m champion Leah Malot, who actively competed for 32 years to Olympic champions Eliud Kipchoge (marathon) and Vivian Cheruiyot (5,000m), both stayed on tracks for 18 years before graduating to marathon, the script is the same.
What with Edna Kiplagat, the London worlds marathon silver medalist, who has been dominant since making the national team in 1996 World Junior Athletics Championships in Sydney, Australia, while a Standard Seven pupil at Kapkoi Primary School in Elgeyo Marakwet.
Throw in the crazy jig-man Ezekiel Kemboi, the four-time world 3,000m steeplechase champion, who won silver in the 2003 world championships when Conseslus Kipruto, the reigning world and Olympic champion, was nine years old.
Then meet Mark Kiptoo, the ever green but 45-year-old Kenya Air Force Sergeant, who is still destined for a bigger slice of marathon glory.
Kiptoo, who picked up athletics after serving in KDF for seven years, said discipline makes him remain consistent in the sport.
"I serve in KDF where there is high level of discipline. While I was a civilian, I never had such kind of discipline. There is need for athletes to also seek wise counsel from successful athletes who competed for many years. For my case, I always seek advice from Noah Ng'eny (former Olympic 1,500m champion) and John Kibowen (former world cross country 4km champion).
Take a quick survey and help us improve our website
Take a survey
"As an athlete, you must have long term goals in the sport. That gives you the focus and drive to remain active for many years," he said.
In 2013, Kiptoo triumphed in Frankfurt Marathon in 2:06:49, the fastest ever time by a 38-year-old, taking 23 seconds off the mark set by Carlos Lopes in 1985.
Kiptoo might be the oldest active Kenyan athlete at the moment.
But Malot's athletics script offers refreshing, heart-warming and inspiring experiences to the current crop of athletes, many of whom actively compete for few years.
Malot picked up athletes in 1981 while a Standard Four pupil at Chepkero Primary School in Elgeyo Marakwet and she made the team to the 1987 All Africa Games in Nairobi where she won gold.
At the All Africa Games competition –then aged 15 –she was in the squad with three-time world 1,500m champion Asbel Kiprop's father David Kebenei, who wound up fourth in 1,500m at the All Africa Games.
Also in the mix were the late Some Muge (10,000m), father of 2008 world junior 5,000m silver medalist Mathew Kisorio, 2013 Paris Marathon winner Peter Kimeli and former Africa cross country junior champion Nicholas Togom.
But until 2013, Malot lined up on the same courses and tracks with Asbel, Kisorio, Kimeli and Togom as they competed for places in the national to major championships.
Malot, who is a nominated Member of County Assembly in Uasin Gishu, said the word fear features nowhere in her dictionary.
"During our time, we sacrificed a lot in lifestyle to train hard. Unlike nowadays, there were no cases of athletes taking alcohol, engaging in sexual behaviours and doping.
"Some athletes nowadays prefer to take the short cut by doping to make money easily. That's why most of them are not consistent," said Malot, a Moi University graduate in Business Management.
She loves the Bible verse, Isaiah 40: "They that wait upon the Lord shall find their strength renewed, they shall mount on wings like eagles, they shall run and not grow weary, they walk and not feint."
Lydia Cheromei, who made the national team to World Junior Athletics Championships in Plovdiv, Bulgaria, in 1990, is still an active athlete having finished second at the Eldoret City Marathon last year.
"I am on maternity leave at the moment and I will be back. I have no plans to retire any time soon," said Cheromei.
Sally Barsosio, who won on Kenya's first 10,000m gold in 1997 at worlds while a Form Four Student at Sing'ore Girls in Elgeyo Marakwet, is also an active athlete.
She made her debut in the national team in 1995 at the Africa Youth Games in Harare, Zimbabwe. She works in KDF and attributes her long stay on the track to discipline.
But Kipchoge, the world marathon record holder and the only man to run a marathon under two hours, said he sticks to traditional diet for longevity.
"I have kept on with my usual diet. I stuck with traditional foods. That's ugali, traditional vegetables and milk for long. This is what I was weaned with and I still believe it has helped me remain consistent in athletics.
"I strongly believe that courage, mental and physical strength helps in staying for long," said Kipchoge.
Edna, the two-time world marathon champion, keeps dairy cattle in their home in Iten and still eats traditional foods.
At their home on the escarpment in Iten, they have set aside a piece of land that is lush with a variety of traditional vegetables.
She relies on the quarter-acre size plot for the natural diet. "We were advised to take either organic or natural foods. We plant them using organic fertilizer as it reduces stomach upsets," said Edna.
She says she normally cook her meals with the ordinary milk cream as artificial foods have high possibility of exposing them to positive dope tests.
For Vivian, she first made the national team in 1997 while a young girl and could not be left alone in the rooms while at the IAAF World Cross Country Championships Marrakech, Morocco, in 1998. She slept with the team's chaperon.
She has no kind words for athletes who engage in have extra marital relationships and indulge in alcoholism.
At 36, Vivian hopes to compete at the 2021 Tokyo Olympic Games. "I want to compete up to until when I will be 40 years old," she said in an earlier interview.
Kemboi has been dominant since winning Africa Junior Championships in 2001. He has made eight appearances at the world championships, four at the Olympic Games and four at the Commonwealth Games.
He grew up in Mathira Village near Kapsowar and picked up athletics after completing Form Four at Kapsowar Boys High School.