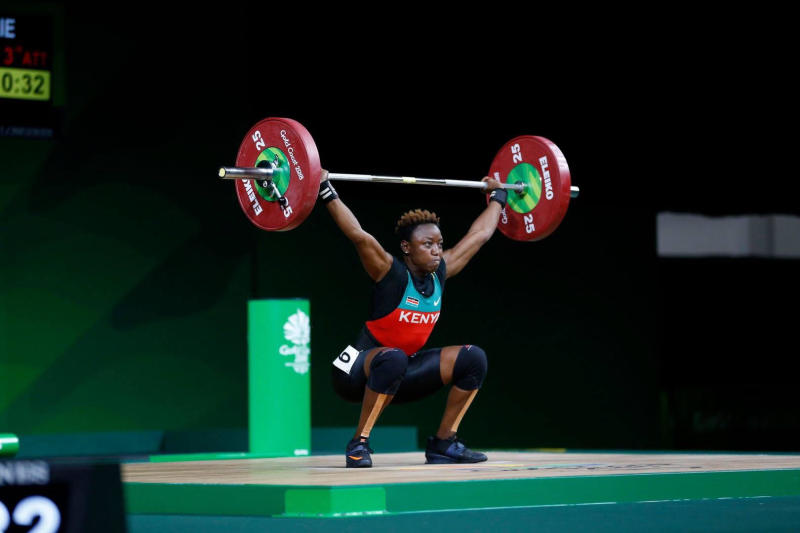 Kenya eyes two slots in 2021 Olympic team
Nairobi has been given green light to host Africa youth and junior championships.
Kenya Amateur Weightlifting Association (Kawa) longs to send at least two weightlifters to next year's Tokyo Olympic Games.
Pius Ochieng, the Kawa president, said they will host Africa youth and junior championships in Nairobi which will act as Dakar 2021 Youth Olympics qualifiers.
He said: "We presented one player, James Omondi Adede (94 Kgs) to the 2016 Rio Olympic Games and this time we are targeting on lining up at least two weightlifters in Tokyo.
"Kenya has good players who are committed to training even during this Covid-19 pandemic crisis."
African Games triple silver medalist Winnie Chepng'eno Langat (58Kg) stands out as a hot favourite for the spot.
Should she qualify for Japan, Langat becomes the second Kenyan woman to represent the country in Olympics after Mercy Obiero (60Kg), who competed in the 2012 London showpiece.
Other upcoming women beaters are Winnie Atieno Okoth (63 Kgs) and Wilkista Nyiro (60 Kgs).
Men's category features a strong squad that include Benjamin Osiemo Ochuma, who was the 2016 Africa Youth and Junior 50 Kgs silver medalist, Adede, who is also the 2007 East and Central Africa 94 Kgs champion as well as Webstar Ndoli Lukoye in 77 Kgs category.
To qualify for Olympics, the players must meet the new set of rules that were recently released by International Weightlifting Federation (IWF).
"Players whose classifications will not fall under those provided by the IWF should be ready to re-adjust accordingly. The new system is based on individual effort and not team classification.
"Some of our players took part in Commonwealth Games in Gold Coast, Australia and the Africa Championships held last year in Nairobi.
"They were to proceed for the next leg in Mauritius which was cancelled due to Covid-19 crisis.
"We look forward to the upcoming circuits in Cameroon and Nigeria where we hope to earn points and improve on our Olympic qualification rankings," Ochieng said.
At the same time, Kenya has received the green light to host the Africa Youth and Junior Championships in December.
Weightlifting Federation of Africa (WFA) granted Nairobi the rights after successfully hosting the Africa Championships last year.
The youth event will also act as a qualifier for Youth Olympics set for Dakar, Senegal, next year.
"Again, we are optimistic to qualify two athletes for the youth Olympics, preferably a boy and a girl," Ochieng said.
WFA gave Kenya weightlifting competition equipment that meets international standards.