Is it the shoe or the athlete: How much techno-science is too much?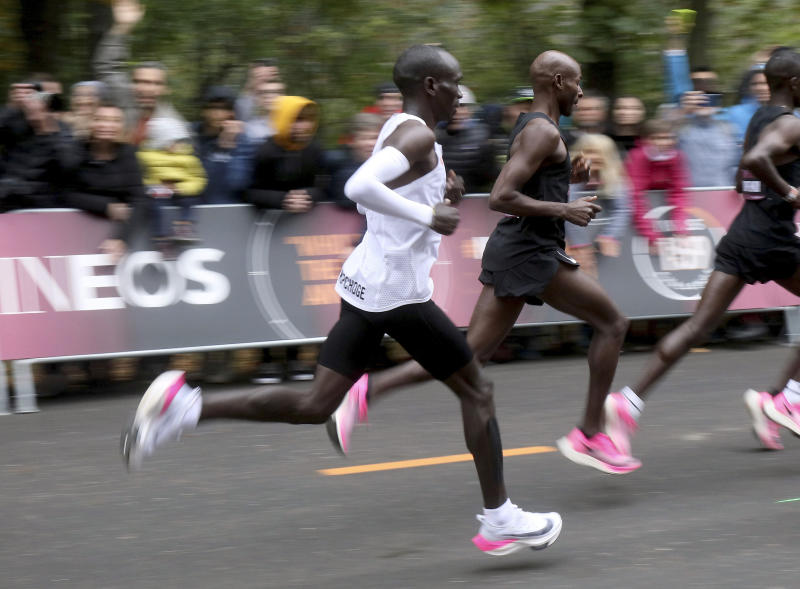 Running shoe contest has now shifted to the size of the midsole
Research findings show rigid carbon fiber plates in shoe midsoles and insoles enhance performance.
When Eliud Kipchoge became the first human to run the marathon in under two hours in the INEOS 1:59 race, many pundits argued that it was because of the shoe. Could there be any credibility in this argument?
With runners resuming training for next months races, what shoe brand will many be going for so as to have that legally accepted extra edge?
It needs to be understood that, the primary objective of sports equipment such as footwear is to prevent injury and improve performance. However, in recent years marathon running footwears have gone beyond preventing injury and giving unfair advantage to some elite runners. Something that has elicited a kind of an "arms race" among the top sports shoe manufacturers; Nike and Adidas, each trying to give the athlete a percentage point advantage.
Athletic performance is a mix of the athlete's natural talent, appropriate strength, conditioning programming and the ideal athletic equipment.
The running shoe contest now is on the size of the midsole.
Running shoes are a blend of materials: midsole foams of different densities, varying configurations of rubber outsoles and rigid embedded pieces. The first controversial road running shoes that was adopted by elite marathoners was the Nike's Vaporfly 4% in 2017. It differed from the previous Zoom Streak because of an embedded carbon fiber plate.
Published research findings indicate that when rigid carbon fiber plates are inserted into shoe midsoles and insoles, they enhance performance by optimizing shoe bending stiffness and increase the vertical jump height of the athlete.
The difference in Vaporfly's midsole over others that are majorly made of foam, is its low weight and resilience. This can give an estimated energy advantage of 32% when an athlete lands.
The higher midsole thickness of 1.4 inches further increases the athletes cushioning and energetic advantage by 25% compared to those who used conventional running shoes.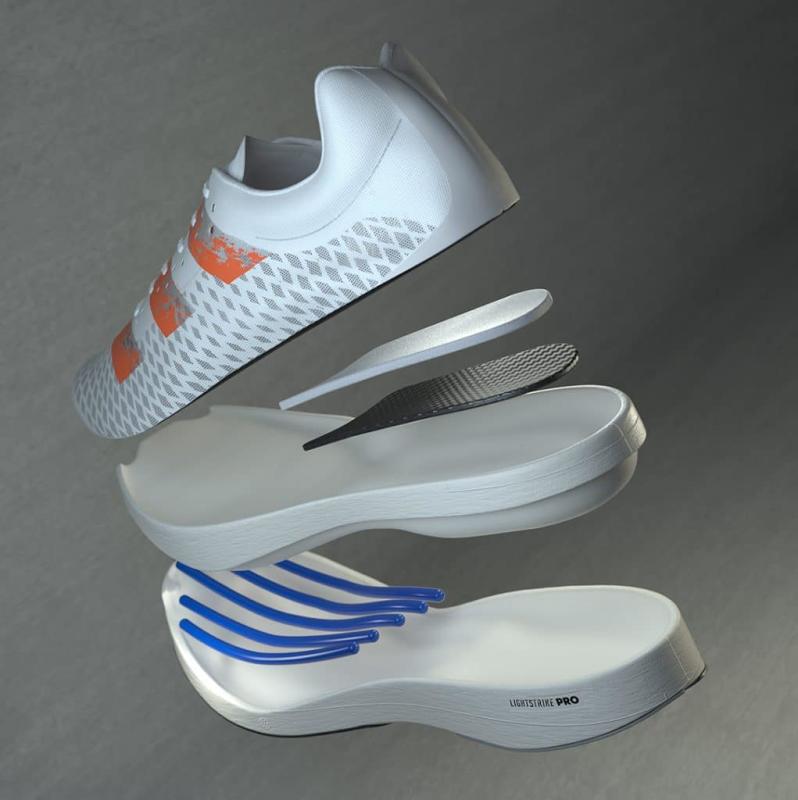 The reception of these shoes by athletes was so overwhelming that Nike developed a more advanced variant known as the NEXT %.
This has seen most of the recent World Records in road races in both the male and female categories set by athletes such as Geoffrey Kamworor and Brigid Kosgei wearing Nike's NEXT %.
The most controversial of these variants is the Nike Air Zoom Alphafly NEXT % that Eliud used during the INEOS 1:59 race.
Because of this, Adidas recently released its own variant of a carbon fiber plate embedded shoe known as the Adizero Adios Pro. Other competitors such as Asics have also developed prototype carbon fiber plate embedded shoes to keep up with the competition.
Given the complexity of shoe design and the resulting tension between encouraging technological development and retaining the 'spirit of the universality of athletics', there is need to regulate running shoe designs by coming up with standards. Because without evaluating and understanding the role of technoscience in sporting domains, sports might become a technoscientific proving ground and not an athletic endeavor.
The recent World Athletics Rule 143 (on Clothing, Shoes and Athlete Bibs) is a move in the right direction. The rule amendments require that shoes must not give athletes any unfair assistance or advantage. The rule, however, does not specify what such advantage might be.
World athletics further recommends that "any shoe that is first introduced after 30 April, 2020 may not be used in competition unless and until it has been available for purchase by any athlete on the open retail market for at least four months prior to that competition. Any shoe that does not meet this requirement is deemed a prototype and may not be used in competition.
Some experts argue that there is still a need to limit the midsole height and ban the addition of spring-like devices therein.
With the foregoing, the competition between the two major shoe companies – Nike and Adidas- keeps getting intense by the year.
A case in point is the 10km road race world record that was set in Valencia-Spain on December 1 last year by Uganda's Joshua Cheptagei (26:38) running Nike's Vaporfly NEXT % that was broken six weeks later by Kenya's Rhonex Kipruto (26:24) in the same city using Adidas Adizero lightstrike shoes.
As the world now prepares for the much-awaited duel between Eliud Kipchoge and Kenenisa Bekele (both Nike athletes) at the London Marathon scheduled for October 4; Adidas will be launching its Adizero Adios pro with New York Marathon 2019 runner-up Albert Korir.
Having such top talent on the tarmac, might technoscience be the deciding factor and not athletic ability? In sports, the concept of bodily authenticity is held in high regard because sporting narratives are built on the belief that bodies decide who wins and who loses. When all is said and done, we can't be left with the question of whether it was humanness or science that prevailed. COVID-19 allowing, this year's London Marathon might be the biggest race of 2020.
Is athletics ready to let material scientists and their technoscientific prowess restructure the record books?
How far should athletics allow technoscience to enhance human performance? How far is too far? While running and technoscience have a symbiotic relationship, in moderating the influence of technoscience on sports, sports cannot be seen to be technophobic. Sports should integrate the natural progress in technology where this helps to improve the conditions under which the athletes compete and thus optimize their athletic performance.
Paul Ochieng is a Sports Economist and Dean of Students at Strathmore University.
Gerald Lwande is a Biomedical Scientist